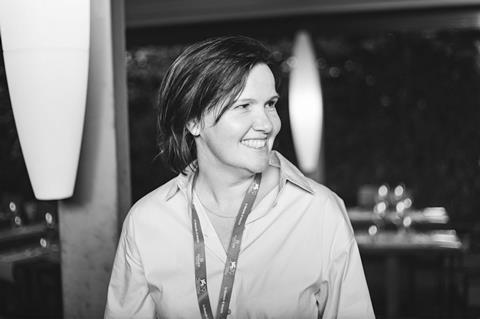 Producer Louise Vesth graduated from the producing programme at the National Film School of Denmark and, since 2001, has worked as a producer with Zentropa. Her many credits include Nikolaj Arcel's A Royal Affair, Mikkel Norgaard's Klown, Department Q thrillers such as The Keeper Of Lost Causes, and Lars von Trier's films including Melancholia, Nymphomaniac and The House That Jack Built. At Venice Film Festival this year she launched historical epic The Promised Land, directed by Arcel and starring Mads Mikkelsen, which plays in Competition.
What is the first thing you do when you arrive in your office each day?
Open my computer to check emails. I don't have emails on my phone, which is also why I am still alive. First thing in the morning is to catch up on emails.
What does your office look like?
My office is big and shared with two colleagues. It has a door to the Zentropa garden outside, with small writer/director houses. On the walls we have posters from all the films I have worked on, and lots of funny and loved photos from behind the scenes. My desk is often a mess but my thoughts are clear.
What's special about the office at Zentropa?
The people, the place, the freedom, the youth, the pool, the fun, the no-bullshit. Everybody is just at such a high level, amazingly good at what they are doing and the love for film is insatiable. We also have our three-year programme for interns. Every third month, a young person starts in the company to be educated through our films. They keep the organisation young and keep us connected to all the changes in the real world.
What was your first job in the film industry?
I was a volunteer casting assistant, working in Aarhus, Denmark on a film called Anton [1996, directed by Aage Rais-Nordentoft]. I became very good at guessing heights and ages.
Who do you look up to in the industry and why?
Directors. It's extremely difficult and gruelling to become a good director who masters the mise-en-scène to perfection and at the same time has a strong personal signature.
Who helped you most when you were starting out?
A producer at Zentropa — Ib Tardini [whose credits include Italian For Beginners and The Inheritance]. He taught me that you cannot get a good idea before you get it — you have to keep your mind open for changes. If the right idea comes at the wrong time, it can still be the right idea.
What was your favourite film growing up?
I didn't go much to the cinema growing up, but I still remember watching Cinema Paradiso on the big screen. That inspired a love for cinema… and Italy.
Who's the most famous — or strangest — person in your contacts book?
I won't tell you. But it's crazy!
What's the biggest professional mistake you have made?
Walking out of the Melancholia press conference in Cannes saying, "Well, it was clear for everyone that Lars was making a joke, right?"
With whom would you most like to take a meeting?
With all decision-makers in the industry and tell them it's not time for conflicts, it's time for solutions. Everybody has to stand up for all the people who are dependent on us and the agreements we make. We have to find a fair way and until we get there, we have to agree on the next best.
What's the biggest challenge facing the indie film business?
That we are not paying enough attention to the personal artistic signature. That the directors lose the ability to master mise-en-scène. More original movies, please.
What's one lesson you learned working on The Promised Land?
It's not easy to shoot on a heath: it's the most protected kind of land you have in Europe so there are many rules. We shot in the heath in Jutland where the events really took place, and that was important.
What book are you reading?
I am only reading scripts or books to adapt. But I listen to books; right now it's Sapiens: A Brief History Of Humankind by Yuval Noah Harari.
What's a TV series you're loving?
I have only seen the series I produce — most recently, Agent by Nikolaj Lie Kaas. Sorry, colleagues.
Who would play you in the biopic of your life and who would direct?
It doesn't matter because it would never get financed.