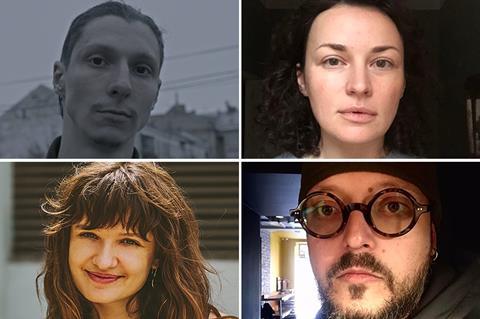 Ukrainian film composer Andriy Ponomariov was woken by a series of powerful explosions on the outskirts of Kyiv on the morning of February 24th. "Until the last, I hoped that it was all just a game," recalls Ponomariov, whose credits include Oleg Sentsov's Rhino, of what was the beginning of Russia's latest invasion of Ukraine.
That same day director Iryna Tsilyk, a Sundance winner with The Earth is As Blue As An Orange, was roused by her husband, Ukrainian novelist, Artem Chekh, who yelled at her, "Irka! They are bombing Kyiv! And other cities!."
And cinematographer Serhii Mykhalchuk rushed his family away from Kyiv to Lutsk in western Ukraine before returning to Kyiv himself. He is one of Ukraine's most celebrated directors of photography, winning awards for Under The Electric Clouds and The Lover, at the Berlinale and San Sebastian respectively.
Producer-director Maksym Nakonechnyi, co-founder of Ukrainian production outfit, Tabor, had been finishing his feature fiction directorial debut, Butterfly Vision, an international co-production with support from Croatia's 4Films, MasterFilm in the Czech Republic and Sweden's Sisyfos "Luckily, we managed to have everything done and send all the parts to our Swedish partners who are in charge of mastering," Nakonechnyi says of the film that has been selected for Cannes' Un Certain Regard. He does not yet know if he will attend the festival himself.
The film's subject matter is soberingly relevant to what is happening in Ukraine now. It is a dark story about a woman soldier returning home having been held captive for two months and discovering she is pregnant after being raped by her warden.
Nakonechnyi, Ponomariov, Tsilyk and Mykhalchuk are just four of the many Ukrainian film professionals whose lives have been turned upside down since the war began. The irony is they were taken by surprise: The Russian-Ukrainian war has been going on for eight years and much of their work since 2014 has dealt with the traumas it had already caused before February 2022. Nonetheless, on that morning in February, some hadn't thought to buy extra groceries or medicines. One hadn't even charged her phone.
Now they are all serving the war effort in different ways, putting their creative talents to use to document, to soothe and to resist.
Several are now on the front line as part of Ukraine's Territorial Defence Forces, among them Rhino director and former political prisoner Sentsov. Other directors and cinematographers are using their filmmaking skills to chronicle the war, both making their footage available to international news agencies and assembling material that can be used in documentaries once the war is over.
Cinematographer Mykhalchuk is working as a war photographer mainly in Kyiv and the Kyiv region including in Bucha, site of many alleged atrocities. His photographs are distributed "copyright free" and have appeared in various French, US and UK publications.
"This is a real war and it is very cruel," he says. "It doesn't look like Maidan, and it doesn't look like what we had in the east, where I shot [previously]. You see how many victims there are already, and I think that the number of victims from certain sides is underestimated, including among the civilian population. I think we will find out the final figures later.
"Many things I cannot show until the end of the war, it would be considered a crime. Therefore, the world will see many pictures later."
Act of resistance
Elsewhere in the Ukrainian filmmaking community, some professionals have attempted to carry on with their work in an act of resistance at a time when their country's culture is under attack.
Butterfly Vision's Nakonechnyi has opted to document everyday life in Ukraine. "We thought we should stay in Kyiv being useful, doing what we can - and what we can do the best is filming," the producer-director explains. "We don't go actually to the hot spots as we are aware we lack security experience. Also, we see how wild and unfair this war is to everyone. We are not chasing the breaking news footage. We are more following what is happening to the city and its inhabitants. What are the changes and what are the routines."
Prior to the war, Tabor had been developing several new productions which had all received funding from the Ukrainian State Film Agency. For obvious reasons, that funding is no longer available and so alternative arrangements are being made to keep the projects afloat. One feature doc, Nice Ladies, about older cheerleaders from eastern Ukraine, has had to be shelved for now. The protagonists lived in Kharkiv which has been "heavily damaged by Russians…a lot of the participants have had to flee." The film's director Mariia Ponomarova ended up organising the evacuation of one of her subjects and her family to Poland and then helped her to get to the Netherlands.
Filmmaker Maria Stepanska has been running theatre workshops for teenagers displaced from Kyiv to Lviv. Stepanska achieved international success with her 2017 love story Falling, revolving around two young adults trying to find their path in the aftermath of Ukraine's 2014 Maidan Square revolution. Like many Kyiv citizens, Stepanska headed to the western city of Lviv in the early days of the invasion. Once there, she was struck by how many youngsters were "so into newsfeeds, just scrolling their smartphones."
She came up with the idea of "a small workshop" aimed at teenagers, giving them something to think about beyond the war.
"The purpose is not to make perfect actors but for kids to keep their minds busy," the director explains. "The first day, I asked the kids if they minded there being a camera. They said 'no.' I realised that this is a safe space for them, for playing. I want to keep it as a safe space for them."
Composer Ponomariov is also trying to keep busy. He is attempting to write a new musical work inspired by the events of the invasion. He has had a tough time since February 24. After his wife and sons evacuated to the Slovakian capital of Bratislava, he headed for the Ukrainian town of Chernivtsi on the border with Romania where he registered with the military. However, he was left traumatised when the military base where he was receiving basic weapons training came under Russian missile attack.
"The circumstances under which I survived do not fit into my understanding of earthly physics," he says.
The experience left him so shell-shocked that when an air raid alarm went off in his next military base, he had what he describes as a breakdown. "I woke up in a hospital bed. In a psychiatric clinic. I slept there for several days, psychiatrists and psychologists worked with me. I was eventually diagnosed with PTSD and sent back to the army."
Now undergoing therapy, the composer says his war-time musical will mix original compositions with sounds of the conflict. "This is a modern work in which, in addition to the orchestra, both modern means of expression and electronics are involved, as well as documentary audio recordings from Ukraine during this war," he explains.
"I will do everything in my power to ensure that this poem conveys as accurately as possible all the experiences of millions of Ukrainians and one ordinary citizen who has become embroiled in a monstrous, unjust war."
"My film is from another lifetime
Prior to February 24, Tsilyk, a respected writer and poet as well as a filmmaker, had been scripting a new feature called My Ninth Life. She describes it as "an intimate statement about the loss, depression, crisis of modern 30-40-year-olds in Kyiv and the ability to feel alive and laugh at ourselves despite everything."
But she reflects on how hard it is to work on a such project now. "I don't know when I'll find some power for laughing and making this film," she says
Tsilyk had also been developing a poetic documentary essay called Those Behind Me about "myself and people of my generation who live with emergency bags on our shoulders. Every minute threat deeply affects our lives, we live so close to Leviathan who wants to devour our identity, our freedom, our future," she says of the existential threat that Russia has long posed to the Ukrainian state.
She had also recently completed her new feature, Rock. Paper. Grenade. "But I feel strange," she reveals. "I made this film a year and a half ago and it was some other life. This film is so peaceful… Although it is also largely about war-torn people."
The film is based on an autobiographical novel by her husband, Artem Chekh, who as a boy had been close friends with a veteran of the Afghan war. She describes it as "a coming-of-age story about relationships between teenagers and broken adults in Ukraine, 1990s. But this is not a gloomy depressive film about the post-Soviet reality that can be expected from a Ukrainian director. It is quite colourful…"
Asked how easy it is to carry on with her creative work in the wake of the Russian invasion, Tsilyk gives an answer which sums up the film community's defiance.
"Is writing poetry possible after Auschwitz? How can we make films after Mariupol?" she asks. But after a pause she adds: "My task is telling stories to the world. I believe that's important and I know that silence could be a kind of crime too."