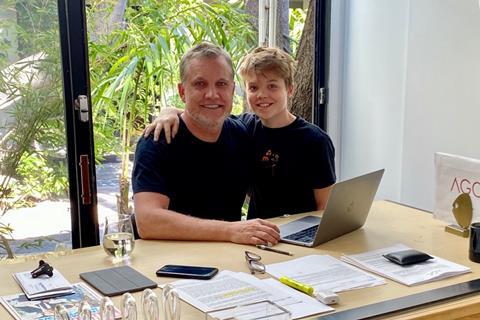 Stuart Ford is the UK-born founder, chairman and CEO of content producer, financier and sales agent AGC Studios, which has offices in Los Angeles and London.
Ford founded the company in 2018 after building IM Global into a major independent sales force over the course of a decade. AGC introduced pre-sales in Berlin on Sylvester Stallone action thriller Little America and recently handled international sales on Roland Emmerich's Midway and the upcoming Moonfall.
Once the coronavirus lockdown is lifted, Ford says his teams are poised to move rapidly into production and pre-production on titles including Pierre Morel action thriller The Blacksmith, Neill Blomkamp's Inferno, and the romantic comedy The Perfect Find, among others.
Is it business as usual for you and your team as you all work remotely home?
Absolutely. Our different units (film, TV, sales, finance, legal) each do a team video conference every morning and then go off to do their work. Then there is a written update circulated by each department at the end of every day. Throughout the day there are multiple team calls, emails and Zoom conferences too. At this early stage at least it's an exhilarating challenge to keep all the wheels turning.
How big is the team and how many offices do you have? Where are they located?
We are only 24 people across LA and London.
Which systems are you using to talk to one another and clients?
We already used and loved Zoom.
How are you and your team keeping up morale?
We were already a tight-knit group and as AGC is only two years old we've maintained something of an "up and at 'em" start-up mentality. The shut-down is just another challenge of the many we have already faced.
We know this is an impossible time for physical production and distribution, however on a positive note can you share which projects you are actively moving forward on and where are you at on each?
We will be ready to put a number of features straight into production or advanced pre-production asap after the shutdown ends: Pierre Morel's action-thriller The Blacksmith, Neill Blomkamp's Inferno, Sylvester Stallone in Little America, DuBois Ashong's Geechee and romantic comedies The Perfect Find with Gabrielle Union, and Queenpins with Kristen Bell and Leslie Jones.
In television we will shoot News Of A Kidnapping for Amazon and Season Two of War Of The Worlds for Epix as soon as they give the all-clear. Roland Emmerich's Moonfall (which AGC sold worldwide) is still on track to shoot early summer. We are also in advanced prep on a feature documentary for Netflix right now too. The AGC pipeline is locked and loaded and we know we are able to sweep nimbly back in to production mode compared to many bigger corporate players.
The lack of production activity also creates more space for us to fast-track a number of our film and TV development projects. We are prepping several scripted TV drama packages to take out and "virtually pitch" in the coming weeks. This is a fertile time for us in terms of setting things up for whenever the world goes back to some kind of normal.
What advice would you give to people in the business who are worried about the future?
I think the future for original content is still bright. Whenever this crisis abates, the demand from streamers, studios, distributors and broadcasters is going to remain at unprecedented levels even amidst the inevitable economic slowdown.
What contingency plans are you making for Cannes?
We are part of a circle of primarily LA-based companies who are assembling plans for a virtual market. It's a totally achievable goal and I think it will prove successful. Arguably the film sales arena has been on the verge of this kind of technological leap for years now.
What positive change might this bring to the industry?
Amidst many negatives and challenges, the one positive I see is that this shutdown is going to accelerate change – particularly change in how we do business on a daily basis and change in how we monetise our content.