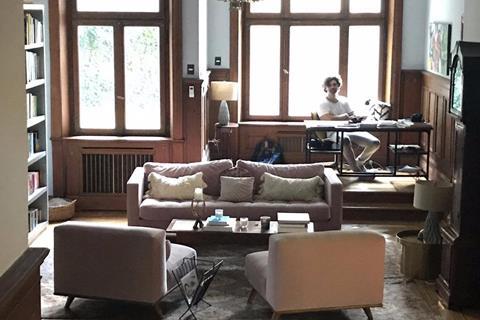 Argentina's Armando Bó, the Oscar-winning co-screenwriter of Alejandro Gonzalez Iñarritu's Birdman, has made his first foray into TV as showrunner and director on El Presidente, which launched on Amazon Prime around the world on June 5. The satirical show explores the 2015 FIFA corruption scandal and marks Amazon Prime's first Chilean Original.
It has been a busy time for Bó, director of the 2018 thriller Animal, who also launched About Entertainment last month. Based in Los Angeles and Buenos Aires, the company targets elevated scripted, non-scripted, and branded content across all genres and is expected to announce its first projects shortly. He has been spending the last few months in Buenos Aires which has been in a strict lockdown since March 20.
Where you been living these last few months?
I came to Argentina a couple of months ago after the shoot of El Presidente to spend some time here the family in Buenos Aires. It's good in this moment to be near the people who you love.
Do you have a daily routine?
I'm super busy but family is the priority. I travelled a lot and was never someone with a big routine, so this has taught me to have a routine and adapt to what the kids and the family needs with virtual school classes, for example. The routine has made me focus better on the development on my work.
What do you think is the mood of the industry?
We've arrived at the moment we were expecting with the streaming services. I'm worried about theatres being closed, but I'm motivated because content is so important for people not to get bored, so what we do is more relevant than ever.
How much time are you spending on video conference calls?
I'm happy we're doing this by phone – now it feels like everything has to be a video conference call.
How did you find it working in TV on El Presidente?
It was crazy. When I heard about 'FIFA-gate' I found something that I wanted to jump into. Many of my films have been arthouse or indie and I was looking for something more commercial. It had all the elements that I was looking for: corruption, the mafia, a sport that I love, and having the possibility to speak about Latin America… El Presidente was an opportunity for me to change not just into TV but to change tone.
What did you learn about the scandal that surprised you the most?
For me the most interesting thing was the characters and how free they were to corrupt… In this case reality is bigger than fiction. If I wanted it to be real, I needed it to be a parody, with dark humour. I'm a guy who really relates to humour but I've always more focused on drama.
Did you reach out to FIFA when you were making the show?
No… I would pay to be in the house of the people who were involved and see their reaction when they watch the show.
Where and when did you shoot?
We shot in Chile and in Argentina for the European scenes, and Miami and New York… The story starts in Latin America but it's not just a Latin American story. We shot last year for about four months, seven months for the whole thing.
What are you working on now through About Entertainment?
I have so many things in development but I want to be strategic about when we announce things. The projects are in the vein of the comedy and parody and drama I love. I had a commercials company for 15 years and we made a couple of movies, so this is the moment where I put all the things that I learned as an entrepreneur into this company.
Will you make film and TV?
Yes. I'm a fourth generation of filmmakers after my great-grandfather, grandfather and father and I see stories everywhere and there are many ways to tell them.
Will About Entertainment cater to different regions and languages?
It depends on the story. Some stories are better in English, some in Spanish. I guess that the boundaries are broken down after Parasite won the Oscar, so it's a really big moment for international people to develop content for the American market and other markets.
What have you enjoyed watching, reading or listening to during lockdown?
It's been mostly kids content. We watched Tom Hanks in Big and films from the 80s like Rocky – classics for the kids.
What has most surprised you about yourself during lockdown?
I'm a pretty flexible guy so it wasn't that difficult for me to adapt to [lockdown], but after two months it's getting harder. It's day-by-day.
What is the first thing you will do when the lockdown is lifted?
I will fly in first class to wherever. I will drink a glass of wine and watch movies in a plane – that's my goal.
What positive change might these days bring to the industry?
It's clear from [the lockdown] that content is not just entertaining, but so important socially for people.