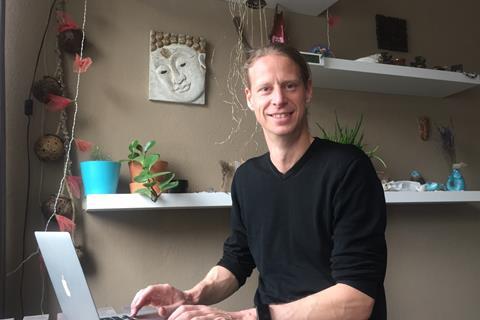 Jonas Katzenstein is the co-founder, with Maximilian Leo, of Cologne-based augenschein Filmproduktion.
Over the past year or so the company has steadily extended its slate beyond international arthouse films to bigger budget English-language films it describes as "elevated genre", working with US partners.
Patrick Vollrath's thriller 7500 debuted at Locarno last year, a collaboration with FilmNation and Endeavor Content. Augenschein is now in post on Franka Potente's directorial debut Home, starring Kathy Bates, and Joe Penna's Stowaway, starring Anna Kendrick and Toni Colette.
Is it business as usual for you and your team right now?
Based in Germany, we have established a way of working together with all our LA contacts that is mainly based on emails, calls and video conferences. My business partner Max (Maximilian Leo) works a Pacific Standard Time-friendly work shift several days a week, which gives him more flexibility with his work/life balance for his family. I have always worked one day a week from my home office. With our permanent staff of 10 we had already established the option of a home office in order to be more flexible during times of travel, since Max and I frequently work from LA or elsewhere.
How are you maintaining an office routine?
Currently where we are in Cologne we do not have a complete lockdown, so some of our team are coming to the office. We have individual rooms for each one. But those who can't travel by bicycle or car don't come to the office, along with those who prefer working from home. Everything is happening through video calls anyway.
Which systems are you using to talk to one another and clients?
We use Zoom, Skype, WhatsApp, and the regular phone line.
In what ways are you and your colleagues keeping up team morale?
It is an advantage our team can choose to work from home or safely within the office. Also we have had the most sunny weeks and clear skies Germany has had in a long time, which is a real morale boost. Most importantly we were lucky to have already been in post-production with Franka Potente's Home and Joe Penna's Stowaway. Our company is super-healthy, so we are able to cope with the situation without anyone having to worry about keeping his or her job. Morale isn't really an issue so far.
What advice would you give to people in the business who are worried about the future?
We are facing times of change, not only because of Covid-19, although this will certainly fast-track developments. Our answer to this challenge is to prioritise quality over quantity. That means doing fewer movies with greater care. Thus we can stay flexible in our company structure and adapt faster to new situations.
What contingency plans are you making for the next few months?
We had a shoot scheduled for July which we have now shifted to the fall. [Pola Beck's All Russians Love Birch Trees.] It is hard to tell when prepping a movie can effectively be started, but eventually we all have to allow the industry to get active again. Moving the shoot will give us more time to prep. We are taking the time out to rethink a few more complex scenes in the script to have some more options. There might be restrictions on travelling or the total number of people allowed on a set.
What advice do you have for home working?
It is important to have an area in your home which you can assign to work. Also, the tech really has to work. Wifi, computers, access to your files and mailing has to be as good as in the office. Working at home is a challenge anyway, it can become hell if you have to try to fix your internet connection.
What are you watching and reading and listening to get you through this time?
So far, our workload hasn't really reduced. However, I am able to catch up on a few movies and series by directors we would like to work with. I`m currently on a jury for a German online film festival called the Big Shorts Awards and I have enjoyed finally watching Uncut Gems, Marriage Story and This Is Us.
What positive change might this bring to the industry?
Change always comes with positive and negative side effects. A more established way of home office and video meetings could help a lot of people with their work/ life balance especially in LA because of the time lost in the daily traffic. Also, the whole situation might speed up certain developments in distribution, like pay-VoD for instance. This could become very meaningful for the market value of smaller quality movies. And since all the talented writers are currently locked down, in a few months there should be a bunch of very good scripts around!