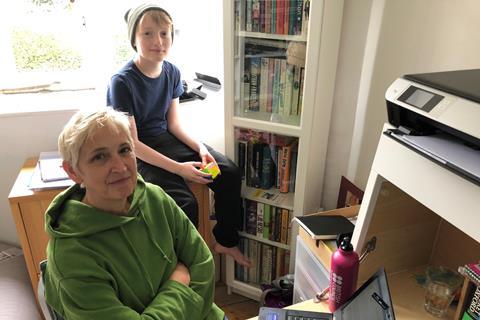 Briony Hanson is the London-based head of film for British Council, the UK's cultural relations organisation which teaches English and uses arts and education to create relationships between the UK and the rest of the world.
The film team champions UK film mainly via international film festivals, and helps UK film partners to internationalise their activity and find collaborators.
Is it business as usual for you and your team as you all work remotely from home?
To an extent our organisation is used to remote working – there are 8,000 of us spread across over 100 countries. And my own team – the film team – which is nominally based in London, is actually scattered across the country, so we do a lot of 'Zooming' ordinarily.
The difference is that we're now all sharing our work spaces with housemates and partners and children and animals, which has its challenges – that, and the fact that a significant chunk of our programme is on hold until we can all start moving again.
How are you maintaining an office routine?
As I'm part of several different teams, the first few weeks were a flurry of check-ins and online conferencing which was initially quite overwhelming. Since then, we've got into more of a settled routine; I have a catch-up call with my own team every Tuesday, and then an assortment of other check-ins with different colleagues managing various projects throughout the week.
Which systems are you using to talk to one another and clients?
Our whole organisation shifted over to Microsoft Teams about two months ago, which was pretty timely. That said, I remain a huge Zoom fan - mainly because you can see multiple participants at once, rather than the limited number on screen at any one time on Teams.
I recently did a couple of workshops with partners in East Asia around our digital LGBTIQ+ campaign, #FiveFilmsForFreedom, and discovered the 'breakout room' function on Zoom – amazing!
In what ways are you and your colleagues keeping up team morale?
My team is a very buoyant one. They're as funny and opinionated and creative as they ever were and are very engaged in exploring alternative ways to support the UK film sector. Previously when we were working in our open-plan office, a colleague from another team once described overhearing us as being akin to a 'foul-mouthed Radio 4' and apparently, we're moving that online with gusto.
What advice would you give to people in the business who are worried about the future?
Before all this hit us, the film business globally had clearly reached the point where it was going to have to make some significant changes, in a way which finally acknowledged that the world is dramatically different than it was 30 years ago. This will definitely speed up much of that change.
There were already urgent conversations ongoing in the UK: exactly who's getting to make films and how they are, or aren't, being supported to do it; the need for a new ecosystem for exhibition and distribution; the challenge of adopting new ways of finding and satisfying new audiences. These are all live issues and come with some massive opportunities, as well as risks.
The immediate risk now is that the financial impact will be so enormous that some smaller or less established players will not survive in order to see the new world, and that's heartbreaking. To witness colleagues like those in my own former stomping ground at Tyneside Cinema having to start an emergency crowdfunding appeal is desperate.
What contingency plans are you making for the next few months?
Much of our programme involves bringing festival teams to the UK to find new films, and then supporting emerging UK filmmakers to travel internationally to screen their work. Inevitably, we're unable to do either of these things at the moment. But our organisation's commitment to supporting cultural connections around the world feels more important than ever before, and we're all thinking through meaningful digital alternatives to keep those connections coming.
If you have young children, how are you managing keeping them entertained/educated while you work?
I have twins who turned 13 a couple of weeks ago (and yes there was lockdown birthday fun). My partner (Tricia Tuttle, who heads the BFI London Film Festival) and I are both alternating feeling rubbish and neglectful, against actually enjoying seeing more of our kids than we would normally. Their school has set up a great Google Classroom programme and we're trying to be chilled about how much they're actually getting done, because it's obviously more important that they feel happy and secure despite the pandemic, than it is to learn their fractions. And anyway I never could do fractions.
What advice do you have for home working?
So far it seems Covid-19 and all the implications of it, amount to a full-time job. Except you have to do it on the garden table propped in the spare room with two children doing TikTok dances the other side of the door, amid a massive competition for dodgy Wi-Fi while playing 'my Zoom call is more important than yours so I need the spare room now' with your partner. Fun times.
What are you watching and reading and listening to to get you through this time?
We're ALL about Netflix's Tiger King (obviously!). Which is great just in case we were under any illusion that the world before all this was in any way sane. I've also been previewing the Uncertain Kingdom programme – 20 new short films offering a unique portrait of the UK, which we're hoping to share internationally, one way or another, later this year.
Also, the day before lockdown, I got a copy of Such A Fun Age, Kiley Reid's debut, which has turned out to be a super accessible and super smart story about race and privilege, which I have devoured.
What positive change might this bring to the industry?
We might be forced to find some different ways to share our screen stories. The industry might recognise the people in perilous positions in our business and do something more to support them. We'll all truly cherish the opportunity to sit in cinemas and watch stories from around the world. And specifically, from my perspective, we might learn some good lessons from people in other parts of the world about how to deal with this abrupt change to the way things have always worked.