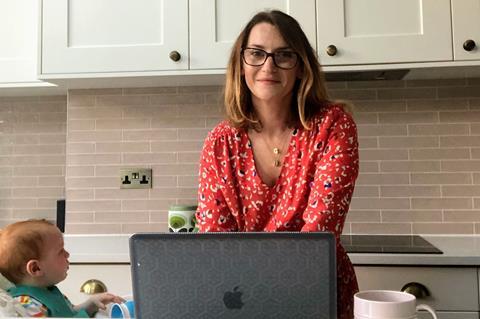 Sarah Camlett is an agent at the Independent Talent Group, where she has worked since 2002, representing actors working in film, television and theatre.
Camlett is also the co-producer of David Tennant Does A Podcast With… and has been isolating in East London with her two young children and their new rescue dog.
How has lockdown changed your job?
I'm used to be being in a big, busy office with lots of people and now I'm at home with my children by myself, as I'm a solo parent. We've had periods where it's been really quiet because few projects were casting as there's not a lot of point in you auditioning people if you don't know when they can shoot. But we've been able to be proactive with our new clients, introducing them them to casting directors and producers via zoom - mostly in the UK but some in the US - which has worked really well. I also signed a new client via Zoom for the first time.
But for the company, it's business as usual. We are still having our weekly meeting on a Monday with around 90 staff via Google Hangouts. One person chairs the meeting and everyone gets their moment. I also speak to my team every day and we catch up on what needs doing and following up. So it's the same but different because we're still working.
What were the challenges you faced in first 48 hours of lockdown?
It was a really tough couple of days. Suddenly, all productions were shutting down and we had to get all our clients home, from places such as Israel and South Africa, as soon as possible. Everything was so uncertain. That's been the theme of this entire period: absolute uncertainty.
Are you seeing clients return to productions?
Absolutely. One of my clients, Ty Tennant, is about to start work on the second season of War Of The Worlds. They've already started and he goes back in a couple of weeks. And another, actress Colette Dalal-Tchantcho, going back to carry on Sky series Domina in Rome, hopefully flying this week
But the usual conversations that we have leading up to someone starting work are very different. There are a lot of Covid riders to go through and a lot of procedures we need to talk through with our clients and make sure they understand how it's going to work on a daily basis with temperature checks and testing, etc.
I'm having to be very specific about things like transport. Whereas normally someone would just get on the train, that doesn't feel safe at the moment, so we're asking production to have cars for our clients with PPE screens between the actor and driver. There's a lot of testing happening prior to filming and during the shoot.
What are the big challenges around insurance at this time?
It's a challenge facing everybody. I've had a number of conversations with producers about insurance and as things currently stand, getting Covid insurance seems impossible. I'm hoping that will change. We're hoping studios and broadcasters will be in a position to underwrite the risk because as agents it's our job to protect our clients and we need to think about every scenario, even the worst-case scenario.
What happens if our client becomes unwell or if someone on the production becomes unwell and everyone has to isolate? How will that look? If we can't get them home, we need to know production will take care of them while they're there. It covers accommodation, making sure they've got food supplies brought to them if they can't go out, in a country where they may not speak the language. If they have to go to hospital, making sure the hospital bills are covered. It's just constantly asking questions about each scenario to make sure every eventuality is covered if there isn't an actual insurance policy in place. But it's really complicated.
However, I've so far been satisfied that everyone is working toward ensuring everyone on set is as safe as possible when it comes to the Covid risk.
How are you managing family life with the demands of work?
I am a solo parent of two small children. I chose to be a solo parent and in all my planning, I thought I'd covered every eventuality but never imagined there would be a global pandemic that would mean I'd be at home without my normal support system. I didn't leave the house at all for the first six weeks. I could not afford to get ill because there was no-one else to look after my children. I couldn't ask anyone to come into our house if I was ill. So we stayed at home until we started to go stir crazy and started to go out for walks.
My daughter is home schooling so I'm juggling her learning with my work, and have an 18-month-old, who wasn't walking at the beginning of lockdown but is now running around everywhere.
Luckily, I have a wonderful group of clients, a lot of whom have children too and totally understand. The other night, I was cooking dinner while talking to a client as the dog chewed on Lego and the baby climbed a bookcase! It's been a struggle but the time I've got to spend with my children has been wonderful.
How are you keeping the children entertained?
Disney+ has been a godsend. Luckily, we have lots of space and toys aplenty so there's enough to keep everyone busy. There are moments when they're both occupied and I can answer emails. But my phone is always in my hand. Normally, I try not to be connected to my screens when I'm with my children but I don't have a choice right now.
What have you been watching, reading or listening to?
A really healthy balance of great drama such as Michaela Coel's I May Destroy You, which is one of the most extraordinary pieces of work I've seen, and some terrible reality TV like Selling Sunset, which I'd never watched before but is great at a time when I'm feeling the weight of the world on my shoulders. I'm also a massive RuPaul's Drag Race fan and could watch Hamilton on repeat. And, of course, watching lots of Frozen 2 and listening to Baby Shark. My son loves it.
What positive things might come out of this period?
I think things will become more streamlined as a result of the Covid safety procedures. We are looking at how productions work and how can we sometimes simplify them. I think people have had time to reflect on how they work and that their work-life balance may have been off, which can be addressed. Working from home has been really effective and I wonder if companies need big, expensive offices in central London. Perhaps we can work in a more free, adaptable way.
I also think everyone in our business – actors, producers, commissioners, broadcasters, agents – are all so determined to get back to work and I think everybody has to work together. There can't be any ego involved. We have to hunker down and work together to get everything back on track. It's already begun.