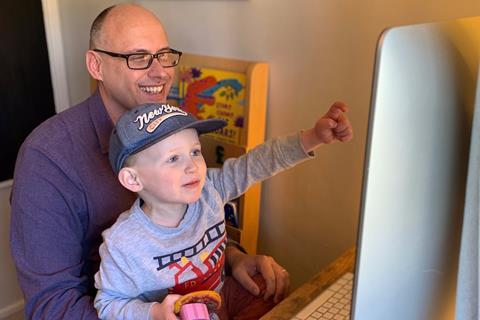 Jon Wardle is director of the UK's National Film and Television School (NFTS).
He joined the NFTS in 2012 and became director in 2017. Although the physical manifestation of the school is presently closed, all of the school's work is continuing remotely, albeit in a new form and in some cases in a different order to what had been originally planned. All of the school's 34 specialist MA, Diploma and Certificate courses and its 521 students are continuing to push forward with their studies.
The NFTS is also now running course-specific 'virtual open day's so prospective students can 'meet' the heads of department, have their questions answered and see examples of student work. Three have already run this week.
Is it even remotely business as usual for you and your NFTS team right now?
I don't think I could describe our new normal as business as usual but thanks to the commitment and ingenuity of my colleagues we have had a bloody good go! I'm overseeing more than 600 staff and students currently. It's been a week since we started working online and we have already seen students complete practical filming and sound recording exercises from home.
Are you managing to maintain a routine?
Many of us did crazy silly hours last week in order to do our best for the students and the School. I'm massively grateful to my colleagues for doing that. But keeping those hours and working at that intensity isn't sustainable in the medium term. So we all have to try and settle into a new more reasonable rhythm. In addition, now we are all sat in front of a screen for large chunks of the day, it's very easy for email and Workplace messages to spiral.
It would be ironic if whilst working from home we ended up spending more time working, not less. So here are four things I'm going to try and do from this week:
I'm not going to email or post Workplace messages before 9am and after 6pm, unless staff having to work odd hours (due to child care etc) urgently need me to answer something;
I'm going to make sure I don't schedule Zoom meetings back to back. Last week I had to leave meetings to go to the loo or make a cup of tea because things were so manic. This week I'm going to give myself 10 minutes to breathe between meetings;
I'm going to ensure I take at least 30 minutes for lunch, so I can eat with my family (who are all at home, now the schools have closed!);
And I'm going to do some physical exercise every day. I think I'm going to nail 'Couch to 5k' over the next month with the help of the NHS app.
Which systems are you using to talk to one another, your students and partners?
The bedrock of our online offer is Facebook Workplace as our intranet and Zoom for online classes and meetings.
In what ways are you and your colleagues keeping up morale?
By organising some incredible virtual masterclasses. Sally Wainwright did the first one for us last Friday on Last Tango In Halifax which lifted everyone's spirits after a challenging week and David Fincher gave more than 90 minutes of his time to the students live from his LA office on Tuesday [March 24]. The reaction was off the scale.
We have many more lined up over the coming days and weeks including Nainita Desai (For Sama), Ricky Gervais and Edgar Wright to tease just a few.
What advice would you give those in the film industry who are worried about the future?
All NFTS staff are fully committed to supporting our students during this period and we are so grateful to them for their understanding whilst we adapt to the new normal. We will get the show back on the road and by hook or by crook we will ensure everyone graduates and completes a body of work commensurate with what is expected of an NFTS graduate.
What contingency plans are you making for the next few months?
We are in constant scheduling and rescheduling meetings. So that we can build a production and post production plan that works for all our students. We are developing Plans A, B, C and D, because no one knows when we might be able to get back up and running and start making films again. We are also encouraging students to push into the problem and think about the unique stories that can be told because of the particular situation we all find ourselves in.
If you have young children, how are you managing keeping them entertained and educated while you work?
I have three children under nine. My two-year old is now a regular contributor to my meetings with colleagues at work. I think we have to cut each other some slack and pretend it's not a tricky balance. I hope my colleagues feel less pressure because they see me trying to deal with finding that tricky balance.
What advice do you have for home working?
My house is a very busy and noisy place so I've taken over my two-year old son's bedroom during the day, as it's the quietest room in the house. It was a bit weird doing a Masterclass with David Fincher with 450 NFTS students peering into his room and checking out his collection of Julia Donaldson books…but hey. That's real life.
What are you watching and reading and listening to get you through this time?
Disney + couldn't have picked a better time to launch!
What positive change might this bring to the industry?
I'm hoping it will shift our mindset in three areas: firstly, that we might all be a little more cognisant of how precarious our industry is for many of the key people that underpin its success.
Secondly, that we might find new ways to carry forward a better work-life balance and thirdly that when we do finally return to normal life and we stand on set again, sit in post or go to the cinema that we realise what a precious gift that is.
More 'My Working From Home Life' interviews