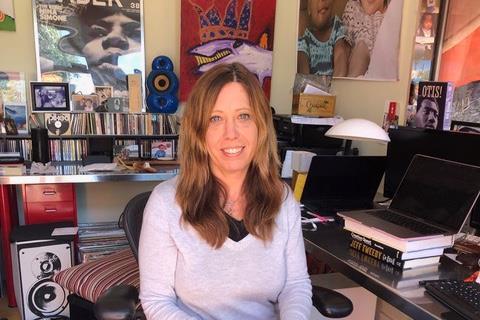 Kirsten Schaffer has been executive director of Women in Film, Los Angeles for five years.
She joined the group organisation after 14 years at Outfest, where she was executive director after years as deputy director and head of programming.
Women In Film, Los Angeles advocates for and advances the careers of women working in the screen industries to achieve parity and transform culture. The body provides mentorship and among other initiatives runs production training, writing labs, and offers finishing funds, speaker and screening series.

The organisation has 14 employees and two offices in Los Angeles.
How are you and your team maintaining an office routine right now?
We have a 15-minute daily Zoom check-in call and we've kept our weekly staff meeting.
The first Monday we were happy to see each other and working from home felt like a novelty. Tuesday we got down to business and had a big planning meeting. On Wednesday there were tears – the stress of managing kids and work, missing loved ones, fear for older parents, etc. Thursday the anxiety continued but we were resilient, and by Friday it felt like a regular week; most of us were looking forward to the weekend.
Which systems are you using to talk to one another and clients?
We use Zoom and Google Hangouts. We still have simple conference calls, which I prefer sometimes to get a break from looking at the screen. We are also using Slack for planning programmes and "water cooler" conversations.
How are you and your team keeping up morale?
Daily check-in, people taking about how they feel and what is hard. Also sharing coping mechanisms, inspiration and humour: our team is funny – that helps. Talking about why gender equality matters in this moment of fear and uncertainty and when so many people are sick and out of work.
What are you able to work on during the lockdown?
We surveyed our members and wider community and found that a lot of people want/need the community that WIF provides – especially freelancers, so we are reimagining our physical events as virtual ones.
They also want to use this time to build their skills and networks. We are moving many of our programmes online, including our speakers series, workshops and mentoring programme (using Zoom or Google Hangouts). Today we have a virtual hangout AMA (ask me anything) with Emmy-nominated comedy writer Caissie St. Onge.
Next week we have a discussion about California's new AB 5 law (workers' rights) and we are launching Laptop Cinema Club using the Netflix Party App. Our first screening and chat is A Wrinkle In Time.
What advice would you give to people in the business who are worried about the future?
This is an opportunity to innovate; to develop new models for community building, learning, creating content and viewing content. It is also imperative that the progress we've made toward diversity and inclusion continues – that women, people of colour and other underrepresented voices are prioritised.
If you have children, how are you managing keeping them entertained and educated while you work?
PBS kids, Lego, and art projects. I'd be a liar if I said it wasn't challenging. I am trying to get through a regular work day while teaching long division, doing puzzles, prepping meals and cleaning – so much cleaning!
I am used to flexing my hours; I usually go back "to work" after my kids are in bed and this is no different. What is different, is my kids are more visible to my colleagues. My 10-year-old likes to do her schoolwork near me so sometimes she is in the background on video calls. And once in a while, I put my five-year-old on my lap. They like to be involved and the reality is, they are in the room so I am not trying to hide them.
This is an opportunity to be more transparent about the reality that many of us have been living for years – parents and other caregivers are often multi-tasking. We just usually hide it. During a regular work week I am on conference calls while driving my kid to pre-school with a lollipop to keep her quiet. Now I am on video calls and she is singing in the background.
And I do all of this with a partner (who also works full time). I bow down to single parents.
What advice do you have for home working?
Make a schedule: build in meals, exercise and other breaks. Take a shower. I didn't do this for the first four days and then I realised what was wrong…
What are you watching and reading and listening to in order to get you through this time?
Casual on Hulu – I don't know how I missed this when it aired in 2015. Michael Watkins is fantastic and many of my favorite female directors have had episodes - Lake Bell, Carrie Brownstein, Karyn Kusama. I am reading way too much news, mostly the New York TImes.
What positive change might this bring to the industry?
I hope it brings more compassion, collaboration and inclusivity. This industry is highly competitive and stressful — at worse it is abusive. The culture of Hollywood allowed Harvey Weinstein to thrive. We have an opportunity to reset, to build systems that take care of everyone who is a part of the screen industry, especially those who are most vulnerable like assistants and freelancers. My hope for the future is an industry that values people as much as it values revenue.