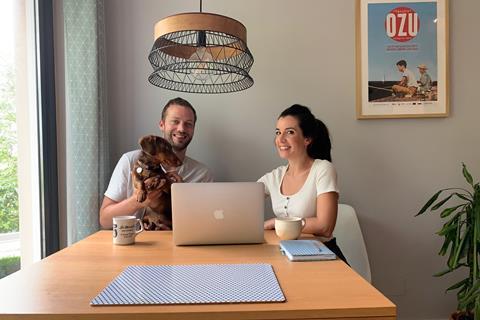 The husband and wife filmmaking team of UK director Ben Sharrock and Spain-born producer Irune Gurtubai of Caravan Cinema were putting the finishing touches to their second film Limbo when the Covid-19 pandemic forced Spain, where they were visiting, into a strict lockdown. The pair normally live in Scotland.
Set on a fictional Scottish island, Limbo is the story of a group of refugees who are waiting to be granted asylum. It stars Amir El-Masry, with Vikash Bhai, Ola Orebiyi, Kwabena Ansah, Sidse Babett Knudsen and Kais Nashif.
In late May it was revealed Limbo had been selected as part of the Cannes 2020 Official Selection label. Protagonist Pictures has been screening a scene to buyers at this week's virtual Cannes market.
What stage were you at with Limbo when Spain was forced to lockdown in March?
Irune Gurtubai: We were quite lucky in a way, as we had just finished post-production and started delivery a week before lockdown. It did slow down the delivery process a little, but it hasn't affected us too much.
Were you able to do any work on it from home?
Ben Sharrock: It was a strange feeling to have just finished Limbo and then contend with the mindset of a strict lockdown and all of the uncertainty around how we might be able to launch the film. While for me there was no real work to be done it was difficult not to worry about the future of our film.
What conversations have you been having with your team over the months
IG: We were obviously worried about the premiere of the film, and that started to be the focus for us and becoming the centre of every conversation. We have spent years working on this film, so obviously we want it to have a good festival premiere.
How have you kept up morale?
IG: The morale has been pretty good in general, although we did have ups and downs! At the beginning of lockdown we hadn't heard from Cannes yet, and it still wasn't clear whether it was going to take place or not - at this point they were looking at postponing it, but things weren't looking good.
By the time we got the invitation from Cannes to be part of their Official Selection this year, it had been confirmed that the festival was cancelled. It was bittersweet as we would have loved to attend, but it is still an amazing accolade to have and we are very proud of the achievement.
BS: I shaved my head and immersed myself in the great outdoors with [video game] 'Red Dead Redemption 2'. Then the Cannes news came around it was huge. Yes, bittersweet, but Cannes has always been the dream.
How you found this to be a particularly creative time for you as a filmmaker or have you found it difficult to concentrate?
BS: In the beginning I had a massive spike in creative productivity. I started the process of developing a mobile game that's been in my head for a while and edged forward in thinking about the next film project. After a while, the lockdown started to eat away at me and that initial spike levelled out.
Have you been able to stick to a daily routine through this strange time?
IG: We normally work from home so that part hasn't been that different for us. We have tried to stick to the same routine we normally have. Psychologically, the lockdown did affect me at points, the fact that we couldn't leave our flat and go outside or see any friends or family.
How are you juggling family life and the demands of work?
IG: We don't have children but we do have a dog and he was climbing up the walls from the lack of activity! We had to get creative and make up games to play with him indoors.
BS: Freddie, our miniature daschund, could be a handful at times but we've spoken to friends with children and our situation is nothing in comparison!
What have you been watching, reading or listening to?
IG: We had a phase of watching comfort films from the 80s and 90s like Speed and Do The Right Thing, and binge-watching [the US version of] The Office. Also catching up on films like Calm With Horses, Burning and Columbus.
I also read 'Regarding The Pain Of Others by Susan Sontag. Another highlight was 'Why I'm No Longer Talking To White People About Race' by Reni Eddo-Lodge .. I wish I had read it sooner.
BS: I found myself becoming highly invested in Jim and Pam's relationship in The Office. It really got me through. And, I felt inspired by Keanu's outfits in Speed. I'm not sure I can pull off the high-waisted jeans with a tucked- in t-shirt in the way he can though.
We also went on a journey through the films of Eric Rohmer and I devoured Ingmar Bergman's book 'Images - My Life in Film'.
Do you think you have learned anything about yourself during this period?
BS: I've learnt that I give my work too much importance. There is more to life: Friends, family… health.
IG: Although I have always considered myself an introvert, I really need to socialise and see people (not just Ben, ha!).
Are you keen to return to cinemas as soon as possible? Or will you wait and see?
BS: Hmm. I have to say I am keen and I want to do what I can to support cinemas but we will see.
IG: I have been checking cinema times since the first time the reopening was mentioned, so yes, I think I will be one of the first ones. I have always gone to the cinema very regularly and I really miss it.
What advice would you give to people in the business who are worried about the future of the industry?
BS: To quote Baz Luhrmann's [song] Sunscreen - Don't worry about the future; or worry, but know that worrying is as effective as trying to solve an algebra equation by chewing bubble gum.
IG: We are a very resilient industry that is always "in risk" of something. Although a pandemic like this is unprecedented, I know that we will find creative solutions to whatever comes our way.