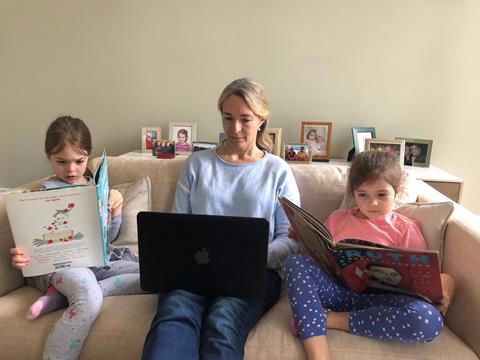 London and New York-based Celine Rattray has produced more than 45 films in her career and set up Maven Pictures nine years ago with Trudie Styler.
Rattray won a Golden Globe and earned an Oscar nomination for The Kids Are All Right and her credits include Cannes jury prize-winner American Honey, Whistleblower, and Bernie.
Is it business as usual for you and your team as you all work remotely from home?
Yes and no. We have two films in post – A Mouthful Of Air and Silent Night. Remote post is more challenging, but it is doable. It is unclear whether new films can go into production in 2020. Yet we are still working a full week, and we focus on the things we are able to do from home.
We are actively looking for new projects and doing deep development on our existing projects. Our focus is creating opportunities for women in front and behind the camera.
For many years we have wanted to dive into the television and digital content space. We are using this moment as an opportunity to focus on these new areas. We just sold a show to Snap based on a past film of ours.
How are you maintaining an office routine?
I am in the UK, and I have tried not to change my working day. Morning is focused on reading, catching up with emails, and calls to Europe. Afternoon is calls to New York, and evenings to LA.
What technology are you using to talk to people?
Mainly Zoom and FaceTime. And good old-fashioned conference calls.
In what ways are you and your colleagues keeping up team morale?
The Maven team does a daily zoom call at 11am. In the first half of the meeting, everyone gives a quick update on their day. The second half of the meeting is a creative brainstorm on current and new projects, and how to move them forward in this new landscape.
We feel incredibly connected – and that we are communicating more and better then ever. We are very open with each other about our fears and low points. It feels like a strong support network. As a team we are motivated and working effectively.
What advice would you give to people in the business who are worried about the future?
This is without a doubt a challenging time for the film business. But the indie film community is filled with people who persevere and are resilient. We are accustomed to rejection and challenges. We have the character traits and personality to overcome this and we will continue to find ways to tell stories.
What contingency plans are you making for the next few months?
We are being cautious on the expense front by cutting all unnecessary spending. We are assuming there will be limited revenues in 2020.
If you have young children, how are you managing to keep them entertained/educated while you work?
My five- and seven-year-olds are being home-schooled. They have classes through Zoom and SeeSaw. I attempt to keep a structured school day for them, including 'drop off' in the living room every morning.
There has not been a day where they haven't walked into a Zoom call I am having and weighed in on the discussion. Last week they interrupted a writer meeting, saying they had a movie idea, holding up a Harry Potter book. I try to keep a sense of humour about it. We are all in the same boat.
What advice do you have for home working?
Pretend you are going to the office and structure your day as if you were in the office. Also try to get out for exercise once a day, if you are able to. This helps avoid cabin fever.
What are you watching and reading and listening to get you through this time?
I am reading Creativity Inc, which explores the culture of Pixar. A great reminder to strive to make the best content.
What positive change might this bring to the industry?
Historically, difficult times have resulted in some extraordinary filmmaking. These films exist to comfort people, or for escapism, or to reflect the heightened emotions we feel. I hope we will come together as a community, support each other, and create content that matters.