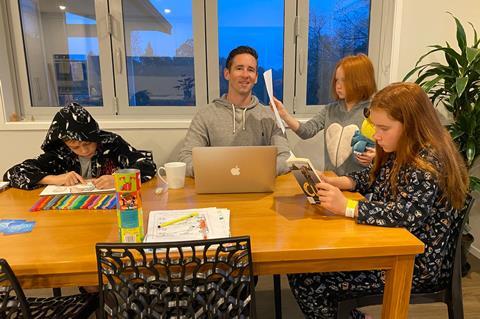 David White is CEO of New Zealand-based online video platform Shift72. Launched in 2008 the company has seen business boom like never before this year as the international film industry grapples with life under lockdown.
The company's software has enabled international festivals and markets such as CPH:DOX and the Cannes Marché, as well as the upcoming Fantasia, Toronto and Sundance film festivals to transform from physical events to virtual platforms.
White and his team are also working with global exhibitors and launched ScreenPlus in 2019 to help cinemas set up VoD 'virtual theatre' platforms to reach audiences at home. White lives in Hamilton with his family and is now back working two days a week in his office, three days from home.
Firstly, set the scene for us because what's happening in New Zealand is quite different from other parts of the world.
We're very lucky in New Zealand. It's been great management by the government and also the location – being on a small island and the bottom of the world – has helped. So we're now in Level One, which is kind of business as usual. Everything is open and there are no social distancing measures. There is contact tracing, so every time we go into a shop or restaurant there's an app we scan to keep track of where we travel. We're gradually returning to the office and I will probably do three days in the office, two days at home. We're not forcing anyone to come back. This has probably changed the way we're working and expecting people to be in one central spot.
Is day-to-day life how it was pre-Covid?
We went into a complete lockdown in late March and that lasted through to June 8 and [then] schools [and businesses] went back on the back of zero cases and we kind of went back to normal.
Describe what happened to the company once the lockdowns began.
Initially we did a work from home trial because we knew lockdown was coming and we just wanted to make sure everything worked. Around March 15 we got a call from CPH:DOX seeing if we could help them and from then on it was a flood… It hasn't let off. We thought we might have a wave and it would slowly peter out but we've seen this constant increase. On some days we might have 40 festivals wanting to talk to us and we just make sure we can support everyone.
We're working with hundreds of festivals at the moment and it's a little overwhelming but really rewarding. We knew we had this world-class software solution and needed to do some marketing and from the bottom of the world that made it a little harder but it's no longer an issue.
How much time have you been spending on conference calls?
During lockdown it would have been at least nine or 10 hours a day, half an hour back-to-back. It wasn't sustainable and now we're back in the office and have more staff it's dropped down four or five hours a day. I wasn't doing as much exercise which I'd been quite used to doing and I'm trying to bring that back into my day.
Have you seen a staffing boom?
It's been a challenge because we were hiring staff during the lockdown when we couldn't meet them personally. Some of them didn't have webcams so we've hired them sight unseen. It's gone really well and we've got this great team and it's been really good to be hiring people who have lost jobs – it's a good feeling.
We were a small team, around 11 predominantly software engineers. We're now up to 25 and could reach 30 by the end of July. It's been exponential. We had a really strong customer base already and the numbers are just through the roof, streaming volumes. It's all unexpected but we'll take it.
What do you think festivals will look like in the future?
Going forward we're going to see a very hybrid approach where festivals are no longer just a physical, timed event but they're an at-home event as well. Festivals have a big opportunity to play in the space because there's the chance to curate and they have a big following, so I think they're going to emerge from this as a very viable home entertainment provider and we're very proud to be the technology of choice right now.
Will you travel again?
I don't see any travel this year and into early next. Previously I would do probably six international trips a year to the US or UK and Europe. Looking forward I think the necessity of that has probably changed: people are quite happy to do these calls on video camera. You can't beat that personal interaction but we'll be a lot more selective about what trips we actually do need to take.
What advice would you give to people in the business who are worried about the future?
In times like this there are new opportunities that emerge. If you look back at the 2008 recession there was a lot of innovation and now with the film industry you're going to see a whole lot of new exciting companies and models emerge and skills growth across the industry It's tough-going now but we're going to come out of the other side of this with a whole load of opportunities.
What has most surprised you about yourself during the pandemic?
My ability to manage the maths around the different time zones. Maths is not my strong point and I didn't muck it up too often. More seriously, the realisation how important face-to-face interaction is.
Where's the first place you will go when New Zealand lifts the travel restrictions?
I want to go on a nice simple trip across to Australia to see my niece who was born during this lockdown.