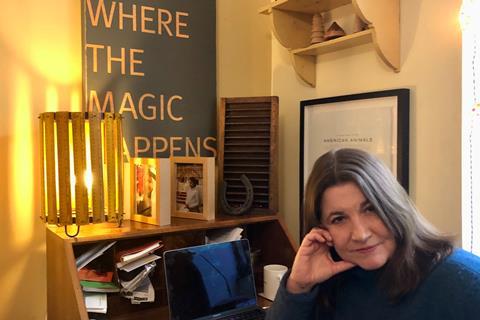 Former Film4 and Raw producer Katherine Butler joined The Ink Factory as creative director just a week before the UK lockdown came into effect.
Butler spent nine years at Film4, rising to deputy head of film before she departed in 2014 to become head of film and TV drama at UK indie Raw. While at Raw, she produced Bart Layton's American Animals and Euros Lyn's Dream Horse, which premiered at Sundance in January.
London- and LA-based The Ink Factory has focused on producing a number of spy novelist John le Carre's works including The Night Manager and Our Kind Of Traitor, as well as original features including Fighting With My Family. Butler will oversee the production outfit's global film and TV slate.
How are you and your team trying to maintain business as usual?
I managed a grand total of seven days in the physical Ink Factory office [before lockdown]! There are challenges to that – not least getting to know my new colleagues via the means of video call whilst studiously ignoring the chaos my teenagers are creating in the kitchen.
For Ink as a whole, we are turbo-charging our development slate with business as usual both in our London and LA (virtual) offices. We have even made our first virtual hire: Maggie Boden as director of development.
Fortunately, The Ink Factory was in a strong development push prior to the lockdown. We have a diverse slate including a feature film adaptation of David Nott's book War Doctor, a series based on Lara Prescott's Cold War-era Secrets We Kept, exploring the untold story behind the publication of Doctor Zhivago, a television adaptation of John le Carré's iconic The Spy Who Came In From The Cold, and a feature drawn from Un Su Kim's unconventional noir thriller The Plotters. Our focus is to accelerate these titles and ensure we're raring to go in a post-lockdown environment.
How are you maintaining an office routine?
The Ink creative team made a pact we would speak every weekday morning at 10am on video for as long as this lockdown lasts. It's really helped, both to get to know each other – and, as they fleetingly pass the camera, our partners, flatmates and various pets – and to bounce ideas and projects off each other in an ongoing dialogue. It makes sure we are all dressed and at our desks, but more than that, it has allowed for a constant flow of ideas and coordinating our reading/viewing to make sure we are all complementing each other's focus.
Which systems are you using to talk to one another and clients?
We are using Lifesize for as much as we can, both internal and external – plus some conference calls, lots of emails and texting and even occasionally speaking on the phone! I keep Zoom and WhatsApp for personal stuff.
In what ways are you and your colleagues keeping up team morale?
We all feel lucky that we before all this happened, we were already in a huge development push, and being busy helps keep everyone focused and happy. This current situation in some ways feels made for development – we've found access to writers and directors easier as everyone is at home. We are all reading and watching lots so that keeps us busy in our free time too. Each morning our first conversation is always what we watched or read the night before.
What advice would you give to people in the business who are worried about the future?
One of the things I've been mourning is the theatrical release of the film I produced last year at Raw – Dream Horse. It was due to release in the UK on April 17, and shortly thereafter in the US. We feel lucky we were able to push it back in time but are obviously sad several years of work so far still hasn't been seen.
The very near future for theatrical films looks rough. I don't have any advice about that except to hang on in there and believe that at some point in some way cinemas and theatres will re-open because we all crave that communal experience of sitting in the dark together being told a story. In the meantime, it's fascinating to watch experimentation with films going straight to VoD, breaking windows and exploring ways of finding audiences at home. This gives us an opportunity to learn and consider new ways of releasing films in the future.
If you have young children, how are you managing keeping them entertained/educated while you work?
We have teenagers – that's a whole other challenge! It's been very hard for them. After all, your social life is everything and your family is deeply tedious at that age. But the good news is that the house is very quiet in the morning.
What advice do you have for home working?
I work in our dining room and have a notice on the door to remind people not to come in as I'm invariably on a video call – this mostly works. I have been trying to do a bit of yoga first thing, and then definitely dress in proper clothes and brush my hair, not least because almost all our contact is visual.
What music or podcasts are you listening to and what are you watching and reading and listening to get you through this time?
I am an avid 6Music listener and find dancing to loud indie anthems in the kitchen to be the best remedy to most things. I have about five Audible books going, all to fit different moods. TV wise, we loved Home on All4 – such humanity sliced with such acerbic wit; Unorthodox on Netflix was beautifully made; and we're still loyal Homeland viewers. And The Archers, which is still Covid-free and feels like entering a parallel universe every evening.
What positive change might this crisis period bring to the industry?
Dare I say for an industry obsessed with international travel, less of that? It really does feel you can have great conversations and interactions over video. There's often been a culture of presenteeism in this industry, and as someone who has long worked from home one day a week I do hope this has shown that home working can be incredibly productive and beneficial for many aspects of what we do. Having said that, I am also desperate to get on that train and back to the office – especially as I had only just found out where everything at The Ink Factory was located.