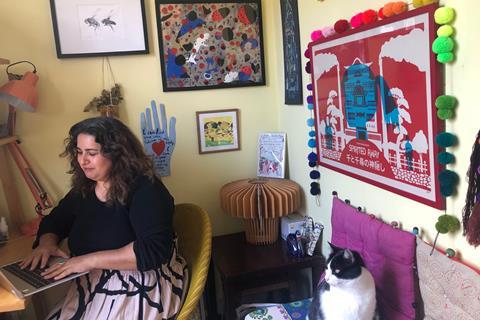 London-based casting director Shaheen Baig is renowned for her ability to find and nurture new and diverse acting talent and rising new filmmakers for both film and TV.
Her feature credits include How To Build A Girl, Animals, Everybody's Talking About Jamie, The Last Tree, Calm With Horses, The Nest and Ali & Ava. Her TV work has encompassed Three Girls, Black Mirror, The Virtues, Giri/Haji and The Third Day.
Two of the film projects on which she has been working have been suspended due to Covid-19: Reggie Yates' directorial debut Pirates for BBC Films and Hillbilly Films and Sally El Hosaini's The Swimmers for Working Title Films, as well as the latest series of Peaky Blinders for CMP and BBC One.
Is it business as usual for you and your team as you all work remotely home?
Not quite. There are five of us and we've all had a lot of adjusting to do. The industry has been hit hard and for the initial couple of weeks we had to deal with the fallout from projects being suspended. Letting actors down, that has been really tough. For some actors it was their first job and for others it might have taken a lengthy casting process to hire them so their disappointments are palpable. Speaking to upset and frustrated producers and directors who have been working on projects for over a year and so close to filming. It's been really unsettling.
How are you maintaining an office routine?
We speak on Skype every weekday. Checking in at 10am, break for lunch 1-2pm and then back on until the end of the day. We've only braved having the video on once. I'm sure that's mostly my avoidance tactic and not theirs!
We have projects going later on in the year so we're focusing on those and all mucking in. We don't know what projects will go when but we have to remain optimistic and continue to work as if they will get made. There are some elements to our job that can't be done in the same way because of the shutdown such as auditioning actors in the room and conducting searches. It has however given us a moment to look at how the office works and see if there are any systems that can be updated or changed. The things we often don't have the time to do when working flat out. Basically getting our house in order!
We had also made some space to do general meetings with actors just before shutdown so have been trying to continue those online where possible.
Which systems are you using to talk to one another and others?
We use Skype mostly. Zoom is the new buzzword, every conversation I have at the moment is about Zoom so we are embracing that too. Thank goodness for the internet connecting us, even if we are all working out of spare rooms, sofas, beds.
In what ways are you and your colleagues keeping up team morale?
That's been my biggest concern. Keeping my gang's morale up. We are a tight-knit group, if we feel someone is getting down we do what we can to pick them up. I've tried to keep them motivated about projects to come later on in the year, get them reading and watching material and we are constantly talking with each other.
This is a good time for us to explore and educate ourselves about writers, directors, actors for future work or even look back at the past at filmmakers they are not aware of. It's all nourishment. We've always had a laugh and even more so lately. It's important I listen to their concerns and anxiety at this time as well as getting the work done. We are all in this together.
What advice would you give to people in the business who are worried about the future?
The industry will recover and we have no real control over how long that is going to take.
Where possible try and keep some sort of routine if you can. I miss going into London and to the office so I make sure at home even if sometimes there is chaos around me I make a plan for the day. Keep on top of what's out there, use the time to scour for new talent or rediscovering people. I am also using this time to enjoy being at home with my daughter who I never get to spend enough time with on a normal working week. This feels like a gift right now.
What contingency plans are you making for the next few months?
I have a contingency plan in place with my office until June – by then I hope to have a clearer idea of what might be happening with existing projects, if not then I will have to rethink but I'm positive we'll be better informed by then on how to move forward.
If you have young children, how are you managing keeping them entertained/educated while you work?
My daughter is 13 so I'm attempting home-schooling. Not sure she's that impressed but we're trying to stay friends during this process! Aware this is a tough time for her, away from all her mates and routine. She is used to me working from home so generally doesn't bother me while I'm on calls, unless it's to make me laugh.
What advice do you have for home working?
I've worked from home on and off since my daughter was a baby so I have a good sense of how to get through the day. Routine is good but there are always days when it's hard to get out of bed or I've no desire to change out of my pyjamas. But by getting up and attacking the day as if I'm commuting to London it's keeps me sane.
We have a spare room, full of junk I have been working from. Out of the window I can see everyone else doing the same which is oddly comforting or we have a desk downstairs in the living room where I can work. That's a lot more organised and I'm closer to the kitchen.
What are you watching and reading and listening to to get you through this time?
My download list for a long time as been overflowing so catching up with Tiger King along with the rest of the world, Curb Your Enthusiasm and the new season of Kidding. Always listening to music, BBC 6 Music or NTS is on in the background and playlists like this one put together by film composer Clint Mansell keep me going.
What positive change might this bring to the industry?
I'm really hoping we will all have watched so much television there will be a huge appetite to visit the cinema and enjoy that collective experience again. I think this downtime will make us readdress our work/home balance and encourage us not to blur the lines too much and be kinder to each other. If anything this has exposed how precarious the industry is and how we should take better care of ourselves as employer and employee."