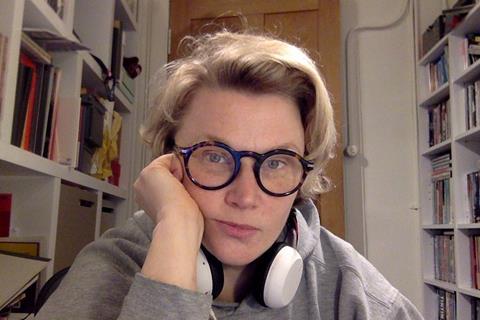 Hope Dickson Leach is an Edinburgh-based writer and director whose feature debut The Levelling premiered at Toronto in 2016 and went on to win the Bafta Scotland award for best screenplay. A former Screen Star of Tomorrow, Leach was the inaugural winner of the IWC Filmmaker bursary in association with the BFI.
She is also one of the founders of Raising Films which advocates on behalf of parents and carers in the film industry. The organisation has launched the 'Raising Our Futures' campaign to explore how the film industry might be improved by greater flexible working when this crisis is over.
What are you able to work on right now?
I'm based in Scotland and have a family and have always worked from home. And as a founder of Raising Films, our team is eight strong and we have all always worked part-time and remotely.
What is your home office routine?
I have no routine. In fact, it's a good day when I manage to get dressed! I have two children who need looking after and entertaining, feeding and washing, so that of course takes priority and other work must fit in around that. My husband works for the Scottish Government and has been moved onto a shift pattern on a seven-day schedule, which means each day is different in terms of splitting up the childcare.
Work gets done when it has to, and my collaborators and commissioners are very understanding about when I might be able to deliver, which is really appreciated.
Which systems do you use to talk to your partners and collaborators?
I've been reliant on Skype for a long time but have now converted to Zoom for work calls. I can't believe no-one has suggested it to me before. At Raising Films, we use Airtable and Google to track and share our work.
In what ways are you and your colleagues keeping up morale?
Short videos of animals doing funny things are really the currency I rely on. And my agent's cat has just had kittens which honestly is the best thing that's happened this month.
I was supposed to be shooting a feature in the US this summer, and though we may be starting to see when the UK curve might begin to flatten, the US feels so far behind, so I imagine that that project may take longer to happen than anything over here. It's really made me think about our relationship with the US industry.
What advice would you give to people in the business who are worried about the future?
We are an industry of creative people and we will find inventive solutions to the challenges ahead. As a freelancer you get used to treating fallow periods as a time to reconnect with important things in your life, knowing that they'll eventually end and you'll be back out there.
What contingency plans are you making for the next few months?
I have some writing commissions that will hopefully keep me going. I'm lucky my husband has a job that hopefully isn't going to disappear. Meanwhile I'm thinking a lot about my collaborators who work entirely in production or post-production and how they are going to get through this. I feel very lucky.
How are you keeping your young children entertained/educated while you work?
I seem to have bred two Warhammer-adjacent boys who are lost in creating bizarre Risk-style games which go on and on and on and open up some time for me to get things done. I never thought I'd be so grateful for nerd culture. I have a great friend doing some screen-based childcare for me from their home in London. We are also getting through the craft cupboard, planting all the seeds that were languishing in the back of the kitchen drawer and there is of course a certain amount of screen time.
What advice do you have for home working?
I have no office, but I always try to get dressed for work. Even if it's just clean pajamas. A shower, some exercise, and something to move your brain from 'home' brain to 'work' brain is often useful. Make that commute time virtual, or do your assigned exercise between 'work' and 'home' – and don't expect to be able to switch right on when you've left the kids in the room next door 10 seconds ago.
It's also worth remembering to get up and walk around occasionally, but try and keep the biscuits locked up somewhere high as the sugar buzz will destroy your concentration. Other than that, deadlines are your friend.
What are you listening to and watching and reading to get you through this time?
Wild, Wild Country, Crip Camp and the latest series of Ozark are my Netflix toppers right now. Schitt's Creek and Brooklyn 99 are my ride or dies. I am a compulsive 'Criminal' podcast devotee and am loving listening to Phoebe Judge read an Agatha Christie novel.
Mubi is nurturing my needs beautifully, and as a family we've been watching the entire MCU catalogue from start to finish. I can honestly say I'm now ready to step up if they're looking for a director for the next one. I quite fancy Valkyrie, Mr. Feige, if you're listening.
What positive change might this bring to the industry?
I'm hopeful we can build a more sustainable, environmentally friendly and inclusive industry. I hope more people will be able to work remotely. I hope we will value our freelance workers more and find a way to ensure they are protected by the industry itself against any future disruption. I'm also excited by the way this might shape the online distribution models for smaller films, and the way we find audiences for our work without the platform 'giants'.