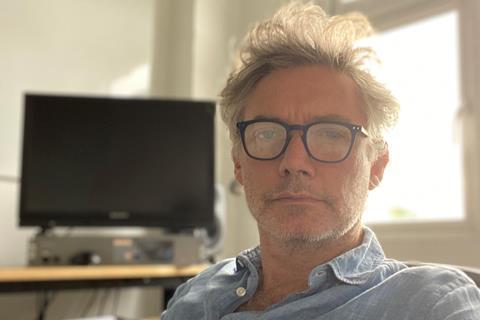 Glasgow-born director Kevin Macdonald's films include One Day In September, Touching The Void, The Last King Of Scotland, How I Live Now and Whitney.
He recently finished filming real-life Guantanamo bay drama Prisoner 760, starring Tahar Rahim, Benedict Cumberbatch and Jodie Foster. STX is handling sales.
Macdonald's next project is YouTube Original's Life In A Day 2020, a follow-up the original Life In A Day, which tells the story of a single day on earth based on footage sourced from thousands of ordinary people. Submissions open on July 25, with Life In A Day 2020 set to premiere at Sundance and on YouTube in 2021.It is being produced by Ridley Scott's RSA Films.
Macdonald has spent lockdown in London with his wife Tatiana and their three children.
What stage were you at with Prisoner 760 when you were forced into lockdown?
I was finishing filming on the west coast of Africa at the end of February and got back here, started editing, and a couple of weeks later everything started to lock down. I've been editing in an office five minutes away from my house in London. I'm just coming to the end of the edit now and starting to post the film.
How difficult has it been to finish the film?
Certain things we'd like to have done we haven't been able to do. I can't mix the film without being in the same room as other people. I can't do ADR very easily without being in the same room as the actors, although I have done a little bit remotely with America and France, but that is slow and slightly frustrating. The composer I'm using - we haven't even met, we've only spoken by Zoom.
What have been the benefits?
I haven't had too much interference, endless visits that you wish were only 10 minutes but go on three hours. I also think people have become more efficient. I've been surprised how well it works talking to our VFX company remotely, for example, because they can show me what an effects shot looks like on the big screen and I can see it well enough to sign off on it. Five years ago you couldn't have done that. More than anything I feel I can finish my film, it might be a hassle here and there, but the film is not going to suffer too much in the end.
How are you juggling family life and the demands of work?
I had been away for five months, so I was very happy to be back with my family. Luckily for us, we enjoy being in each other's company. I was worried my kids would go stir crazy, but it's made them - like all of us - look at what they value and what's important. Also, because I was editing around the corner, I could leave the house every day - that gave me some sense of normality.
Did you decide to do Life In A Day 2020 because of Covid-19?
We actually talked about it last year with 10 years [since the original] coming up. Then literally just as lockdown was happening, [producer] Jack Arbuthnott said we should do it because Covid will be over by the time we want to film! Little did we know. But obviously it's the perfect project to make in these times. It doesn't require crews or stages and the whole modus operandi is catching the intimate and honest moments in people's personal lives.
Will it be focused on Covid-19?
No. It's more about a taking of the temperature of the globe on July 25. The original had a positivity and humanity to it, it restored my faith that people are fundamentally decent, but I'm sure this version will have its fair share of things that are darker and more difficult. In 2010 we were two years into Obama's presidency; post the financial crash; the internet was still a tool that we were excited by and now a lot of those things have curdled. All of that will be reflected in the tone of the film, but not in a literal way.
How you found this to be a particularly creative time for you as a filmmaker or have you found it difficult to concentrate?
When you are editing and need to focus on one thing then having a lack of distractions has been good. But life seems very flat. Without the ups and downs, there isn't the motivation to be creative. I think everyone's a little bit in shock, aren't they? It's quite hard for your imagination to free itself from that shock and reflect on it.
What have you been watching, reading or listening to?
In March I started reading Life And Fate by Vasily Grossman, which several people said this is the great novel of our time, but I got to page 120 and gave up. I have watched a lot of classic movies. I have an 18-year-old son who is a movie buff, so introducing him to classic movies is something I really enjoy. The other night we watched Saturday Night Fever. It's got to be in my top 10 of all time, it's such an interesting, undefinable film.
What's the one thing you are really looking forward to doing as the UK lockdown eases?
Going out to a great restaurant and not having to cook for five people every night. I've booked us into a great Thai restaurant called Som Saa in Shoreditch for my other kid's 16th birthday. I spend a lot of my life in Soho and I'm missing that world as well, just being able to pop in, have a cup of tea and chat to the staff at the Union Club.
Are you tempted to go back to cinemas now some of them are open?
I will, definitely, when there's something I want to see. I have a lot of friends who say they don't miss cinema, but actually I think this will be an inoculation against that because we'll have all sat on our couches so much that consciously or not we'll yearn for the big screen.
How do you feel about starting production, and have you started reading the new production guidelines?
I've been sharing an office with [Emu Films] Mike Elliot, a very experienced producer of indie movies, and hearing him on the phone every day talking about PPE and how a dolly gets in without four people being within one metre of each other and it was exhausting. [Elliott is preparing to shoot Terence Davies' Benediction.]
I have had one small experience of this as I was interviewed for a Life In A Day promo about three weeks ago, and I did notice after two hours or so that the rules had started to melt away. You have to be so disciplined to change the way you've been working for years and not look at that monitor when somebody else is. In the heat of the moment that's very hard. It will take an enormous amount to effort to get any real filming done, and quite a lot of money. I think things won't get back to normal until they are pretty much back to normal.
What positive changes do you hope the Covid crisis will bring to the film industry?
Obviously we won't be flying around as much as we were. I'm meant to be going to Mauretania in a few weeks, and figuring out how you do that is like returning to the 1930s. People realise now you don't need to at every meeting, you can be there remotely, and that there's no shame in having your children running around behind you on Skype.