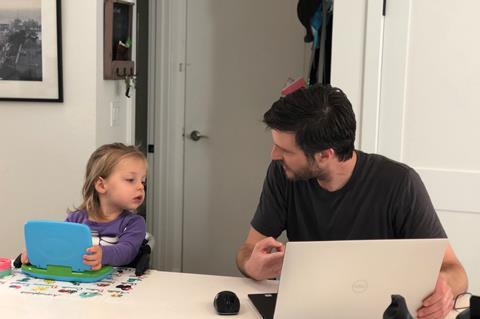 Nick Spicer is one of the three founding partners at Culver City-based production, finance, sales and management company XYZ Films alongside Nate Bolotin and Aram Tertzakian.
The company has championed renowned international genre fare from Gareth Evans's 2011 Indonesia-setThe Raid to Lorcan Finnegan's Ireland-Belgium sci-fi mystery Vivarium, and The Platform, a hit on Netflix after the streamer acquired Basque director Galder Gaztelu-Urrutia's high-concept film at Toronto last year.
With the lockdown in effect, Spicer and his colleagues continue to transact on sales and are working with multiple writers on script development.
Is it business as usual for you and your team as you all work remotely home?
It's business but I wouldn't say it's "usual." The business itself has shifted a great deal in the past month, and we are adapting. In terms of our company's workflow, it's been a seamless transition. We have staff all over the world on a normal day, so working remotely has been smooth.
How big is the team and how many offices do you have?
We are about 20 people spread across LA, Toronto, Europe, Australia and Asia.
How are you maintaining an office routine?
We have kept all of our normal staff meetings as Zoom video conferences. We keep largely the same hours although it's more fluid when you work from home. Each of us has adopted a new routine based on our living situations.
Which systems are you using to talk to one another and clients?
Zoom primarily, some Skype and WhatsApp.
How are you and your team keeping up morale?
Staying busy and productive. With productions shutting down and releases being pushed, we've shifted our strategy for every department so that there is ample work to be done. I'm happy to say our team is more motivated and positive than ever when it comes to the work we're doing. Nobody has time to be gloomy! We also keep in regular touch with each other, which helps us feel connected.
Which projects you are actively moving forward on and where are you at on each?
We are releasing films directly to digital. We recently released The Platform on Netflix, which shot to the #1 spot in the US. We are releasing Vivariumand Blood Quantumboth soon. We are in active post-production on Joe Penna's sci-fi movie Stowaway. We are posting in Germany and Joe is in LA with us, so we have gotten creative with the technology to make it possible to continue.
We are also continuing post on Sion Sono's Prisoners Of The Ghostlandand Jim Taihuttu's The East. We are doing what we call "desk prep" on the productions we had slated for summer shoots – legal, financing, casting, budgeting, scheduling, bonding, etc.
What advice would you give to people in the business who are worried about the future?
People are consuming more content at home than ever right now. The demand for content remains high. Audiences wanted content before, they want it now, they will want it when the clouds part and our supply chains are back up and running. If there are enduring changes to distribution, we will do what we always do in the entertainment business – adapt.
What contingency plans are you making for Cannes?
We are actively selling movies outside of the market context and keeping in daily contact with our buyers. We hope that the world is safe and ready for the postponed festival but we are not waiting until then to make deals.
If you have children, how are you managing keeping them entertained and educated while you work?
My daughter recently turned two. It's a balancing act between my wife and me. My wife is pregnant, still working part-time remotely for her elementary school, and is doing most of the heavy lifting.
My daughter has taken to "working next to daddy" and likes to drop in on my conference calls and video chats. I've changed more than a few diapers while on client calls.
What advice do you have for home working?
You have to find what works for you. I've been dressing in normal work clothes. I do as much as I can in the kitchen to be near my family. When I do calls or video chats I go to another room or go outside to get some sun.
What are you watching and reading and listening to in order to get you through this time?
I'm streaming just like the rest of the world, and finally getting through Robert Caro's biography of Lyndon Johnson.
What positive change might this bring to the industry?
More millennials are streaming long-form film and TV content out of boredom, and I hope that lasts. I also think people are being more adventurous in their content selection, which might broaden some horizons and even give a boost to indie filmmaking.
Case in point – XYZ handled sales for The Platform, which our filmmaker client Galder Gaztelu-Urrutia directed. It's a Spanish film that premiered on Netflix, and it was the #1 movie in America on Netflix recently – that's pretty special.