Creating the look for the film Elvis involved painstaking research — and then building a created world that served the icon's unique essence. Screen talks to the film's design supremos Catherine Martin and Karen Murphy
For many heads of department in the craft disciplines, their work on a film begins at the pre-production stage, when they are shown the completed script. But when it comes to the design departments for films made by Baz Luhrmann, this is far from the case.
"We are very lucky that we become part of the story building," explains Catherine Martin, who serves as costume designer and production designer (the latter alongside Karen Murphy) on Elvis — work that has been honoured with Bafta and Oscar nominations in both categories. "Baz will have images that are special to him, he draws pictures, he has tear sheets from magazines. Those images are the foundation of what becomes a visual script, which evolves over the entire period of development. It will start off literally being images from the internet or scanned out of books, and end up being the actual design of the film with renderings and pictures."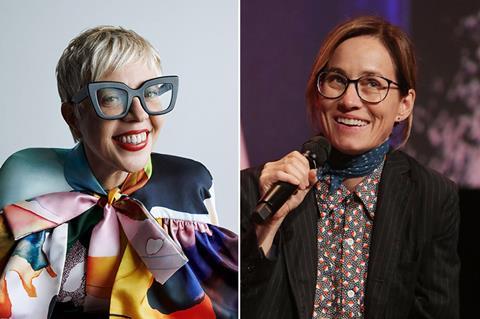 Thus the two production designers, in the case of Elvis, "become his first audiences where he starts to tell the story", says Martin, who adds that they were set research tasks during the writing process to help illuminate points in the script. "So whether it's in-depth research on images of Graceland, or the floor plan, or in the case of costume, we had to make an extensive wall chart that memorialised every single jumpsuit that Elvis ever wore, when he wore them, and whether there were any anecdotes particularly associated with them."
All of Martin's feature credits to date have been for Luhrmann's films, beginning in 1992 with Strictly Ballroom, so the designer — who married Luhrmann in 1997 — has never experienced a different working method. Murphy, whose collaborations with Martin and Luhrmann in various roles date back to 2001's Moulin Rouge!, has worked with multiple directors. "When I come to other projects, you come at the production period, you don't often develop a film," she explains. "When Baz sets his tasks, we're supporting him visually as he builds the story. And sometimes, something we've found will make its way into the text. So that is very exciting and unique."
Building worlds
Elvis stars Austin Butler as the titular singer, with the story told by the self-invented Colonel Tom Parker (Tom Hanks), who became Presley's manager in 1955. When Luhrmann first floated the idea of the film, quadruple Oscar winner Martin — who is also a producer on Elvis — initially underestimated the scale of the designing task. "Even though I could tell there was an enormous amount to do, I sort of thought, 'Oh, this is more of a technical flex,' because instead of completely world building from scratch, there are references. There's got to be some kind of economy in terms of the scale of the work, because somebody's already thought of this before me."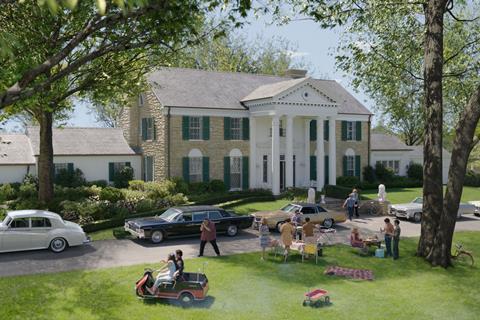 The Presley family home Graceland, Beale Street in Memphis, NBC Studios (where the 1968 TV special was filmed) and the International Hotel in Las Vegas (where Presley began a seven-­year residency in 1969) — these are all previously existing locations that appear prominently in the film.
"Boy, was I wrong," continues Martin. "The world building is just as detailed, just as huge, and even more so." The design team had to keep in mind "the burden of recreating things that people know so well", such as Graceland, "while telling the story, being historically accurate, and also balancing filmmaking".
Elvis — which tells a whole life story in 159 minutes, criss-crossing over a period of several decades — is delivered on an ambitious scale. "We built over 90 sets," says Murphy. "It's a completely constructed piece. There are locations, in that we put our set on a piece of land, but there's no location as in [an existing] building. We had to create absolutely everything for this world."
While certain key locations were filmed at Village Roadshow Studios on Australia's Gold Coast, the team needed to construct Colonel Tom Parker's travelling carnival show externally — and found the perfect spot at a prawn farm that had closed due to a breakout of white spot disease. This "kismet location" provided the water feature they desired, as well as a sugar cane factory in the background that added visual interest. But then the real task began, which included securing a Ferris wheel for a key scene when Parker offers to manage Presley exclusively.
Luhrmann liked the look of a Ferris wheel from 1964 Presley film Roustabout. "And by complete happens­tance, we found that particular wheel in Australia, same make and model," recalls Martin. "They were all built at the same time for traveling carnivals."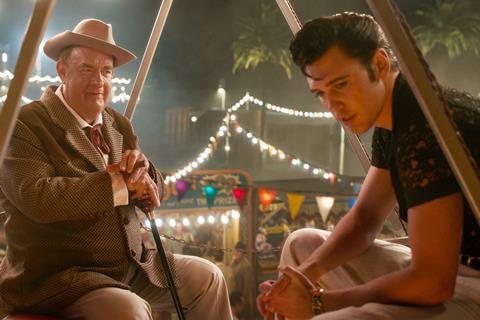 Back at the studio, the team constructed a life-size model, so Luhrmann and director of photography Mandy Walker could get a sense of the scale and a feeling for camera angles. "And Baz goes, 'I just don't think it's big enough.' I mean, when the Col­onel asks him whether he's ready to fly, it's more like whether he's willing to…" Martin trails off, indicating an aborted takeoff with her hands.
Eventually, a similar vintage wheel on a bigger scale was procured, which this time allowed the two actors — Butler and Hanks — to face each other sitting in the cart. "In workshops for years prior to this moment, the scene had always been done with the two actors side by side," says Martin. "But it's serendipity that they're actually facing each other. You can feel their eye contact and the tension between them."
All shook up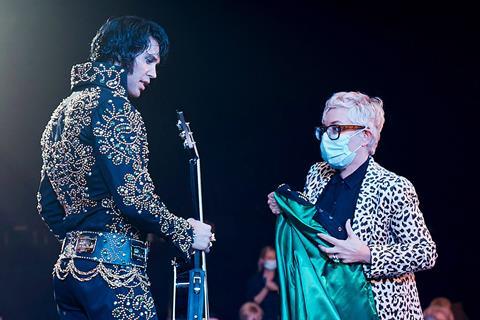 "For Baz, character and clothes are indivisible," continues Martin. "And particularly with Elvis, an iconic artist who created his own looks. I always think for someone who was incredibly shy, and had stage fright all his life, there were two things he was incredibly confident about — his ability to create a look through clothes, and his musical abilities."
Martin was initially unsure about Presley as a topic — seeing him as part of a familiar mainstream. "But Baz is brilliant at finding stories and forcing you to look at them again, in a way that is surprising and engaging. He got me to see Elvis through the eyes of someone in the '50s, as this rebel punk, overtly sexual and completely flying in the face of conservative 1950s mores.
"I found that really exciting because as Baz said, you needed to find a way of translating all of Elvis's sartorial style, you needed to find what made it shocking, what made it sensual… and you had to use things that really existed in history."
Key to Martin's approach was her understanding that Presley, who grew up poor in predominantly Black neighbourhoods, and procured outfits from Lansky Bros clothes store on Beale Street in Memphis, "was incredibly influenced by the sartorial splendour of the Black performers that centred around that street. They changed fashion for all of us, and very much so for Elvis."
In the film, Presley is seen performing for the first time at the Shreveport Hayride in Louisiana. "The challenge Baz set was to find something that was historically true, but at the same time the audience could access Elvis's inherent sexuality, the idea of the wiggle being shocking," says Martin. "Like, how do you get a world of entertainment in the front of men's pants? What was making the girls go crazy? How do you cut those pants?"
For the scene, Butler wears a black lace shirt and a pink suit with black trim detailing. "Elvis loved the combination of black and pink," says Martin. "They were signature colours that the Lansky store used. To me, Elvis's inherent masculinity is never in question, but Elvis always played with things that flew in the face of what was traditionally male, whether it's eye make-up or wearing pink."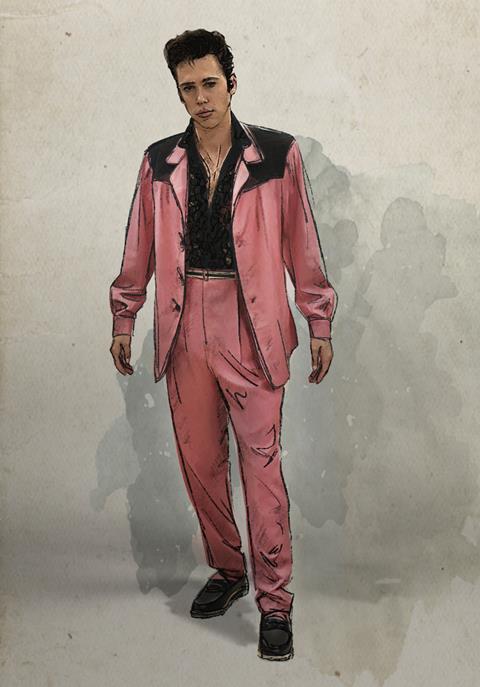 Martin believes that Presley challenged the 1950s norms without a considered agenda. "I'm sure it's absolutely unconscious, that dandi­fication, the glorification of his physicality, that larger-than-life character he brings to the stage. That ability to play with gender norms and walk that line is incredibly sexy, and people love it."
Obsessive research
With so much archive material available, it was easy for the design teams to become obsessive about research — whether relating to stores that existed on Beale Street in the 1950s, or the precise measurement of garments worn by Presley.
Martin had "unbridled access" to the Presley archive and the support of its director Angie Marchese, so "in terms of thorough research, physical proof and data, we had that". However, "then you try and connect it to Austin's very human performance of Elvis, and it just didn't quite work".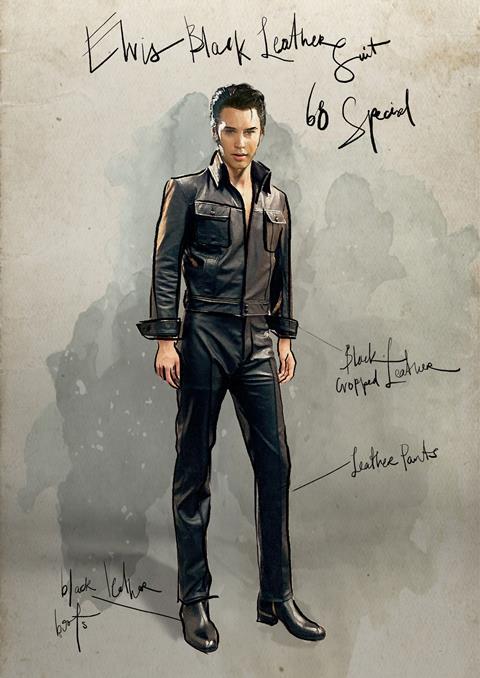 Martin is talking specifically about the black leather ensemble Presley wore for the 1968 TV special. "Baz unpicked it when he said, 'It needs to be, Austin is Elvis and we're Bill Belew, the original designer of the black leather outfit, and we're going to design exactly this outfit, but it's going to be for this person.' Changes are subtle, but it means that Austin's physicality, his movement, his physical proportions, become one with the jacket, instead of obsessing… because it's a trap. Austin is the best collaborator in the world — he just can really wear clothes. Some people get worn by their clothes; he wears the clothes."
One area of particular rigour for Luhrmann is that he is "hell-bent on geography, and that it serves the story, and is clear to the audience, so they're not trying to piece together in their minds where everything is". In the case of the TV special — where scenes are set in the main studio, control room, Presley's dressing room and connecting corridors, with Parker dodging concerned TV executives — this meant constructing a scale model to show how all those spaces interconnect. "So Tom wasn't just running up and down the stairs endlessly, or corridors that weren't going anywhere. We were able to say, 'No, this is where this is in relationship to this, and this is why the camera's in this position.' This idea of geography and completeness of world is absolutely fundamental to Baz's storytelling."
Priscilla the style icon
While designing more than 90 different outfits for Elvis in the film was an epic task, the costume team also needed to serve Priscilla Presley (played by Olivia DeJonge), who "created a quintessential female look of the 20th century", says Martin.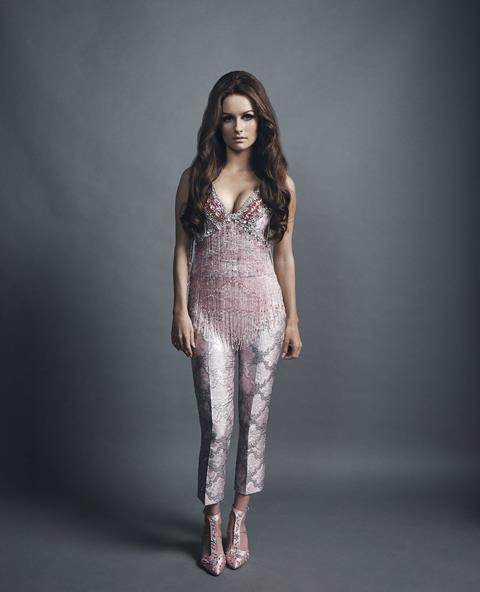 "In order to land strongly in people's minds that she was a style icon, it was important to elevate the clothes," she adds, hence her collaboration with Miu Miu and Prada for the character's wardrobe. An example is the bejewelled, fringed outfit Priscilla wears for Presley's opening night concert at the International. "That is a riff on what she wore in reality at that time, but rather than trying to make something that was a pale imitation, we wanted to make something fabulous."
Martin fretted over the outfits for the last time Priscilla and Elvis are shown together in the film — in the back of a limousine. "Baz and I talked and talked about what those clothes should be, and how that should connect to reality, or was this a fictionalised look?" says the designer. Then they came across a photo of the pair after attending the divorce court in 1973, holding hands.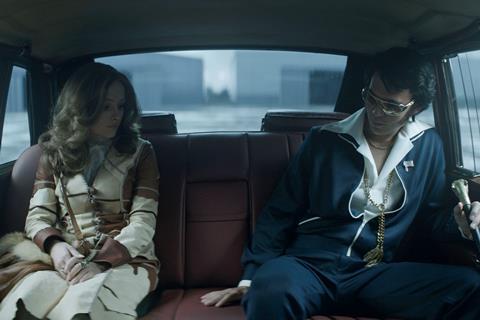 For Elvis, "It's an awkward outfit, because on the one hand, it's a Six Million Dollar Man tracksuit that's so current and so hip, but it's somehow put together with a camp shirt underneath, and a kind of hippie necklace," notes Martin. "I sense the discomfort, like Elvis being a man in between times, trying to find himself again. And then you have Priscilla who's so on point wearing pants, getting ready to just walk into her own life.
"This decision was probably made, finally, 72 hours before we shot, and my workshop in Queensland made everything from scratch — jewellery, handbag, everything except the shoes," she says, adding that head cutter Michele Wiki taught herself to crochet to adorn the leather patchwork coat with crochet edging.
"It feels like you have an impossible mission," says Martin. "And you're waiting for that leather to come in the door and everybody's just working together. It's like this incredible, well-oiled machine, and it arrives, at the absolute 11th hour, like on a white charger, into the actor's dressing room. They're the moments I absolutely love."