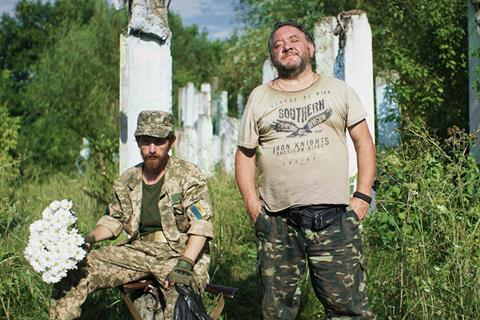 Ukrainan director Andy Iva's debut feature, Russo-Ukrainian war drama Eastman, gives a new perspective on the oft-used film prefix 'based on real events'.
Eschewing the bombast common to the war genre, the film focuses on the everyday life of the military men defending Ukraine's eastern territory from Russian invasion. It is inspired by Iva's own experiences from 2016 fighting in the conflict.
Fully funded by the Ukrainian State Film Agency after winning a pitching award, Eastman is premiering at the Odesa International Film Festival (OIFF,)which is running from July 12-20.
Iva previously trained as an actor and director at Kiev's National I. K. Karpenko-Kary Theatre, Cinema and Television University.
Screen spoke to the filmmaker about turning life into art, the state of the Ukrainian creative industries, and the challenges caused by the recent political instability.
What inspired you to make 'Eastman'?
In 2016 I was a participant fighting in eastern Ukraine in the Russo-Ukrainian war. At first I did not want to shoot [a film] about the war, but after meeting with a comrade one day, after an evening of memories, I came up with the idea to show the war from the other side. Not how it is mostly shown in films: explosions, shots. I wanted show the war from the middle - through the relationship of ordinary soldiers.
What is the process of turning you real-life experience into a story for a film?
To tell people the truth we need to tell about ourselves. Because the only thing you know best is only yourself. During the service, the boys (soldiers) knew that I was a director and asked me to take a film about us. So I decided to tell my story, to show war through my own eyes.
Is this a good time for the Ukrainian film industry?
Today things are definitely going better. Fortunately, after the Revolution of Dignity [Ukraine's 2014 overthrow of government by the people] the state drew attention to cinema. Ukrainian films began to be funded - as a result, we see the rise of the Ukrainian film.
How much national funding is available?
Today, the main donor for cinema is the Ukrainian State Film Agency. There are several other state programmes that finance film on different stages of development and culture as a whole. Private companies have very little interest in Ukrainian cinema, because mostly it is not self-sufficient right now.
Are there difficulties caused by the recent years of political instability?
Although art always wants to go beyond politics, the realities of the present day show us that art is actually a weapon. Therefore, it is influenced by and to some extent influences politics. Also war always affects all spheres of life and all segments of the population, therefore of course this is a big problem in our day.
What does Odesa Film Festival mean to the Ukrainian scene?
This is the largest festival in Ukraine and for any of the Ukrainian artists it is very prestigious to show their films here. And this is not only an opportunity to present your work to the Ukrainian audience, but also to show it to foreign visitors and have useful film market meetings. OIFF is a great platform for co-operation, for making your way to big foreign festivals, for acquaintances and gaining professional experience.
What are the prospects for international collaboration between Ukraine and other countries in film/TV?
I believe that now there are very good prospects for development, and the agreements that Ukraine just had with other countries in the fields of culture and cinema speak for themselves. We already have cooperations with huge international platforms, for example The Guardian. Today Ukraine is interesting not only in political aspects, but also in cultural affairs. And nobody can represent Ukrainians better than Ukrainians themselves.
What are you working on next?
All my works are based on my own experience. My next film will be Extremist, about one of the six students abducted during the Revolution of Dignity, about his detention, indictment, hunger strike and life in Lukyanivska Prison after a trial. This student was me. The Revolution had a resonance not only in Ukraine, but also abroad. The main question of the film is: what is the price of democracy? I am currently looking for funding and pitching opportunities. Do I want to work abroad? Yes and no. Yes, because it is very interesting for me to take a movie abroad, meet new people, share my experience, tell about Ukraine and take something new for me. But on the other hand, I am Ukrainian, I must help our cinematography to evolve.