Korean director talks being in Cannes Competition with his Netflix-backed feature.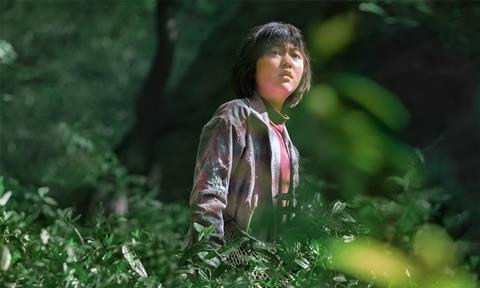 Korean auteur Bong Joon Ho follows up his previous Cannes entries The Host and Mother with adventure film Okja, which plays in Competition on Friday (May 19).
Netflix's first film in Cannes Competition and its first Korean feature, Okja stars Ahn Seo-hyun as a girl who sets out to save her best friend, a massive animal named Okja, from a multinational company.
Also featuring Tilda Swinton, Jake Gyllenhal, Paul Dano and Byun Hee-bong, the film is set for online release in 190 countries on June 28. NEW will release the film theatrically on June 29 in South Korea.
Where did the idea for Okja come from?
While driving in Seoul, the image of an animal appeared to me. Under an overpass I saw this animal with a huge body that looked innocent, introverted and pathetic. I tried to figure out why it would be so sad and that's how I came up with this story.
How did the project come together?
I shared the idea with two producers, Lewis Taewan Kim and Woo Sik Seo. I gave them a synopsis with the title of Okja. It was when I was preparing for Snowpiercer. DooHo Choi, who was a producer on Snowpiercer, joined us. We were designing Okja, selecting FX and CGI companies and casting actors when Plan B and Netflix came onboard.
When and where did you shoot it?
We started shooting in April last year in the mountains in Korea, then in Seoul, and then we shot the other 40%, the New York scenes, in the US and Canada. For four months from April to August, we had 77 shooting days.
What are your strongest memories from shooting?
It was so hot in New York. I thought we'd steam to death in the middle of Manhattan. In the midst of that, I had to get a grip on myself and direct hundreds of extras.
On the other hand, a good memory is of shooting in the mountains of Kangwon Province in July. I stayed in a tent with my assistant director for four days and three nights. Camping, looking up at the stars and listening to the bugs singing. I felt like I was becoming a part of nature, like Okja. Of course, it was tough getting up the mountains and moving the equipment around, but the actors, crew and director are all hard-working people, so it was tough and enjoyable at the same time.
How do you feel about the increasing presence of Netflix and Amazon at festivals?
There is always a lot of controversy about distribution methods. As a creative, I welcome Netflix. They seem to work with directors who are adventurous and tell bold stories. They take up challenges where older, more conservative studios would make more stable choices.
Do you think the theatrical experience is being threatened?
Theatres will never disappear. I ensured that my film would get a theatrical release in the US, Korea and the UK with Netflix from the beginning.
What's your favourite Cannes memory?
In 2011, when I went on the Cannes Camera d'Or jury, I met Tilda and talked with her about Snowpiercer. Also, with Mother [in 2009] I stepped on the red carpet with Kim Hye-ja. That memory comes to mind.