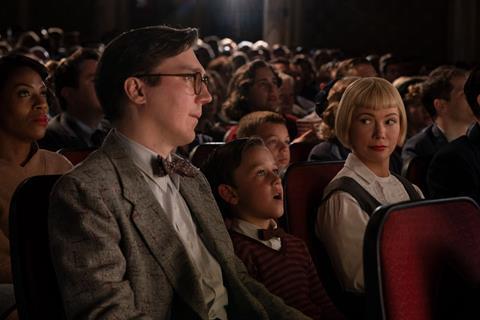 It's been said Steven Spielberg pursued Paul Dano to play the character of Burt Fabelman, essentially Spielberg's father Arnold in his semi-autobiographical coming-of-age tale The Fabelmans. Being personally targeted by the world's most famous filmmaker is an event most actors would be happy to discuss, yet initially Dano bristles politely.
"We-eell, I wouldn't… I… yes," says Dano, who has built his reputation with revered work in the likes of There Will Be Blood, Love & Mercy, and mini-series Escape At Dannemora, and starts sentences – on the call with Screen, at any rate – with the porous certitude of a man tip-toeing blindfolded through a minefield.
"I got a text saying, 'Steven Spielberg wants to meet with you,' and I texted back saying, 'Great, just tell me when,'" he says. "And so we Zoomed. I didn't know anything about the project. I was really nervous, and then Steven was so open with me from the get-go."
Spielberg was planning his now-acclaimed semi-autobiographical feature about Sammy, a youngster who comes of age in the 1950s and 1960s as he falls in love with filmmaking and endures the slings and arrows of family heartbreak, high school crushes and anti-semitism.
"We talked about family and ended up having a wonderful first conversation," says the actor, whose performance as Burt has earned supporting actor nominations from various US critics groups and the Critics Choice Awards. "As soon as he told me what the film was about, I had a very big feeling… I thought it was actually quite brave to take on his own family at that point in his career."
Spielberg sent Dano the script he'd co-written with regular partner Tony Kushner (West Side Story, Lincoln, Munich) and they discussed it on a second Zoom. By the third session, the legendary Oscar-winning filmmaker had found his Burt. "Steven had an unlit cigar in his hand and said, 'I think you'd make my dad proud.'"
To construct the character, a doting family man and gifted electrical engineer, the actor and director talked about Arnold Spielberg, a pioneer who invented the GE-235 mainframe computer that inspired Bill Gates and Paul Allen to invent their world-beating Windows software.
The name of the game was not to imitate Arnold, although Dano got access to the Spielberg family archives for research purposes and even built a crystal radio set. "I just thought, 'Well, I'll see who this person is,'" says Dano. "In the way that Steven sees the world through the camera, and has seen the world through the movies from a very young age, Arnold saw the world through engineering, and through electronics.
"Part of the challenge is: where does Arnold end and Burt begin?" the actor continues. He ponders this before declaring his character to be a "decent man full of integrity and an American man who probably felt deeply but didn't always maybe know how to express it, or who contained it for the sake of his family".
The Fabelmans does not shy away from addressing the actual divorce of Spielberg's parents. Free-spirited Mitzi (Michelle Williams) loves Burt but her passion is reserved for family friend Bennie (Seth Rogen). Burt tries to hold things together for Sammy and his sisters. "I always felt from the first time I read [the script] that Mitzi and Bennie were the storm and Burt was the grounding of the storm," says Dano.
He and Williams have known each other for years. "She's sort of a miraculous actor. I couldn't say enough good things… It was also just wild to see Michelle show up on set in costume and see Steven's eyes."
Dano first spoke to newcomer Gabriel LaBelle, who plays the teenage Sammy, over the phone, and took the youngster to lunch before pre-production in Los Angeles. "If I was that confident or self-possessed at 18, that would have been nice, so [Gabriel] really was strong in a way that I liked. He's got something."
Dano got to see first-hand Spielberg's renowned speed and efficiency on set, except this time the filmmaker was fighting to keep his emotions in check as he recreated the story of his childhood. "There were crew who've worked with him for 20, 30 years who said this was different for him," notes Dano. "There was a different energy around, in a good way… It felt like a singular experience in my book for sure."
The Fabelmans brought the house down at its Toronto International Film Festival world premiere in September, drawing spontaneous bursts of applause during the screening. It's beloved by critics, although Universal's North American release has struggled at the treacherous box office, grossing $8.8m over six weekends.
Gear shift
Filming The Fabelmans brought a necessary shift of emotional gears for Dano after he played The Riddler in this year's dark Warner Bros hit The Batman – a role so intense he has said he suffered "psychological turmoil".
"I actually think [The Fabelmans] was some kind of nexus point for me," says the actor, "especially after The Batman because I was about what does it mean to be in a marriage and to be a father, and that's more where I'm at in my life… Sometimes the work really gives back to you and this character was about stepping further into adulthood in a good way for me. Burt is such a rational, grounded character that there was something really good in that for me, Paul."
Dano's acting career is hard to pigeonhole, even for him. "I will say I'm very attracted to voice and point of view in a filmmaker," he says. "It's what I like as a viewer, whether that's something like Okja or Swiss Army Man. I like stepping into a fully realised world and I like something to figure out and work towards."
Coming up is Craig Gillespie's Gamestop financial saga Dumb Money at Sony Pictures, which Dano shot after taking a year off after The Fabelmans to spend time with his longtime partner Zoe Kazan (She Said, The Big Sick, and a co-star in 2012 indie Ruby Sparks), with whom he has two young children.
And Dano's 2023 dance card also includes sci-fi drama Spaceman for Netflix, about the former Czechoslovakia's first astronaut. The film stars Adam Sandler and Carey Mulligan, whom Dano directed in his feature debut Wildlife.
The prospect of more directing is as close as Dano, charming throughout, gets to unbridled enthusiasm on the call. "I really, really want to," he says. "I just loved, loved, loved making the film… Writing is the hardest part and it takes the longest, and also I am not a multitasker… but it is certainly part of you know, the dream, and I will. I have to. So, I will… someday."