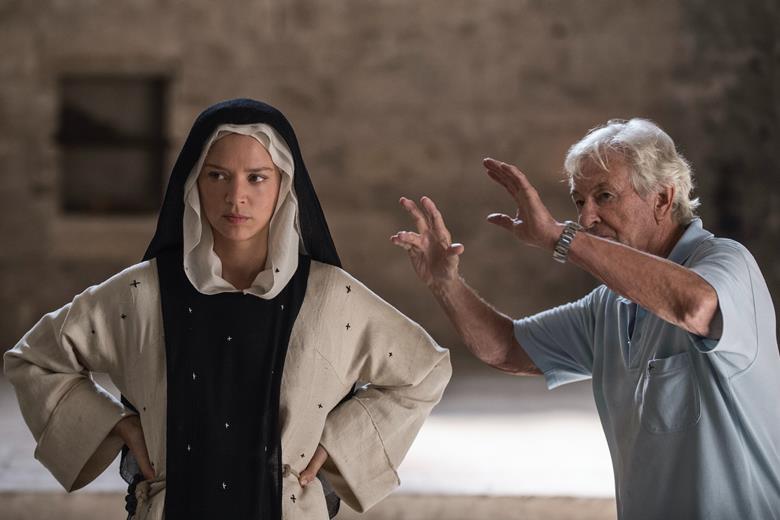 Paul Verhoeven has been scandalising the Croisette with his new feature, Benedetta (sold by Pathé and which will be released in the US by IFC and in the UK and Ireland by Mubi).
The Competition contender features lesbianism in a 17th-century Tuscan convent, defecating nuns, a burning at the stake, sex toys that double as religious ornaments, and a devastating outbreak of the plague. In other words, it is business as usual for the 82-year-old Dutch director who is still living up to his reputation as the shock jock of European arthouse cinema.
In spite of hip surgery (caused, he says, by all those steep hills he had to walk up when shooting on location in the Italian countryside), Verhoeven is still fighting fit. Until very recently, he had been working hard on a modern-day adaptation of Guy de Maupassant's much-filmed Bel-Ami. The intention was to make it a high-end TV drama series. However, as he tells Screen, the project (about a good-looking young soldier who becomes a journalist and sleeps his way to the top of Parisian society) has stalled, at least for now.
"I got in a conflict again with my scriptwriter," he sighs. The scriptwriter in question is his long-term collaborator Gerard Soeteman who wrote his Dutch movies (Soldier Of Orange, Turkish Delight) and who first gave him the Judith C Brown book Immodest Acts on which Benedetta is based. (The script was eventually co-written by Verhoeven with David Birke, who also collaborated on Elle.)
The way Verhoeven describes it, his relationship with Soeteman sounds like that of a bickering old couple.
"It was his idea to make the movie [Bel-Ami] and then we started to work on it like we have done for the last 50 years… and then we started to disagree about what the book was saying. At a certain moment, he felt I was on a road he didn't like at all. Then we stopped!"
Verhoeven still hopes to revive the project, perhaps with David Birke again if Soeteman doesn't come round. In the meantime, he is continuing to work on his long-gestating Jesus project. He has written a book on the subject and has Birke collaborating on the screenplay. Immediately after Cannes, they will be working on a new outline.
The basic idea is to portray Jesus as a humanist and an insurrectionist, more Che Guevara than hippy-like miracle worker. "What I want to show is what Jesus said and stands for that is interesting to us now."
Historical accuracy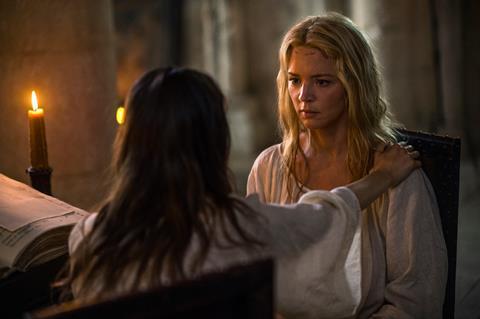 Verhoeven describes Benedetta on several different levels: as a story about religion, faith and corruption; as an account of how 17th-century communities dealt with the plague; and as a film about the plight of women in a deeply patriarchal society. Virginie Efira stars as the titular Sister Benedetta, and Daphne Patakia plays the younger nun Bartolomea, with whom she falls in love.
The director dismisses the accusations of sensationalism levelled at the film in Cannes, pointing out the film is based on true, documented events.
"The book is about a lesbian… a nun who becomes a lesbian. That is what happens. It is the real story. I have not invented it," he insists. "That's what was written down in 1625. Of course, they went to bed. They went to bed all the time! At the trial, they asked, 'How many times did you have sex?'. Three times a week [was the answer]. How many times did you kiss her genitals? The kiss, of course, was a lick. Twenty times [was the answer]."
Verhoeven took some liberties with the Virgin Mary-shaped dildo constructed by Bartolomea (which isn't mentioned in Brown's book). However, he says he did so for legitimate reasons.
"I discovered that in 1625, women who had sex with each other, unlike 100 years earlier, would be punished severely but they would not be burned. But I felt that I wanted a narrative that would include, at the last moment, a revolution – that people would go on the side of Benedetta against the Nuncio… I found that in 1625, women would not be burned any more unless they used an instrument."
In other words, the dildo was the device that enabled the director to stage the Joan of Arc-like scene at the stake that provides the movie with its grand finale. "I wanted to be historically correct," he says of the narrative purpose served by the sex toy.
Verhoeven didn't have intimacy coordinators for the sex scenes. He filmed them in the same way he always had done, whether in his Dutch period or with Basic Instinct. He had only three or four people on the set. "It was me, the DP, the assistant director and the script girl. It was four people, perhaps five, and everybody else was gone. I did that on Basic Instinct, Black Book, Showgirls… we always did that."
He adds that it would be "ridiculous" to have intimacy coordinators on a French movie. "The coordinators are Virginie and Daphne [the two actors in the scene]. They got the story, the script, the storyboards. We choreographed it. Every shot was given to them, as it was in Basic Instinct. I felt that if there was anywhere a problem [with the scenes], we would have found out already.
"If you talk to the actors, you will find out they were completely at ease. If there was a problem, they would have said it," he said. "What to shoot, how to shoot, it was already clear. You cannot do better. I don't know what an intimacy coordinator could add."
Charlotte Rampling plays the abbess who comes into conflict with Benedetta. "I love her. She is so good," says Verhoeven of Rampling. "She is very much on her own. I don't know even much about her, but I felt I didn't need to say anything. Better not to say anything. I felt the same about Virginie and Daphne Patakia and also Louise Chevillotte, who is the daughter [of the Abbess]. I think all these women are fantastic."
Benedetta is a huge endeavour for a director turning 80. "It's not Bridge On The River Kwai," he says, dismissing the idea that it's a full-blown epic. (Verhoeven is a huge David Lean fan and makes a point of re-watching Lawrence Of Arabia and Dr Zhivago at least once a year.)
Nonetheless, the film was exhausting and he had problems with his hips. "But there is so much pleasure if you work with great people… I had the feeling that everybody was happy to come to the set. It was a very happy production in fact. I think everybody did it with pleasure."