The leading Spanish producer on how he has experienced a surprisingly productive working year — in spite of his family's brush with Covid-19.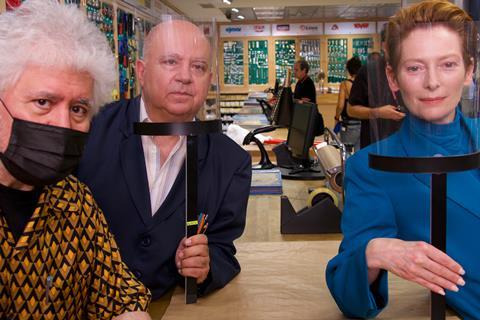 Co-founder of El Deseo and brother of filmmaker Pedro Almodovar, producer Agustin Almo­dovar has experienced the challenges of this pandemic year. But he has also been able to enjoy success, attending the Venice Film Festival premiere of Pedro's first English-language film, the short The Human Voice. After a personal brush with Covid-19 in the spring, Agustin has been busy working at the El Deseo offices in central Madrid. He has been preparing a number of different projects that his brother has been working on since the pandemic began, in anticipation of a busy 2021 for this auteur power­house.
What has been your most memorable moment of 2020?
Two very distinct moments come to mind: one good, one bad. The first has to do with how we started the year, on the Pain & Glory Oscar campaign with Pedro and Antonio Banderas, the most enjoyable one in all my career. It was a joy to see them at the top of their game, interacting with audiences.
The second was when my wife got ill with Covid-19 and had to be admitted to hospital early in April, at the height of the pandemic and at a time when hospitals in Spain were struggling to deal with the overflow of patients. I had previously contracted the coronavirus myself but was asymptomatic and unaware I had it. Pedro also tested positive but with very mild symptoms.
When lockdown was eased in Spain in the summer, you were able to make The Human Voice. How was the shoot?
For Pedro and me, the making of The Human Voice has a strong meta­phorical sense of what 2020 has been. It embodies a sense of resistance and our will to press on, to try and keep moving forward. The lockdown declared in Spain in mid-March caught us with the shoot of Isabel Coixet's It Snows In Benidorm, which El Deseo is producing, already wrapped, and the set of The Human Voice already built and ready to start shooting with Tilda Swinton a couple of weeks later. Plans halted, and after some weeks I was even wondering if it was worth keeping the set. In the end, the set stood there for weeks, confined like the rest of us. We finally managed to get back to the shoot in July.
How have you personally adapted your working style to stay productive and sane during 2020?
We were able to reopen the El Deseo offices in May, and we haven't had a single positive Covid-19 case in all these months. During the shoot of The Human Voice in the outskirts of Madrid, we worked with a small crew and added an external health and safety officer to make sure everything was up to the code. The catering was set up with screens separating the individual spaces, with quite a dystopian feel. I confess I couldn't deal with it and used to eat outside, at a Chinese restaurant nearby — the other clients were mostly Chinese wholesale importers from warehouses in the area.
Audience habits have changed in 2020. Do you think this will have a long-term impact?
Certainly. All that has to do with streaming fictional content has rocketed. The viewing of our films on the Spanish VoD platform Filmin has tripled, for example. But, of course, for those of us who love seeing films on the big screen these are worrying times, as the threat of the theatrical window cracking comes closer and closer. However, we think theatrical exhibition should be fought for. Old-school as we are, we are planning Pedro's next feature for the theatrical circuit despite several offers for it to be original content from streamers.
Pedro has been extremely active in 2020, which has kept you busy too.
Indeed, it's a blessing. He has finished the screenplay of his next feature Parallel Mothers, starring Penelope Cruz, and we're completing the technical crew and rest of the cast, ready to start shooting in March. We have also got two short projects: the first is Strange Way Of Life, a 20- to 30-minute Almodovar-style western to be made right after Pedro's next feature. The other short is a dystopian story about the end of cinema [yet to be named].
Pedro has also managed to work on the adaptation of Lucia Berlin's A Manual For Cleaning Women to be shot in English; he's got a first version that includes five of the short stories. [Venice short] The Human Voice was his way of testing if he could work in English.
Our Perspectives on 2020 series sees key figures from across the international industry landscape share their experiences during the pandemic year and their thoughts on the future. See below for more interviews in the series: