The leading Nigerian producer talks to Screen about several productions shooting for her EbonyLife studio in 2021, thanks to deals with Netflix, Sony and AMC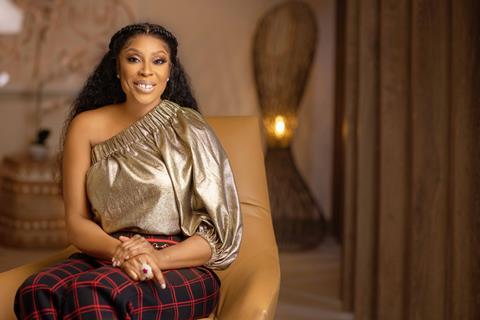 Nigerian producer and media mogul Mo Abudu, CEO of EbonyLife Media, has been called 'Africa's Oprah', referencing both her former talk show as well as her influence — she has 852,000 followers on Instagram.
Abudu founded EbonyLife as a pan-African TV channel in 2013, and the company has grown into a content studio with credits that include hit features Chief Daddy, The Wedding Party and Fifty. In December 2019 she branched out into hospitality, opening EbonyLife Place, a luxury entertainment resort in Lagos.
Despite the pandemic, 2020 was a big year for EbonyLife, which signed a slate deal with Netflix and launched its first Netflix Original, human-trafficking story Òlòturé. EbonyLife is also working with Sony on a three-series deal, and on sci-fi series Nigeria 2099 with AMC.
What is your most memorable moment of 2020?
The birth of my grandson — my first grandchild. Most memorable for me was becoming a grandmother.
How has your work life changed in 2020?
It has been quite an interesting year. We have adjusted how we operate as EbonyLife. We started in 2013 as a linear TV channel, and this year we took the plunge and focused on building out EbonyLife Studios. That came alongside the deal with Netflix, the scripted deal with Sony and AMC, and there are at least five or six other international collaborations to be announced in the new year. That's been the big shift, leaving the linear TV space and becoming a full-blown studio developing and pitching African stories to these international studios.
What is one thing that changed during 2020 that you would like to see continue in 2021?
I think the planet has taken a break. We have all had to rest in some way. We are driving ourselves into a deep hole if we don't take stock of who we are. Also seeing people of different nationalities go out and defend the Black Lives Matter movement, that was encouraging. And the political journey of America — the world is happier with [Joe] Biden elected.
What are you pinning your hopes on for 2021?
Of course, we thank God for a [Covid-19] vaccine. And I want to see my grandson walking and talking, I want to see people relaxing and having a good time in EbonyLife Place. We're going into production on a number of our projects, it's always hopeful to see development going into production. And I've been doing so many video calls — I want to be able to hug my friends again, to go out for dinner. All of the things we took for granted.
Audience habits have changed in 2020. Do you think this will have a long-term impact?
It was already changing and the coronavirus compounded it further. The only thing I watch on linear TV is the news. Habits are definitely changing and we — as programmers and producers — have to understand we're developing for an audience that wants to click on the next episode. Cliffhangers every five minutes — that's the way we write now. But people are also tired of being at home; they will go out to the cinemas if they are convinced they are safe.
What has been the response to your first Netflix Original Òlòturé?
It's been incredible. The story is heartbreaking, but I've always said as a producer that we will never shy away from those important societal stories we have to tell. I'm really pleased we can tell a story that has crossed over to so many different parts of the world. We were getting feedback from Russia, Brazil, Japan, Sri Lanka, India, in all languages. The film was in the top 10 [of Netflix shows] in 26 different countries.
What kind of African stories do you want to tell?
We think deeply about that. We developed four Afro genres. The first is Afro History, which runs very deep into our stories that have not been told. Afro Futurism looks forward — one example is Nigeria 2099 with our partners at AMC. Afropolitan is stories of Africa today, like Fifty or The Wedding Party. The fourth is Afro Impact, that's where Òlòturé sits — impactful, hard-hitting stories.
What excites you about the future of the film industry?
Now there are no boundaries, people can watch content from any part of the world and enjoy it. At one point in time, if it wasn't American or British then it wasn't considered good enough. Now we see great stories from India, Korea, Indonesia, Africa. It's wonderful to see those stories resonating.
Our Perspectives on 2020 series sees key figures from across the international industry landscape share their experiences during the pandemic year and their thoughts on the future. See below for more interviews in the series: