The new director of Sundance Film Festival explains to Screen how this year has given her the opportunity to consider exactly what a festival can, and should, be.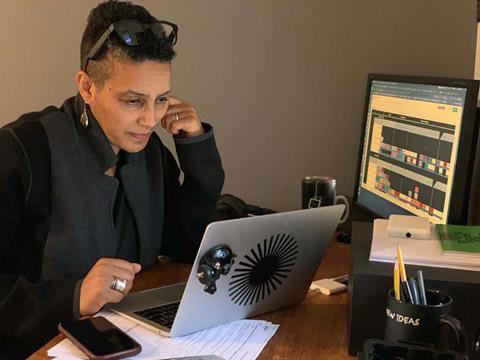 UK-born Tabitha Jackson succeeded John Cooper as director of Sundance Film Festival at the start of 2020. The first female, person of colour and person born outside the US to become the festival's director, she brings more than 25 years of experience in the arts and non-fiction filmmaking.
Jackson most recently served as director of the documentary film programme at Sundance Institute, where she launched its Impact, Engagement and Advocacy initiative to support independent artists as dynamic cultural forces.
Prior to Sundance, Jackson was commissioning editor, arts at UK broadcaster Channel 4, where she supported independent and alternative voices and innovative storytelling. She also served as executive producer on a number of projects for Film4 including Bart Layton's The Imposter, Mark Cousins' The Story Of Film, Clio Barnard's The Arbor, Sophie Fiennes' The Pervert's Guide To Ideology and Iain Forsyth and Jane Pollard's 20,000 Days On Earth.
What is your most memorable moment of 2020?
I got married on the first day of the [2020] festival to the filmmaker Kirsten Johnson, who directed Dick Johnson Is Dead. And I got a new job!
How have you adapted your working style to stay productive and sane during 2020?
I've increased my elastic waistband! I have some glasses that I can wear and walk around and do calls. I realised, seven months into this, that I needed to sit up at least once every 12 hours and peel my face off the Zoom screen. Zoom and video conferencing are incredibly useful tools, not least in helping us understand our previous existence of working in offices and what the benefits and costs of that are.
We haven't had many chances to gather at festivals this year. Do such events still matter?
The lines have blurred. So many festivals have come online, there will be a transitional period. Strong curation, strong voices and the ability to invite people to look at 'this' becomes even more important when there's so much noise around.
What does that mean for Sundance 2021?
The form of the festival has been completely reimagined as it needed to respond to the pandemic, but also as it needed to respond to our values around accessibility and reach. The opportunity presented to partner with an incredibly strong network of independent arthouse cinemas, [and] we have an online platform at the core.
What is the one thing that changed during 2020 that you would like to see continue in 2021?
Two things. One relates to being much more intentional about when to travel and when not to travel. And then the second thing is this awakening and accountability on the part of individuals, institutions and structures around everything, from race and gender to any other kind of historical inequality.
How can the industry support more inclusion in 2021 and beyond?
I don't think it's about supporting it — it's about enacting it, living it. I struggle to find anything original to say about it: we simply must be a diverse community, and that diversity needs to be reflected in any room in which decisions are being made.
Audience habits have changed in 2020. Do you think this will have a long-term impact?
I'm going to say yes. I have no idea if it's a good impact or a bad impact, or just an impact. Robert [Redford] always says the only constant thing is change, so there's no reason why our habits should remain static when everything else around us is changing. That goes for viewing habits, too.
What excites you about the future of the film industry?
Youth. It's still a very young industry and with a kind of seismic upheaval in so many areas of it. What excites me is what comes next.
Our Perspectives on 2020 series sees key figures from across the international industry landscape share their experiences during the pandemic year and their thoughts on the future. See below for more interviews in the series: