Telling the tale of a life over three parts — and using three actors — Barry Jenkins's Moonlight is a searing study of how a young person is shaped by a hostile environment. Jeremy Kay meets the film-makers.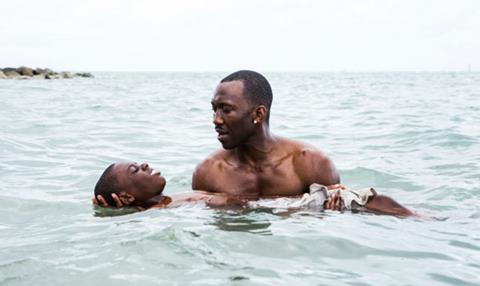 The story behind the making of Moonlight, Barry Jenkins' meditation on sexuality and survival in 1980s Miami at the height of the war on drugs which plays in Toronto International Film Festival's Platform strand, owes much to coincidence.
It began in January 2013, five years after Medicine For Melancholy had put Jenkins on the map, when he and college friend and producer Adele Romanski were looking for a project. Jenkins brought up a short piece by the highly regarded young playwright Tarell Alvin McCraney that a friend from Miami had given him. It was called In Moonlight Black Boys Look Blue.
"[My friend] said it wasn't my story but it reminded him of me," says Jenkins, who in the years since Medicine For Melancholy had gone down the well-trodden Hollywood path of seeing several projects fall apart. "It was 45 pages, non-linear and jumped back and forth. There was something about the triptych structure that resonated with me."
What also struck a chord with Jenkins was the setting and tone of McCraney's three-part story of Chiron, a bullied, gay black youngster struggling to find himself as he lurches from young boy to manhood by way of a tumultuous adolescence.
Local knowledge
The story took place in Liberty City, the area where, without knowing it, both storytellers had grown up within several blocks of each other. Jenkins had known people like the characters in the play, and would set his film in the same milieu. Jenkins and Romanski had found their idea and in August 2013 Romanski dispatched her friend to Brussels to start writing.
Subsequently Jenkins ran into Plan B Entertainment's Jeremy Kleiner and Dede Gardner in Telluride after he hosted a Q&A at the world premiere of their 12 Years A Slave. Kleiner recalls being "blown away" by the idea of Moonlight and Plan B joined at the end of 2014.
By this time, New York-based distributor A24 had signed up for what would become its first production, more out of a sense of opportunism than any choreographed corporate strategy. "It was more a case of 'right time, right place'," says head of acquisitions and productions Noah Sacco. "From the inception of the company, we knew we wanted to get into production. It was a question of when, not if.
"We were fans of Barry, and in a cosmic way he came up in a meeting. We'd been saying one day how wonderful Medicine was and wondered what Barry was up to. Then Jeremy mentioned this new project and, if memory serves, it was the same week."

A24 committed to fully finance what all parties will only say was a "modest" budget. From the first day, the company adopted a hands-off approach to enable the film-makers to execute on their vision.
"We've been admirers," Kleiner says of A24. "They're committed to independent cinema and over the years [co-founder] Daniel Katz, who's been putting together interesting businesses around content, said they wanted to start making content and not just acquiring it. This just seemed right."
Gardner agrees it was a smooth collaboration with the New Yorkers and Romanski: "They've been lovely — it feels like we were working with like-minded souls." Sacco calls Plan B "some of the best producers on the planet".
Despite a lack of local tax incentives, everyone insisted the October 2015 shoot would take place in Miami. "It was chosen creatively and it feels like it pervades the whole film," says Kleiner. "Miami is a character and you don't usually see that."
Speaking of authentic character, back in April 2015 Romanski and Jenkins had flown to Miami with casting director Yesi Ramirez to scout for local talent. After an exhaustive six-month trawl of acting programmes and high schools, they had found their ensemble of local unknowns to complement the more familiar Naomie Harris, André Holland and Mahershala Ali.
Through the ages
Alex Hibbert and Ashton Sanders are impressive as 'Little' Chiron and his teenage version in the first two parts of the film, while Jharrel Jerome plays teenage Kevin, an important friend.
Much happens in the unseen transitions between Moonlight's three sections. And so for the redemptive finale, the film-makers settled on former University of Texas at Austin athlete Trevante Rhodes as 'Black', the grown-up Chiron who appears worlds removed from his skinny, victimised younger self.
Initially Rhodes read for the part of Kevin, but it was quickly clear which role he was destined to play. "I knew that character would fortify himself between the second and third parts and when I saw Trevante read the part, I bought it," says Jenkins. "His exterior is so constructed and his eyes are these wells — I couldn't have found a better personification."
As Chiron's crack-addict mother, Paula, UK actor Naomie Harris is a revelation as she draws on her Jamaican lineage to affect a Caribbean patois.
"Naomie couldn't be further removed from that character," says Jenkins. "She doesn't drink and she doesn't smoke but that character is a combination of Tarell's mother and my mother and she got to know the character through getting to know me."
"We tried to keep each act unto itself," says Romanski. The three actors playing Chiron did not meet on set during the tight 25-day production, but scheduling foibles meant Harris had to shoot her two most difficult scenes from different stages in the character's life on the same day.
Another standout performance comes from Ali as Juan, a drug dealer and surrogate parent to Little, whose positive influence on the child is shockingly short-lived.
"There were these sorts of father figures," Jenkins recalls of life growing up in Liberty City. "That person may be morally intact and using immoral means to make their living and they get snatched from people's lives. I wanted these characters to have this drastic unexpected loss that's not entirely explained."
That kind of "experiential" point of view was important for the director. "I wanted the audience to receive information the way the characters do."
The score by Nicholas Britell, the composer on The Big Short who Gardner describes as "a musical genius", distinguishes itself with a seemingly counter-intuitive blend of soaring orchestral arrangements and contemporary beats.
"I knew in the writing there would be these baroque emotions," says Jenkins. "And we have this style called 'chopped and screwed' that originated in Houston, which is like hip-hop — you slow it down and the words are deeper and there's more space for the voices to play."
Turning convention on its head appeals to A24. "When we got our hands on the script, it was one of the quickest decisions we've ever made," says Sacco.
A24 intends to champion originality across its nascent production roster. Azazel Jacobs' portrait of a modern marriage The Lovers starring Debra Winger and Tracy Letts is in post, while Trey Edward Shults is filming It Comes At Night, his horror-mystery follow-up to Krisha.
"Our productions and acquisitions are looking quite similar in that we want to continue to support distinctive voices," says Sacco. "We're very film-maker-driven and want to work on things that are very original. It transcends genre or size… Depending on timing, it could take shape as an acquisition or a production."
Once Moonlight arrives in Toronto — where it plays in Platform — after a world premiere in Telluride, head of international Sasha Lloyd will commence talks with buyers. The film is due to open in limited release in the US on October 21 before expanding nationwide in November.
Jenkins says he found the process of making Moonlight a taxing one. Now he must take a breath and subject himself to the mercy of the audience. His excitement is reined in slightly by sober reflection of how his mother, who has been HIV-positive for 24 years, might respond. "She hasn't seen this yet, but it will be interesting."