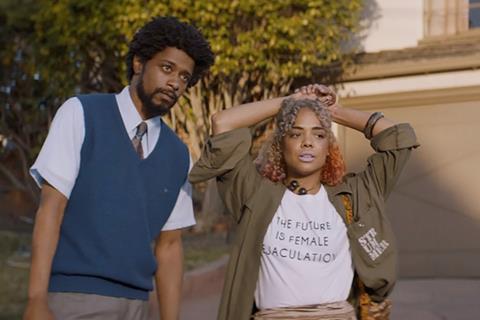 Rapper and The Coup lead vocalist Boots Riley discusses his Sundance feature directorial debut Sorry To Bother You, an outlandish satire set in an alternate-universe Oakland that tackles corporate exploitation, race, and finding one's inner voice.
Lakeith Stanfield (Get Out) stars as Cassius, a talented telemarketer who lives with his activist girlfriend Detroit (Tessa Thompson, Thor: Ragnarok) and rises through the ranks until he discovers the company owner's (Armie Hammer) hideous secret.
The sci-fi comedy premiered at the weekend in US Dramatic Competition and screens again in Park City on Wednesday, Friday and Saturday. Steven Yeun, Terry Crews and Danny Glover round out the key cast.
Cinereach co-financed Sorry To Bother You with Significant Productions, MNM Creative, MACRO Ventures and Gus Deardoff of The Space Program. Endeavor Content handles worldwide sales.
What was it like to sit through the premiere the other day?
It was nerve-wracking because when I perform I can adjust to the audience… read a crowd and figure out how I want to bring it the way I want to bring it. I might change up the set. When you're live you can edit it. With film you can't. You're sitting there like you're tied up and people are doing stuff to you.
How would you describe Sorry To Bother You?
The movie's about [Cassius] figuring out how to feel engaged with the world. Many of us are looking for that. Can we be part of change? Part of that is finding out where the leverage of your power lies. Essentially he's in existential crisis. First it comes in the form of identity, then in the form of power and searching for a way to have more agency in the world. Through all the stuff that happens he realises he has no power as an individual and in order to have that engagement in the world he has to be part of the struggle that everyone else has.
When did you get the idea? You said you went to film school at San Francisco State University, and followed your grandmother's passion into repertory theatre, before establishing yourself as a rapper. How did you switch back into film?
In about 2011 I realised I wasn't feeling motivated to make an album. Sometimes I need something else to motivate me. I decided to write this script. The first idea was to write something I could make with $50,000, on location with whatever cameras I could get with friends. I thought I could talk the record label to give me the promotion budget to do this, because then it could promote an album of the same name. As I wrote I realised that's not how I write, because [this] would have become a workplace comedy.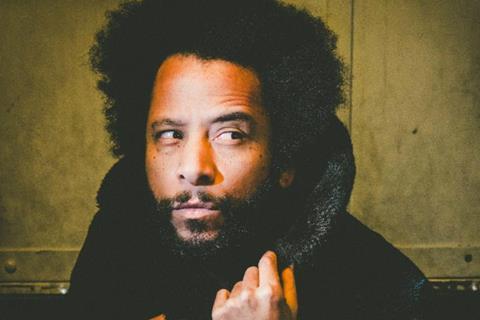 How do you write?
With my other art I go off in all sorts of directions. Like we had this song called Ass Breath Killers that's about these magic pills you take that stops you from kissing the boss's ass. What I'll do is I'll go sideways from reality to make you think about what your perception of reality is. I've always done that in my art. We have a song called 5 Million Ways To Kill A CEO and the craziest part of it is we did it in 9/17 measure [an unorthodox musical beat]. If you try to be someone that just does these formulas that you know already work, you're underestimating your audience and you don't find the morsel that you strike upon every now and again.
So with this, I needed a refresher, so before I started writing I re-read the 'How to write a screenplay in 30 days' books – what not to do with your screenplay. I knew they were hack books but they gave me what the expected formula was. I wanted to see what I wanted to use and what rules I wanted to throw out.
Then you took a break from writing
I was involved in the Occupy Oakland movement [in around 2011] and when I first saw it, as someone who's been in radical organisations I thought, 'This is not how you make a movement.' It seemed like some hippy shit, not something that was about to change the world… I went along with it… The point is, throughout that, I kept thinking that all these things professional organisers thought were the right things to do were bullshit.
So how did that experience feed into the film?
I had the general idea of the story by the time Occupy happened. It made me realise that sometimes you do have to throw [conventions] away and try something different, just to make people think differently and be engaged more. I hate it when I see a movie and I know what's going to happen.
Tell us about your lead cast: Lakeith Stanfield as Cassius, Tessa Thompson as Detroit, and Armie Hammer as the company owner Steve Lift.
When I cast Lakeith only two episodes of Atlanta had been out and it wasn't even well known. But Jordan Peele [who had cast Stanfield in global smash Get Out] told me I needed to use Lakeith. I could see he was ready to grow. In between me casting him and us shooting, he got to be a better actor. He did the Come Sunday movie [Netflix's Sundance selection directed by Joshua Marston that stars Chiwetel Ejiofor as an evangelical superstar who undergoes a change of heart.] He's always growing. It seems like he doesn't do much but he's doing a lot.
I've told Tessa there were other people I wanted… I was interested in her if she did a 'chemistry read' [with Stanfield, designed to test compatibility between actors]. She said she'd do it and we did a three-way Skype with Lakeith in LA, her in upstate New York and me in Oakland. It was fire between them over Skype and I thought, 'OK she's got the fire. That's her.' She really made Detroit this character I don't think we've seen before.
Armie Hammer came on near the end. Similar to Lakeith, he does so much and builds a character based on research. He makes that character part of him and vice-versa. He's so relaxed and 'non-actorly'. Certain actors do the same thing all the time, but he is very in control of his own instrument and will only do what he feels makes this a real character. He was promoting Cars 3 and got Pixar to let him come into Oakland for a day so he could meet with Lakeith.
You shot in Oakland in June-July 2017. You're an activist, it was the first year of the Trump presidency. Did that impact on any aspect of Sorry To Bother You?
So when I first wrote it in 2012, Mr._ [Cassius' line manager at the telemarketing company] had a line when he's making a presentation about how [the company] WorryFree is making America great again. I had to take that out. What's funny is my script was published by McSweeney's in 2014 as its own paperback book, and hopefully nobody in Trump's campaign read it and said, 'There we go.' I had to take that line out because it's too on the nose now.
How did you get funding?
Got published by McSweeney's. Came here to the festival [Sundance] and got invited to do the June Screenwriters Lab in 2015 and in late 2015 they invited me to the Catalyst Program, where they pick 12 films to make a presentation to investors. Significant [Productions, Forest Whitaker's company] were the first ones to come on board, then MACRO and Cinereach. We also have The Space Program. It's brand new and Gus Deardoff gave me development money so I could fix up the script and not go out on tour.
What's the budget?
Somewhere between zero and $50m.
The film seems so timely
These are themes that will come up as long as we have this economic system.
Is the activist in you hopeful things can change?
Yes, because I know there's a way to change things.
How?
We need to have… I got to figure out how much I have to say about myself before the Right Wing comes at me before this movie comes out. So I'll wait until after the movie comes out.