The actress tells us about the painful process of bringing journalist Christine Chubbuck's life, and not just her infamous death, to the big screen.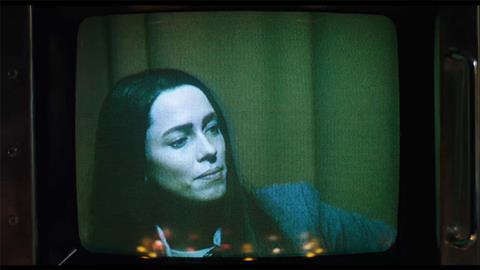 Rebecca Hall had some sleepless nights delivering a haunting performance in Christine. Antonio Campos's feature tells the true story of TV reporter Christine Chubbuck, who committed suicide live on air in Sarasota, Florida in 1974.
"It didn't come easy," Hall remembers. "I was really haunted by this one; I felt very clear in wanting to let go of it at the end of [each shooting] day, to take off the make-up and remember what it felt like to be me.
"It was a very intimate process to try to understand her," the actress continues.
"She would speak to me at night. I'd wake up at two in the morning and there'd be Christine's voice in my head saying, 'You could be doing better, you could be working harder, why aren't you up right now getting ready?' I felt like I was bordering into some dangerous territory, because I was sat upright at 3am saying, 'Don't worry Christine, I am doing my best by you, I promise.'"
The real-life Chubbuck was an ambitious 29-year-old broadcast journalist who wanted to make a difference reporting on real issues in her community rather than delivering sensational 'if it bleeds, it leads' crime stories. It is fitting the film does not sensationalise Chubbuck's final act.
Hall, who this year also appeared in The BFG and will star in two upcoming blockbusters, Professor Marston & The Wonder Women and Holmes And Watson, met New York-based Campos (Afterschool, Simon Killer) for the first time after he sent her Craig Shilowich's script.
"When I read it, I thought this is an extraordinarily passionate rendering of a uniquely female story," recalls the London-born actress.
"Why are two blokes behind it? What are their motivations? Are they actually wanting to make something of real artistry? I could tell from the script that it was beautifully conceived, but I wanted to talk to them."
Reclaiming Christine
Hall clicked with Campos and Shilowich's personal and emotional approach to the material.
"It was really there in the script - the structure of it, the wit, the compassion, the unexpectedness, the subtlety," she says.
"It reclaims her as a person. This is someone who desperately wanted to be seen and to be famous for serving her community and talking about things that were important. Now the film gives her the opportunity to be famous for what she signifies."
Hall also liked that Shilowich and Campos were not trying to offer simple answers as to why Chubbuck killed herself.
"[The story] holds all the possible variations of this mysterious figure at once. It holds all these possibilities so you come out with a discussion, which is the best that art can do," she says.
The film premiered to great acclaim at Sundance, where by strange coincidence Robert Greene also debuted a docufiction hybrid about Chubbuck, Kate Plays Christine.
The Orchard released Christine in the US and Curzon Artificial Eye releases in the UK on January 27.
The film is already nominated for two Independent Spirit Awards.
A defining role
Shilowich had done extensive research and interviews in order to write the script, so Hall did not feel she needed to repeat that process herself.
She prepared for three months before shooting, studying one 15-minute broadcast of Chubbuck to learn about her body language and speech patterns, as well as speaking to Campos daily to talk about the role and the accent. All the preparation was worth it.
"You get a role like this once - maybe twice - in your lifetime, if you're lucky," says Hall, who was nominated for Bafta's Rising Star award in 2009 after appearing in Vicky Cristina Barcelona and Frost/Nixon.
Hall was so immersed in the role of Christine that the actress wondered if she would be able to reclaim herself at the end.
"I assumed that when it ended I would have to create a voodoo doll and put it in a drawer or something, to get this pain out of my system," she says.
"But the last scene we shot was her killing herself, and it was a kind of exorcism and I couldn't have done a day of work after that scene. Strangely, it was a very conclusive way to let go of her, and a sad way to let go of her."
Still, Hall is proud the film is much more about Chubbuck's life than the moment of her death.
"It's not about the thing itself but the talking points it leaves us with - mental health, women in the workplace, the media, the anger and primal scream of a country [the US in the 1970s] that's on the verge of a nervous breakdown."
Ultimately, the actress hopes audiences embrace the film, despite its inevitable, dark ending.
"It is a very sad story but it's full of life. You're spending two hours of your life with an incredibly unique, beautiful person."