Ricardo Darin had always stuck to playing fictional characters until Argentina, 1985 — taking the role of the prosecutor who held the country's murderous military junta to account. Screen talks to him about a role the actor sees as the culmination of his screen career.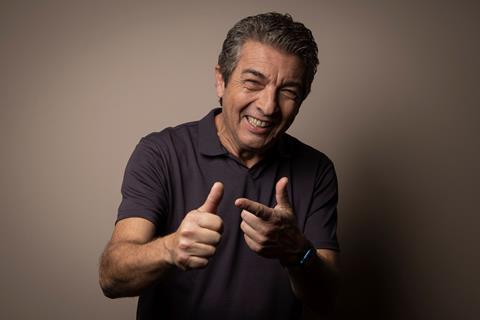 Over the course of an award-winning career spanning six decades, Ricardo Darin has breathed life into unforgettable characters such as the demolitions expert with a grudge in Wild Tales, a retired detective in The Secret In Their Eyes, and a con artist in Nine Queens. But he had avoided playing a real person until courtroom drama Argentina, 1985.
When Darin's friend Santiago Mitre (director of Cannes 2015 Critics' Week prize-winner Paulina) revealed over dinner he was developing a project about the 1985 trial of Argentina's military leaders, Darin jumped at the chance to reunite with the filmmaker. The pair had worked together on Cannes 2017 Un Certain Regard mystery drama The Summit (La Cordillera).
"This is the first time that I said yes to portraying a non-fictional character," Darin says of Julio César Strassera, the chief prosecutor who would build the case against General Jorge Videla and other leaders of the armed forces who led the "Dirty War" against left-wing opponents from 1976 to 1983. "The importance of the history and the story that had to be told really convinced me this was the time for me to portray this wonderful character."
Argentina, 1985 has been selected as the country's submission to the international feature Oscar — hardly a novel experience for Darin, who has appeared in a fair few of the country's past submissions, including Juan Jose Campanella's Son Of The Bride (which was nominated in 2002), The Secret In Their Eyes (which won in 2010), Damian Szifron's Wild Tales (nominated in 2015) and — most recently — Sebastian Borensztein's heist movie Heroic Losers (submitted in 2020). Darin also served as a producer on the latter title, as he does on Argentina, 1985.
The film could see Darin — who first appeared on screen as a child in the 1960 TV series Soledad Mosalvo — achieve his first Oscar nomination for acting. The performance categories of the US Academy Awards are traditionally dominated by actors in English-language roles, but recent years have been regularly providing exceptions — Penelope Cruz in 2022 for Parallel Mothers, for example, and Steven Yeun and Yuh-Jung Youn the year before in English/Korean language drama Minari.
After nearly a decade of rule, the Argentinian military regime was ousted in 1983 and would face its first civilian legal reckoning two years later in the Trial of the Juntas. The proceedings were not tele­vised, although they were open to the public and became a national talking point and rallying cry for justice.
By the mid-1980s Darin was establishing himself as a popular television actor and recalls, "[1985] was a time when we were a little sceptical at the beginning, because we had just recovered democracy in Argentina… We were hopeful these trials would take place but at the same time there was a lot of scepticism in the air."
Power may have changed hands, but it was still a time of danger. "Let's remember that most of these dictators were free," he says. "They were out and about in the streets and still had a lot of political power. For most of the witnesses that participated in the trial, it took a lot of courage to step forward. It was a weird time, but also a time full of hope."
Darin never wanted to imitate Strassera and preferred to bring his own interpretation. He did his homework, watching many hours of trial footage and speaking to people who had known him. "I believe Strassera felt this was his last chance to do something," the 65-year-old actor says. "He felt a lot of discomfort within for not being able to do anything before. The reason why is because during a dictatorship, it's hard to do anything. It's very dangerous. He could not really do anything until this moment of the trials."
Production took place in Buenos Aires, Rosario, Salta, Payogasta, Cachi and Campo Santo from July to September 2021. They even shot in the same court in the Palace of Justice where Strassera tried the case. Kenya Films, the production company set up by Darin and his son Chino in 2016, produced alongside Mitre's La Unión De Los Rios and UK, Los Angeles and Buenos Aires-based Infinity Hill. Argentina, 1985 premiered in Competition at Venice and launched globally on Prime Video on October 21.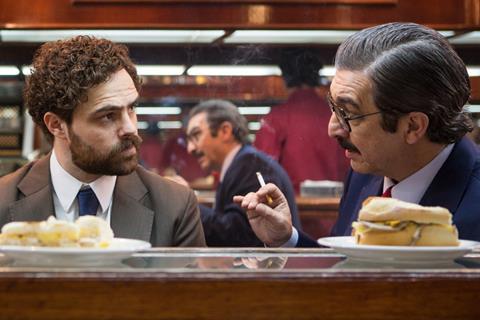 Sense of dignity
Strassera and his young team of legal eagles led by Luis Moreno Ocampo (played in the film by Peter Lanzani) had to show that Argentina's armed forces of land, sea and air were working in concert as they cracked down on political dissent. "Until that moment, there was no evidence that this was something that was organised and planned," notes Darin.
The chief prosecutor grew into the role as the figurehead tasked with restoring a country's sense of dignity. The lawyers navigated a political laby­rinth and endured death threats as they tracked down witnesses who would testify about detention, torture and sexual humiliation ordered by the military leaders responsible for the disappearance of some 30,000 people.
"There's a change in his personality from that person who was silent and not really doing anything," says Darin. "But then he becomes empowered and moves ahead."
The production used excerpts from actual court transcripts. In a memorable scene towards the end, Strassera reads a closing indictment of the regime that is the very definition of poise and intellectual elegance. "Strassera had a very strong temperament and this was very well known," says Darin. "I do believe if he hadn't had that self-control, it would have been a much more aggressive indictment."
That was an emotional scene for cast and crew, most of whom would either have had personal memories of the trial or knew about it from older relatives. Darin continues, "This is something that affected everyone who participated in this project in different ways. There was a common aspect for every one of us… We started feeding on each other's emotions, and that helped also to create the character and to imagine and recreate what the emotions would have been for all these people who participated in the trials."
No precedent
Strassera is a role unlike any other that Darin has played in a storied career. "Nine Queens, Son Of The Bride and Wild Tales are milestones in my career," says the actor. "I also love Truman," he says of Cesc Gay's 2015 comedy-drama for which Darin shared the 2015 San Sebastian Silver Seashell best actor award and won the 2016 best actor Goya; he played a dying actor who settles his affairs with the help of an old school friend. "It's one of my favourites and I cherish it because in some ways it reminds me of my father." (Darin made his stage debut aged 10 alongside his parents Ricardo Darin Sr and René Roxana; his father died of cancer in 1989.)
"I've had the honour of working with great scripts, juicy characters and great directors and Argentina, 1985 is the culmination of all that," says Darin.
The film bears great importance too for its timeliness as threats to democracy cast shadows across the world today. "There's no community or society without wounds," the actor affirms. "I think every community, society and human group has wounds that need healing. In this case — through the truth and the memory of these violations of human rights — we were able to communicate in a universal way to every society and every community that is going through something similar these days.
"This is something that speaks to everyone. It's a universal truth."