The veteran filmmaker drew on experiences making documentaries to tell the dramatic true story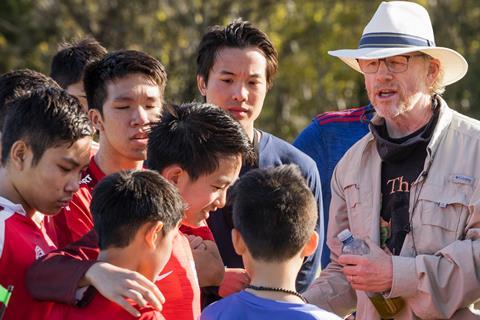 The degree of difficulty was higher than I expected," confesses Ron Howard. The veteran Hollywood director is looking back on the many daunting challenges involved in going deep underground for his latest film, Thirteen Lives. The movie tells the remarkable story of the 2018 rescue of the young football players (aged 11-16) and their coach who became trapped in the Tham Luang cave network in northern Thailand – an event that became a full-blown media circus.
Despite being a prolific producer via his and Brian Grazer's own company Imagine Entertainment, Howard didn't develop Thirteen Lives – the project came to him from British producers PJ Vansandwijk at Storyteller Productions, which had produced a documentary on the same subject, and Gabrielle Tana and Magnolia Mae Films. "It was too exciting to pass up," says Howard.
What appealed to the veteran filmmaker was the selfless heroism of the protagonists behind the rescue. He describes himself as "a storyteller more than a showman" and sees this as one of several films he has made about characters who show the right stuff at times of extreme stress and danger.
Howard also felt that when he read the script by William Nicholson, best known for Gladiator, that it had "enough surprises" to enable him to "offer audiences something fresh".
"He [Nicholson] had done a great job of identifying those key pivot points, those turning points, those critical decisions that needed to be made. Those were complicated decisions. The objectives were noble on the one hand, but universally thought to be so unlikely that there was an interesting paradox here. These people [the rescuers] were committing themselves. They were volunteering. They didn't have to be there — and they were pretty sure it was going to be all heartache at the end of this. And yet the possibility of any level of success was enough to push them on.
"Well, that's pretty remarkable," continues Howard. "And it's great drama. It's one thing to make a documentary and get a real sense of the story, but it's another thing to play out a scene with parents imploring people to just get the bodies out, if nothing else."
It helped that the lead actors Viggo Mortensen (playing rescuer Rick Stanton) and Colin Farrell (as his fellow English diver John Volanthen) "volunteered to do everything themselves and not use doubles, which was a big production challenge but a huge advantage creatively". There are plenty of shots of the actors "underwater, squeezing through a tight space".
Mortensen and Farrell are portraying regular characters, notably reserved and self-effacing in their outward manner. "They took delight that they were going to recreate these guys who were unassuming and unexpected heroes in terms of the way they carry themselves but incredibly capable in their specific area of expertise," says Howard of the actors. "They committed to the project for the same reason I did. They just believed this was a movie of the moment that was really worth drawing a focus to."
The director notes that his father, Rance Howard, was a similar "kind of a guy, even though he was an actor. He wasn't the kind of guy who would wear his heart on his sleeve too much… but if you could get him in a private moment, you could have really interesting and deep conversation. He was a bit of a paradox in that way."
Release strategy
Thirteen Lives was given a limited theatrical release this summer before appearing on Prime Video having been originally set up at MGM, which was bought by Amazon in a deal that closed in March 2022. The director is renowned for big, award-contending movies such as Backdraft, The Paper, Apollo 13 and A Beautiful Mind (which won him both best picture and director Oscars in 2002). He is philosophical, though, about the fact that Thirteen Lives has been seen by far more viewers on a streaming platform than in a cinema.
"Even in movies where people were lined up round the block, at the end of the day, still more people were seeing it on television or an airplane than ever saw it in a cinema," he notes.
The director adds that in making Thirteen Lives, he drew on some of his own experiences shooting verité-style documentaries – for example, his 2020 National Geographic-backed Rebuilding Paradise, about the aftermath of devastating wildfire in northern California which killed over 80 people and left a town in ruins.
"I was living with these images and these moments where people were facing that kind of pain, or reflecting on it and trying to talk about it," reflects Howard. "It was very different from the way you see it in the movies or on TV. I think I've grown a bit, and my sensibilities have shifted a little bit around my documentary experiences. I think it definitely influenced a film like Thirteen Lives."
This is Howard's first dramatic feature since Hillbilly Elegy, his 2020 adaptation of JD Vance's memoir about his impoverished Ohio upbringing. To his surprise, Vance, who was recently elected to the US Senate, has been strongly endorsed by former President Trump.
"It was a departure from all the conversations I had with him while working on the film," Howard says of Vance's pivot toward Trump. "That said, I didn't have that many political conversations with him because I didn't think of it [Hillbilly Elegy] as a very political film, maybe naively so. I was very interested in his survival story as a boy… his relationship with his mother, grandmother and sister, that's really what I was fascinated by. Most of our conversations were around that."
At the time they were making the film, Vance told Howard he "didn't want to run as a Republican in the Trump era". The director was therefore startled by "some of the rhetoric and the public positions" Vance later adopted as he campaigned to get into the Senate. "But all that said, it will be very interesting to see what kind of public servant he is. The fella that I got to know was a very patriotic, dedicated and thoughtful individual."
Keeping versatile
Howard has long been one of the most adaptable of US directors. There's hardly a genre — from sports movies to westerns, from sci-fi to crime thrillers, from political dramas to family melodramas — that he hasn't at least road tested. It is therefore not too much of a surprise that now, aged 68, he is directing his first animated feature: The Shrinking Of Treehorn, which has been picked up by Netflix (and is due for release around Christmas 2025), and is based on the 1971 children's book written by Florence Parry Heide and illustrated by Edward Gorey.
Howard points out, however, that this isn't Imagine's first leap into animation – the company produced 2006 feature Curious George for Universal Pictures, with a voice cast led by Will Ferrell, and various direct-to-video and TV spinoffs of it.
"My colleagues at Pixar, whenever I talk to them about their process, I always envy it," he says. "There is the chance to understand your film, revisit and continue to refine it in a much more involved way than you ever have the opportunity to in live-action productions."
Howard also believes that animation allows him to flex his "comedic" muscles. When he was starring in Happy Days or making early movies like Night Shift, Splash, Parenthood or, further into his filmmaking career, How The Grinch Stole Christmas, he was known as a director with a raucous sense of humour. That reputation has faded somewhat as he has tackled more adult-skewed drama.
"It's fun for me to be working on the jokes; it's fun for me to be applying that comedic sensibility to our story of Treehorn," he says. "I had a sense that here was a way for me to continue to build on my comedy background."
It's easy to marvel at both Howard's work ethic and the variety of projects he takes on. He is currently working on a new documentary about Jim Henson and the Muppets for Disney+. Another new doc will be about prisoner-of-war experiences in the Vietnam era, and he is also attached as a director to various other TV and feature projects.
When it comes to working on multiple projects, Howard believes his experiences as a child actor still help him. "It doesn't matter how difficult your day or work is as an actor, you are legally bound to do three hours of schooling on the set," he recalls. "So I learned early on to shift gear from the comedy scene or the crying scene or whatever you might be doing on camera and getting ready for the spelling test or doing my book report on Huck Finn. That was part of my upbringing, being able to shift gears quickly.
"At the end of the day, I am mostly interested in: do we have the resources to do it well and, if not, how do we get them?" adds Howard about the pragmatic approach he has also always taken to filmmaking. As for how his movies are distributed, he is sanguine about whether they turn up on VOD or in multiplexes. "Audiences ultimately dictate that because they are the customers and we are in their service," he declares. "They'll tell us what they want to see, and where."