Rotterdam (Jan 23-Feb 3) is a festival renowned for creative risk-taking, but also for vital industry and co-production activity embedded into its programme. Screen previews the 2019 edition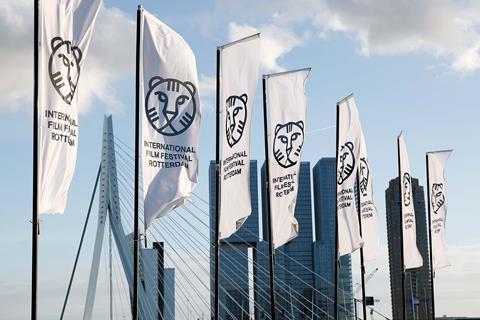 Some festivals are happy to open with a bland choice that won't offend the sponsors. That may not be the case when the 48th International Film Festival Rotterdam (IFFR) kicks off on January 23 with Sacha Polak's Dirty God, about a young mother from south London attempting to rebuild her life after an acid attack.
It is a film that represents Rotterdam's ethos well — a Dutch filmmaker working on her most ambitious and international feature yet, a work that pushes filmmaking forward.
Bero Beyer, IFFR festival director, says Dirty God is "outspoken and very emotional. It's ambitious and it doesn't make any compromises. This is what we should be celebrating, this kind of lens that is confronting."
The film is also an example of how Rotterdam creates an extended family across all its activities. Dirty God was part of BoostNL during IFFR's co-production market CineMart in 2016. In another example, CineMart 2019 includes the Palestinian film A House In Jerusalem from Muayad Alayan, whose last feature The Reports On Sarah And Saleem picked up a special mention in Rotterdam's Tiger competition last year.
Films playing in the festival that were backed by the Hubert Bals Fund — administered by IFFR to support filmmaking in Africa, Asia, Latin America, the Middle East and parts of Eastern Europe, and this year celebrating its 30th anniversary — include The Day I Lost My Shadow by Soudade Kaadan, Rafiki by Wanuri Kahiu and The Load by Ognjen Glavonic.
"This connecting the dots is really paying off," says IFFR's head of industry Marit van den Elshout. She notes that unlike some other festivals where the market is entirely separate, the Rotterdam programme team and the industry team work closely together.
500 films under four pillars
Beyer says the nearly 500 titles that the festival will present are "very diverse. That's a volume of work we feel comfortable with. That ranges from experimental shorts to 14-hour films like La Flor or full marathons of TV series."
That big programme has become much easier to navigate since Beyer and his team established four sections for the 2016 edition. "The concept of those four pillars has become a substantial tool," he says. "There is a clear distinction — discovery in Bright Future, big launches in Voices, more artistic and cinephile work in Deep Focus, and looking at special themes in Perspectives."
If there is anything that ties them all together, it is "great stories by filmmakers with something to say", Beyer adds.
The Tiger competition, now streamlined to just eight films (down from 15), will include first and second features this year including Ulaa Salim's Danish political thriller Sons Of Denmark, Chinese vlogging story Present. Perfect by Hong Kong-based Shengze Zhu, Grigoriy Dobrygin's Sheena66 about a Russian man who meets a girl from a faraway land, Johannes Nyholm's Swedish psychological drama Koko-di Koko-da, along with No Coracao Do Mundo by Gabriel Martins Alves and Maurilio Martins (Brazil), Els Dies Que Vindran by Carlos Marques-Marcet (Spain), Nona. If They Soak Me, I'll Burn Them by Camila Jose Donoso (Chile, Brazil, France, South Korea) and road movie Take Me Somewhere Nice by Dutch filmmaker Ena Sendijarevic. Of the Tiger competitors, Beyer says: "They manage to connect very individual and personal stories with a bigger space."
Brian Welsh's Beats, a story of friends in the rave culture of the 1990s, will have its world premiere in the Limelight programme, which is part of the Voices strand. Further Limelight titles will include festival hits Capernaum by Nadine Labaki, Ash Is Purest White by Jia Zhangke, Brady Corbet's Vox Lux and The Beast In The Jungle by Clara Van Gool.
Special themes and programmes include a spotlight on recent black Brazilian cinema, cinema's world of espionage, Rabbit Hole on internet memes, a programme of unfinished films, and Say No More, a largely speechless selection of films.
Speakers in the festival's Talks & Masterclasses programme will include composer Cliff Martinez and filmmakers Carlos Reygadas, Guillermo Arriaga, Claire Denis, Sacha Polak and Jia Zhangke.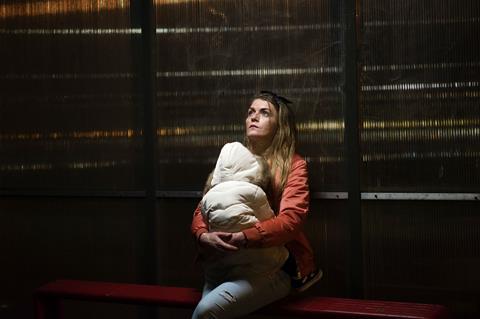 IFFR has an audience famously eager to explore a wide range of films — in 2018, audience numbers hit 330,000. "People are hungry for something which is different than the ordinary," Beyer explains, "something that gives them the question rather than the answer." IFFR is also trying to ensure that younger audiences are engaged, holding educational screenings and filmmakers' talks with schoolchildren. "This also means developing the next generation of cinephiles," he says.
The festival also continues to develop cinephiles year-round with its VoD platform IFFR Unleashed. "We are trying to underline that it's a natural extension of the festival, not just another platform that you pick from the rack," says Beyer. "We are shifting more and more to filmmakers that are truly independent, there is a thirst for those voices. We don't want to compete with platforms that have content that's been widely distributed. But the ones you want to know more about or challenge the way we think of cinema, that's where we come in."
For instance, in December IFFR Unleashed launched eight-hour 8903 Empire by Kevin Jerome Everson and Kahlil I Pedizisai, loosely inspired by Andy Warhol's Empire. The platform also releases films previously shown at the festival or backed by the Hubert Bals Fund.
Industry connections
In addition to those 500 films, IFFR is well-known for its industry activities — CineMart, Rotterdam Lab (a lab for producers), BoostNL, a virtual reality (VR) day, the Reality Check conference, a video library and a physical hub for meetings grouped under the banner IFFR PRO.
As van den Elshout says: "There's more links between our film programme and the Hubert Bals Fund, and CineMart and Talks — the integration is starting to work. Now everything is much more connected."
Special topics to be addressed during IFFR Pro Days this year will be a Martinez masterclass about composing in partnership with Dutch music royalties group BUMA, as well as Martinez doing a smaller invitation-only workshop for Dutch composers. Also, IFFR will invite African filmmakers from three different collectives (in collaboration with European producers organisation EAVE) coming over to participate in a lab for African-European co-productions. There will also be more IFFR Talks, looking at filmmakers facing political injustice.
The VR programme has also been growing in recent years. "We try to take our own place in terms of the programme," says van den Elshout. "It should fit with Rotterdam, we have a very artistic side and we also have a more contemporary film side."
The VR day on January 29 will include the presentation of four VR projects, a keynote speaker and a panel discussion. The second annual Reality Check conference (January 27) focuses on development, in particular trying to help creators and storytellers evade pigeonholing in the development process. "It would help to not immediately be put into boxes — you're a documentary, you're a feature film, you're VR, you're working with Netflix," van den Elshout says. "It's difficult if you're working in content that falls outside of normal film funding — how do you develop that and finance it?"
The conference will encourage reaching diverse audiences by thinking about diversity of stories at an earlier stage. "In terms of what we show, it's a very broad spectrum and on a development level there needs to be a spirit of fluidity and openness," says Beyer. "Can independent media creators rethink the infrastructural pigeonholes we've created?"
CineMart's Tailored Approach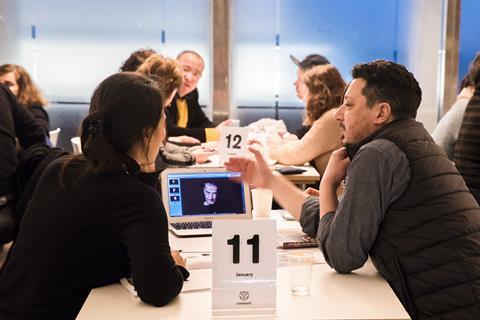 IFFR's industry activities include CineMart (January 27-30), Rotterdam's co-production market — the first one ever established and now in its 36th year. CineMart continues to innovate, head of industry Marit van den Elshout explains: "2018 was something of a pilot to try a restructured programme where each team gets mentored to help them prepare in advance for pitches and meetings. That format worked well and is back for 2019."
In recent years, the selection has also become tighter, now with 16 projects (down from 26). "Decreasing the selection really works, we wanted to get away from 'X number of projects on a platter' and throwing them out there and seeing what happens. That tailored approach helps," van den Elshout says.
Strong applications also help. In addition to the aforementioned A House In Jerusalem, this year's selections include CineMart veteran Nathalie Teirlinck's Belgian film Elephants; Stranger Eyes from Singaporean director and Rotterdam regular Yeo Siew Hua and Oranges And Sunshine director Jim Loach's The Panopticon from the UK.
There are four awards on offer to CineMart titles: the Eurimages Co-Production Development Award of €20,000 ($23,000) for a European co-production; the ARTE Kino International Prize of €6,000 ($6,900) for an international co-production; the Wouter Barendrecht Award of €5,000 ($5,700) for a project by a director under 35 years of age; and the Filmmore Postproduction Award of €7,500 ($8,600) to be used for colour grading and visual effects.