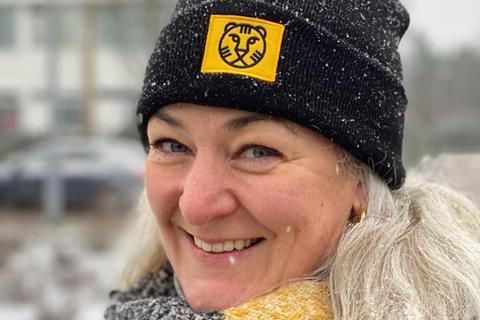 The industry platform of the International Film Festival Rotterdam (IFFR) may have moved entirely online, due to the ongoing virus crisis, but IFFR Pro head Marit van den Elshout is virtually hosting producers "from Tokyo to LA".
The digital IFFR Pro Days, which includes the CineMart co-production market and the Rotterdam Lab, is running online February 1-7.
Speaking to Screen from a very quiet office in Rotterdam's Doelen convention centre, which has long been the main hub of the festival, she revealed the biggest challenges in putting together this year's programme, key learnings from other events and how she believes the industry has adapted to production during a pandemic.
What have been the most pressing challenges in building this year's industry programme?
The biggest challenge was making an inventory of what the industry would still be looking for after a year of online events. That was both a positive but also a negative because the situation kept changing.
We quickly decided that we wanted to move everything online for the IFFR Pro Days, because IFFR, CineMart and Rotterdam Lab are essentially international activities. We didn't want to create a hybrid situation where some producers and filmmakers from nearer countries were able to travel to the Netherlands but not those from further away, where there would be travel restrictions.
What have you learnt from other online industry events over the past year?
We thought we should keep the programme quite lean. We run concurrent with Goteborg as well as a few days of Sundance. People have their kids at home in most countries because the schools are closed. We decided we'd have an easily accessible programme because we can't expect people to be at their computers watching us for eight hours a day.
We've also found that when a confined group of people are there to do the same thing, that really works best. You can still create that sense of community and interaction. We've also learnt not to make it too complicated.
What makes Rotterdam unique is the way we organise things. We are a welcoming festival. We also like to break down barriers between audience, industry and filmmakers. We've really tried to replicate that in the activities we do online.
How were the submission levels for CineMart and Hubert Bals funding?
There were more applications than last year. Also, the quality of these projects was really high. During the autumn round for the Hubert Bals Fund, we received double the number of projects for development. Producers, directors and writers have spent a lot of time on development. We could see that in the applications, which were mostly very strong. Overall, it was really exciting with some really strong projects from female directors.
We had discussions with the selection committee about the stage at which we should select projects and how they would best benefit from this online format, where there is less room for chance meetings and connections.
The Rotterdam Lab is such an international group of people that we've made a very concise programme for them with an 'east' and a 'west' group, and a golden hour. The time zones are tricky but we have a Slack environment for them. Everybody has made introduction videos of themselves and they are really interacting with each other.
How successfully have producers, distributors and sales agents been in adapting their approaches during the pandemic?
It's a bit early to say but producers have had to be really resourceful, especially if they wanted to shoot a film in the past year. They also had to learn quickly to adapt their plans for festival release and cinema release. Everybody has had to make that shift and some have adapted differently to others. The smaller sales companies – who were already working a little differently in terms of how they deal with their overheads – are maybe more flexible.
Collaboration is something that will hopefully come out of this, between platforms, distributors and festivals. It would be great to have a big session, maybe in June, with some of the key stakeholders in the eco-system to think about the future - and how to get audiences back to cinemas.