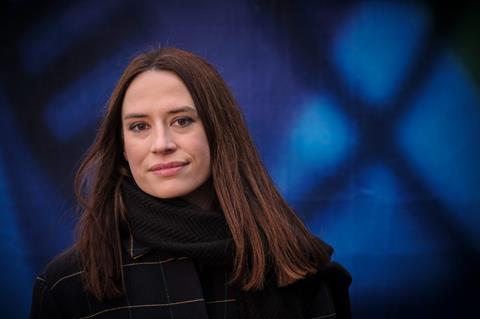 It has taken a little longer than planned but Vanja Kaludjercic is finally poised to step on stage tonight (Wednesday, January 25) and welcome the opening-night audience to her first in-person International Film Festival Rotterdam (IFFR) with the world premiere of Henrik Martin Dahlsbakken's Munch.

Kaludjercic took over as festival director from Bero Beyer in 2020 after the event that year so this is her third edition in post. But both the 50th-anniversary festival in 2021 and the 2022 one took place online, the latter at the last moment, with a physical festival planned and hoped for right up until the last moment. Summer iterations were held in reopened cinemas for the public.
After those three incredibly challenging years that included a restructure of the programming team due to financial considerations following those pandemic editions, Kaludjercic now has a big grin and a spring in her step as she looks forward to the 2023 festival.
It is a line-up that celebrates art and film. "IFFR likes to not make a big distinction between cinematic art that happens on a big screen and outside of it, at a gallery or some other space," Kaludjercic explains. It includes a special commission of a new work by Steve McQueen, the Turner Prize-winning winning artist and Oscar-feted filmmaker. 'Sunshine State' is being presented in collaboration with Depot Boijmans Van Beuningen from January 26 to February 12.
The 52nd edition of IFFR will close with All India Rank by Varun Grover, a comedy set in India in the late 1990s, on February 5.
On the eve of the festival, Kaludjercic takes Screen through some highlights of the line-up, and talks about what has inspired her personally in the last year.
Tell us about this year's festival.
I wanted to diversify the selection. While it looks recognisable [as a Rotterdam line-up] it also brings a lot of surprises. Look at the Tiger Competition, we've never had so many Middle Eastern and North African films in the programme. And while Germany produces a lot of films, it's nice to have a German competition entry [Letzter Abend by Lukas Nathrath] as it doesn't happen so often. The goal and the direction is to bring in new voices from territories who don't so frequently get a spot.
How have the last two years prepared you for this moment?
Even in the previous [online] editions, our goal was always to be there for the audience and the industry and the filmmakers. We are supporting those filmmakers that really need a festival and to [have their films] presented in this way, either in the Tiger competition or Big Screen or Bright Future.
For our audience, a big part of IFFR is to see things you are not going to be able to see and to discover different languages of cinema. In that regard the motivation is stronger than ever that finally we can share this communal space once again.
With which strands would you like the international industry and Rotterdam audiences to particularly engage?
We want to dive deeper into territories that we deem are very important to the fabric of world cinema. We know Chinese-language films have not been so present in the last year so we are proud to have a wide and varied selection of Chinese-language films.
When I look at south-east Asia and east Asia, these countries have been flagship territories for IFFR and we are bringing them back. For example, we have Where The Wind Blows, the Oscar entry from Hong Kong by Phillip Yung. It brings back Tony Leung to the big screen.
A few titles from Hong Kong, including A Light Never Goes Out [directed by Anastasia Tsang, screening in Harbour] describe Cantonese culture, the flavour and the smell of it, in the best possible way.
Similarly we have an entry in Bright Future from Macao [Kissing The Ground You Walked on by Heng Fai Hong]. That doesn't happen very often.
In terms of Japanese films, we have a big retrospective of superstar animator Yuasa Masaaki. We want him to break out of the animation niche.
And the presence of Indian cinema across all sections shows how deeply rich and complex that national cinema is. 'Shape Of Things To Come?', the programme we have on India, has a question mark at the end because within the films you can recognise patterns and blueprints of things that might go on to happen in the rest of the world. India is so rich and erudite and complex [as a filmmaking country] that it alllows you to have documentaries and arthouse films and to really dive deep into the subject.
You love them all of course but which filmmakers can you highlight?
La Hembrita from the Dominican Republic marks a return to Rotterdam by director Laura Amelia Guzmán. It's about the class system in the Dominican Republic and is the first time Laura has directed on her own. It's screening in Big Screen.
There are a few other returns in the Big Screen competition. Jessica Woodworth is back with Luka, starring Geraldine Chaplin. Jessica used to always co-create films with her partner and this is her first solo film. It's a very surrealist, post-apocalyptic imagining of an Italian novel. It's very spectacular looking.
Another returner is French director Sophie Letourneur's Voyages En Italie.
It's wonderful to see both competitions displaying vast ideas of what cinema can be, whether you are a first-time filmmaker or prolific Japanese director Sakamoto Junji, whose Okiku And The World is also in Big Screen.
You have travelled a lot in the past year. Where has inspired you?
It's been a fantastic year. Whatever has been there, I've grabbed at it. I was really curious to see how film festivals are going to be bouncing back and that was the best and most reassuring thing to see. Starting with Cannes and then through the summer festivals of Locarno and Sarajevo and San Sebastian, to see such enthusiasm. I would even say hunger. I saw it everywhere and not just from festival organisers, but from audiences too. To understand the important place that festivals keep, a meeting point of all these different communities coming together.
But also, I learned we're not going back to where we were two years ago. So what does that mean? What have we learned and where do we want to go?