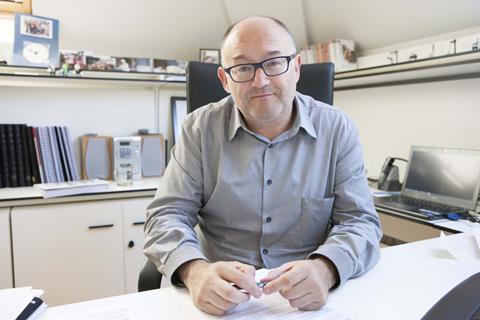 José Luis Rebordinos, director of the San Sebastian International Film Festival, talks to Screen about the key role the Spanish event plays in both the European and Latin American industries, industry innovations for this year and the art of programming a festival at one of the busiest times of the year.
The festival opens today (September 20) with the European premiere of Roger Michell's Blackbird and runs until September 28.
You are proud of how open the festival is to new talents. How does this work in practice?

It involves different strategies. One of them is the New Directors section and also the official competition often includes a fair amount of first or second features. This year they are A Thief's Daughter by Belén Funes, The Audition by Ina Weisse; Pacificado by Paxton Winters, Workforce by David Zonana and Patrickby Gonçalo Waddington.
The festival's Ikusmira Berriak programme is also designed to foster new talent. It is an eight-week development residency for project development. An award is presented during the festival to help with the post-production stage of the films. Last year the winner was Jordi's Letters by Maider Fernández Iriarte, and this year she is competing in New Directors with the film.
We also have the Nest Film Students section, for students from film schools all over the world whose short films have been previously pre-selected. They get the chance to screen their work and attend discussions and master classes by industry professionals.
What is the art of programming San Sebastián during such a busy festival season?
We are the smallest of the big ones, as we like to say, in a calendar that often sees films going to Venice and Toronto. Competition for world premieres is very tough and we cannot rely on it exclusively, but we usually have about 30 international premieres.
We also include European premieres for films that went to Toronto.
We are aware we might lose some international press coverage, but it's a strategy that is helpful for the films that have a chance to access different markets, audiences and press.
I think we complement each other quite well. Some of the films that come to San Sebastián will then go to Zurich or London too.
As well as films by new directors, the competition section this year includes films by well-established Spanish and International names such as Alejandro Amenábar [with opening film While At War)] and James Franco [with Zeroville], and by auteurs who have already shaped their voice. They would include Alice Winocour, who's in the selection with Proxima, and Sarah Gavron, who came to San Sebastián with her first film, Brick Lane, in the New Directors section and is now back with Rocks in competition.
Just under a third of the total number of films in Competition are directed by women.
Out of 17 films in competition there are six directed by women but we didn't select the films looking for parity in numbers. I don't think gender should be a criterium for selecting films. I think the key is to ensure the access of women to the film industry. Parity has to be supported from the start, making sure everybody has the same rights and opportunities to make the films they want to make. Festivals are at the end of this process and shouldn't select the films by the gender of the person who has made.
We don't apply quotas but I'm happy that each year we are seeing more and more films directed by women. In the New Directors section, this year the numbers are 50/50. [It is] something we realised afterwards. I'm hoping this is a good sign that things are changing, for real, at the base, that equal opportunity to make films is slowly taking shape.
What is your policy in terms of programming films released by the US streamers?
We are all trying to adapt to the change they have brought. From the point of view of festivals, we'll still have to focus on offering the best productions, in or out of competition. At this edition we have three Netflix releases: Seventeen [by Daniel Sánchez Arévalo] in the official selection out of competition, The Laundromat [by Steven Soderbergh] in the Pearls section and Atlantique [by Mati Diop] in the Zabaltegi Tabakalera section.
What is the thrust of your industry programme this year?
As a festival we are very aware of the key role we play in the context of the Latin American and Spanish speaking market through the Europe-Latin America Co-Production Forum and the Films In Progress programme] run jointly with Cinelatino Rencontres de Toulouse]. The number of projects that apply to attend the forum keeps growing every year and the projects are bigger, some of them from very well-established producers and directors.
The Europe-Latin America Co-Production Forum has been growing. In the last nine years the number has almost trebled to 1.700. San Sebastián has become a good place to discuss new projects for the European and Latin American industries in particular. Some of them are directly linked to the Forum, but others because the festival works as a meeting point. More and more European and Latin American producers and sales agents are attending the festival. Some deals might start in Toronto and are closed here.
Are there any new industry activities this year?
We have Zinemaldia & Technology, a series of initiatives that focus on the links between science, new technologies and the film industry through panels, discussions, a masterclass on special effects and a competition for new start-ups. More than 30 projects applied and we pre-selected five from all over Europe. They will present their ideas and demos. We hope to develop this idea more going forward.