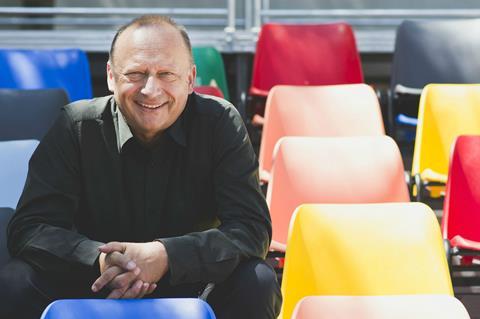 Organising this year's Sarajevo Film Festival has proved the most difficult to date, which is saying something for an event that began during a war.
But while that first festival took place during the siege of Sarajevo in 1995, the 26th edition is set to launch in the midst of the Covid-19 pandemic and follows a dramatic second spike of cases in Bosnia and Herzegovina.
It was this surge that led organisers to abandon plans for a physical event, just eight days before its planned opening on August 14. "This has been more challenging than any of our previous 25 editions, including the war edition," says Mirsad Purivatra, founder and artistic director of the festival.
"We simply don't know what will happen tomorrow. Everyone wanted to see the festival as a turning point in the fight against the coronavirus but, even though we fought until the last moment, it was not possible."
However, the fighting spirit that inspired that first edition lives on and Sarajevo has pivoted to host 29 world premieres, masterclasses and its major industry platform online for the first time.
"I was sceptical and thought people might pull their films from our line-up," admits Purivatra. "But the trust we've been given by filmmakers to show their films and the solidarity we've experienced has been beautiful."
The world premiere of Focus, Grandma, the most recent film by Bosnian director Pjer Žalica, will still open the festival and will be available to view at ondemand.sff.ba – the festival's VoD platform.
Ondemand.sff.ba is open to audiences worldwide and will allow users to subscribe to the entire festival programme for seven days, or select individual titles and content. It was developed with Festival Scope and Shift72.
But as well as showcasing films from the region, Sarajevo has secured world premieres of US indie feature Small Town Wisconsin, the first film from Niels Mueller since The Assassination Of Richard Nixon in 2004; and Eric Tessier's Canadian drama You Will Remember Me.
Forming part of the Open Air programme, and further testament to the festival's determination not to be beaten by the pandemic, Small Town Wisconsin and four other titles will screen outdoors in the historic city of Mostar, 80 miles south of Sarajevo, where the Covid-19 situation is better.
Top talent
One stand-out element of the festival is its continued ability to draw top-level talent, which has previously included Brad Pitt, Angelina Jolie and Oscar-winning directors Alejandro González Iñárritu and Alfonso Cuarón.
This year was to be no different, with French filmmaker Michel Hazanavicius (The Artist) set to preside over the main competition jury accompanied by his wife, actress Berenice Bejo. Set to receive the festival's honorary Heart of Sarajevo awards were Mexican filmmaker Michel Franco and Danish actor Mads Mikkelsen.
But in a further display of solidarity, all will attend virtually to offer online masterclasses, which will also include Cambodian documentary maker Rithy Panh, who won the Un Certain Regard prize at Cannes in 2013 with The Missing Picture.
Industry platform
Even before taking the decision to move the festival online, organisers chose to shift its CineLink Industry Days to a virtual format from August 15-20.
Typically drawing around 1,300 delegates, Sarajevo's industry section has grown to become the primary hub for Southeast European film professionals and has played a crucial role in the expansion of cinematic co-production in the region.
This 18th edition will present more than 40 projects in various formats and stages of development while the accompanying conference will include 12 panels and case studies that tackle the opportunities and challenges that the film industry faces both regionally and globally. (The CineLink Talks programme is being run in association with Screen International and Documentary Campus; registration links for all the talks can be found here.)
"I think the move to online activity for industry and training is a positive one and I believe many markets will change their strategies going forward," predicts Purivatra.
"I think around three big international markets will remain and the rest will transform into online events. Why? It saves time, the communication is perfect and we'll still get to meet at those other markets throughout the year."
But he concedes that the experience of seeing a film in a cinema cannot be replicated online. "This is why festivals and cinemas exist," he adds. "We work to provide a unique opportunity for people to go into that black box, watch films and react together before discussing it after they've left the cinema."
The festival director may also have one more trick up his sleeve. "We always try to be different, unique and inspirational so are working on something top secret for this year's festival," says Purivatra. "Whether online or in person, we're working hard to make Sarajevo and those filmmakers who have stood by us proud."