Finnish-Iranian filmmaker Hamy Ramezan and his producers Jussi Rantamäki and Emilia Haukka of Helsinki-based Aamu Film Company won Screen International's Best Pitch Award at the most recent edition of the Baltic Event co-production market at Tallinn Black Nights Film Festival when they presented his fiction feature debut The Oasis Of Now to potential partners.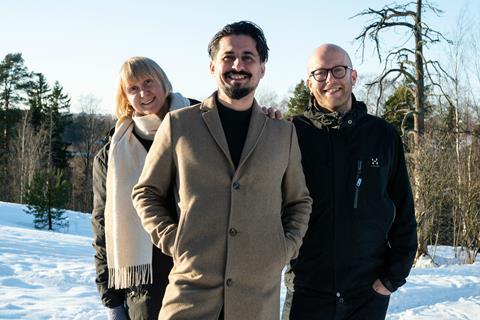 Set in Finland in summer 2019, The Oasis Of Now centres on 13-year-old Ramin and his family, whose application for asylum is turned down by Finnish immigration authorities only weeks before Ramin is about to start at a new school. Despite the setback, his family retain a remarkably positive outlook as they use their final appeal against the decision.
The film is inspired by Ramezan's own experiences fleeing with his family from persecution in Iran and their two-year odyssey through Europe to arrive in Finland in 1990, although he says it is not straightforward autobiography.
"I first became aware of Hamy when I saw his 2014 short film Keys Of Heaven," says producer Jussi Rantamäki, founder and CEO of Aamu Film Company whose production credits include Juho Kuosmanen's The Happiest Day In The Life Of Olli Mäki.
"Keys Of Heaven is about the Iran-Iraq war, and how a young boy decides to become a soldier. The cinematic qualities and dramatic approach in this film was different to anything else I had ever seen from a Finnish filmmaker. I was impressed by how Hamy was able to make this emotionally understandable to a Finnish audience."
In turn, Ramezan, who graduated with a degree in film from the University of Creative Arts in Farnham, UK in 2007, says he was attracted to Aamu Film "because I liked the kind of films they were producing, the values they represent and their idea of building up a family of filmmakers".
Indeed, Ramezan joins a roster of filmmakers at Aamu that includes Kuosmanen, Hannaleena Hauru, Mikko Myllylahti and documentary filmmaker Elina Talvensaari.
After producing all of Kuosmanen's professional shorts as well as his 2016 feature debut Olli Mäki, which won the Un Certain Regard award at Cannes, the company is currently readying his second feature Compartment No 6 which will be pitched at the Berlinale Co-Production Market next month.
Aamu is also in development on Hauru's second feature Lucia and Myllylahti's feature directing debut The Woodcutter's Story.
Pitching in Tallinn
After developing The Oasis Of Now on his own for four years, Ramezan decided last year to bring a co-writer on board, and Aamu paired him with Finnish writer Antti Rautava whose previous credits include writing, directing and producing the award-winning short El Mirador.
While a previous incarnation of the project (sporting a different title) had been presented at the Holland Film Meeting in 2017, the reworked storyline was first introduced to potential partners at the Finnish Film Affair in September, before being pitched at the Baltic Event in November.
"We had around 30 meetings over two days in Tallinn and people really came alive when we talked about the film and how it's related to Hamy's own experiences," says Rantamäki.
Development financing for the €1.42m project came from the Finnish Film Foundation and via the Creative Europe MEDIA slate funding programme. Around €531,000 of the budget is already in place from Finnish public broadcaster YLE, Aamu Film Company and Iranian co-producer Pouria Oureh's Three Gardens Film, while distributor Nordisk Film has secured the Scandinavian rights to the film.
"We now have an application submitted to the first funding session of Finnish Film Foundation for production support," says Rantamäki. If that gets the greenlight, he adds, they will have 80-85% of the budget in place.
At Baltic Event, they also secured Joram Willink of Bind Film to come on board as Dutch co-producer. (Bind Film's credits include Steven Wouterlood's feature debut My Extraordinary Summer With Tess, which will premiere in Generation Kplus at next month's Berlinale.)
"It's like a dream come true having Pouria as our Iranian co-producer," notes Ramezan who first met Oureh at last year's Cannes where Three Gardens Film was a co-producer on Directors' Fortnight entry The Load.
"He is doing the casting for us in Iran with all of the A-list Iranian actors I have admired for so long, because the parents in the story are from Iran and we don't expect them to speak Finnish. In addition, Pouria will provide some in-kind investment such as camera or lighting equipment," Ramezan adds.
Finding a child actor who speaks both Finnish and Persian to cast in the central role of Ramin will, admits Ramezan, be the project's "main challenge – but also an opportunity". A girl has already been found to play the boy's sister.
Principal photography for The Oasis Of Now is scheduled to take place in Finland starting in mid-August, with the completed film ready for delivery by spring 2020.