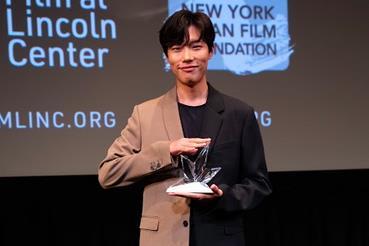 Popular South Korean actor Ryu Jun-yeol received the Screen International Rising Star Asia Award at the New York Asian Film Festival 2019 on Saturday (6) and talks to Jeremy Kay about his latest film, Money.
Ryu, who goes by the name Anthony in the west, plays an ambitious young stockbroker in Seoul who falls in with a Machiavellian broker in his bid to become rich.
The actor, who counts Tottenham Hotspur star striker Son Heung-min among his friends and is a keen football fan, has built up a large following in his native country ever since he starred in Socialphobia and the TV series The Reply.
He talks about the similarities between his life and that of Cho in Money, milestone roles, and his desire to branch out. The New York Asian Film Festival runs until July 14.
What drew you to the role in Money?
I really empathised with the character. As an actor we have a responsibility to empathise with the character as well as the audience. I've been through what he's been through in his life so I was confident I'd be able to play him as a real and detailed person and offer an intimate portrait of the character. I'm a person whose lived a fairly ordinary life and through my acting career I've had the chance to make money, and in that process I've gone through a lot of reflection and worries about how to approach this change in my lifestyle.
What was it like working with first-time director Park Noo-ri?
I would describe it as one of the most intended experiences I've had on set. Because she had an independent film background we were both focused on making it the film we wanted to make it into. We had a lot of conversations about the characters and the filming on and off set in the film a lot of people were sitting down but the reality was the making of this film was a very intense one.
What does Money have to say about the disparity between the haves and have-nots?
The disparity in wealth is a worldwide phenomenon. The sad reality is when people talk of dreams it's no longer what people are interested in or what people think could be fun. It usually comes done to how much money will I make from this. A lot of people get involved in stockbroking just from the idea that it's easy to make a whole lot of money with minimal effort, so that phenomenon is also a bit worrisome to me.
What research did you undertake for the role?
When I portray a character I tend to try not to go the typical route, so in terms of this film, when you see a character who makes a lot of money you usually see that character try to accumulate a lot of new things and discard what they already have. I wanted to focus on the changes that happen to the existing relationships he already had, rather than focus on the material side of the equation. For example you can see the changes in his close relationships, especially with his family and his long-term girlfriend. I did go to securities companies, but that wasn't the point: the point was the changes in these relationships.
You have played a range of roles from innocent boy-next-door to drug lords. What do you look for in a character?
Rather than zooming in on the characters I zoom in on the project as a whole. My standard is, 'Do I want to see this in theatres?' Money was a film I really empathised with and it's a film that reflects the time, and that is the artist's responsibility so that was a reason as well.
What have been the milestone projects in your career thus far?
Socialphobia was my first feature and I acted really freely in that and I may change my mind tomorrow, but I will say it was the project that enabled me to get into the TV drama The Reply, so it's a cornerstone. The Reply was a big commercial success as well, but Socialphobia was a milestone.
Would you like to work in English-language film?
Before jumping into the TV and film world I was really immersed in Hollywood films and that was my passion before I got involved in the greatness of Korean cinema. Because my first love as Hollywood films I would love to have the opportunity to work in English-language films.
What are you doing next?
It's The Battle: Roar To Victory, which depicts the (19th century) first battle against the Japanese while Korea was under Japanese colonial rule. Because it deals with the first triumph for Korea I hope viewers will come away feeling good. It will come out in theatres this August.