Director Baltasar Kormakur returns to his Icelandic roots for thriller The Oath, which also sees him back in front of the camera. Wendy Mitchell reports from the Reykjavik set.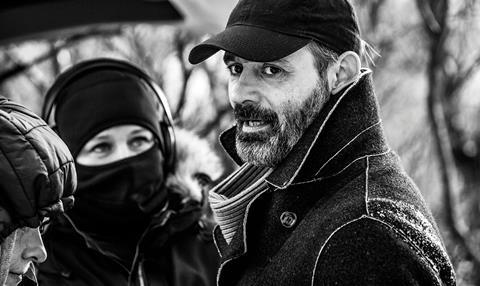 A real patient with a real leg injury is wheeled through a hallway at Landspitali hospital in the middle of Reykjavik. A real nurse looks slightly confused at the commotion, as lights and cameras surround Iceland's most famous film export, writer/director/actor/producer Baltasar Kormakur, in a white lab coat.
It is January 2016 and Kormakur is shooting his 11th feature film, The Oath,which plays at this year's Toronto International Film Festival (Sept 8-18) as a Special Presentation.
After the huge summit of Everest, he has returned to his home country for a smaller-scale, lower-budget, Icelandic-language psychological thriller. He is also back in front of the cameras — for the first time since 2008's Reykjavik-Rotterdam — to play the lead role, a surgeon who tries to save his daughter (Hera Hilmar) when she is sucked into a world of drugs and petty crime.
"It's a strong story, very relatable, and then it takes a turn into a thriller," says the film-maker.
Breaking his oath
Kormakur has an acting background in both theatre and film, and he took a small role in his debut feature 101 Reykjavik in 2000 (it won Toronto's Discovery award). But he took some convincing to take on the lead in The Oath. "I never intended to do this after 101 Reykjavik," he explains. "I said, 'I'll never do it again.'" But so much of The Oath is about the main character that Kormakur realised, "I could be in control of myself… It's told all from the perspective of this man, so his perspective is the same perspective as the film's storytelling."
Kormakur makes multi-tasking look easy on set. On the day of Screen's visit, he will shoot a scene with other actors and then rush back to the monitor to check everything is to his liking as director before he moves on. The crew calls for him according to what they need: "We need Baltasar the director, we need Baltasar the producer, we need Baltasar the actor," he says with a laugh.
Kormakur has returned to Iceland frequently between his bigger international films: 2012's shipwreck survival story The Deep was made between Contraband and 2 Guns. The Oath may be much smaller than Everest but it is large for Iceland. "I was going to do a little film but it's the longest shoot ever in Iceland [at 55 days]," he says.
The Oath shot at more than 20 locations, including another hospital in Kelfavik, in Lundarreykjadalur valley, and at a Reykjavik house designed by Iceland's first female architect, Hogna Sigurdardottir. His longtime producer Agnes Johansen, who executive produces the film, praises the 50-year-old Kormakur for "having a lot of energy" as director, actor and producer. "He felt he could so easily relate to the character, being a father himself, so he got stuck with that idea," she says. "It was the right part for him."
Kormakur lost a substantial amount of weight to prepare for the role. "His character is supposed to be a bit manic and a perfectionist," Johansen says. "It's not a coincidence that he is a surgeon — they are playing god, they have lives in their hands. It's an interesting element to the story. Baltasar shows the character in an interesting way."
The film, produced by Kormakur's Reykjavik-based studio RVK, has backing from the Icelandic Film Centre, ZDF Enterprises and Film4, in a rare foreign-language film investment. Kormakur, who had collaborated with Film4's former head David Kosse on Universal projects, says: "Kosse read the script and loved it. He came in and they have been really supportive, great partners."
XYZ Films handles international sales and the film has its world premiere today as a Special Presentation. SENA is releasing in Icelandic cinemas on the same day.
Having co-written the script with Olafur Egill Egilsson, who collaborated with Kormakur on 2008's White Night Wedding, the pair drew on personal connections for The Oath. Egilsson had a similar experience with his own sister, while Kormakur had friends whose kids had become addicted to drugs. "It's regular people forced into a life of crime because of their kids, it's relevant not only in Iceland," he says. "It's the real version of Taken, it's not a fantasy badass. Your child is obsessed and you start losing control."