Director John Cameron Mitchell brings Elle Fanning and Nicole Kidman to a seedy east London location for his latest feature, a punk-alien love story. Wendy Mitchell reports from the set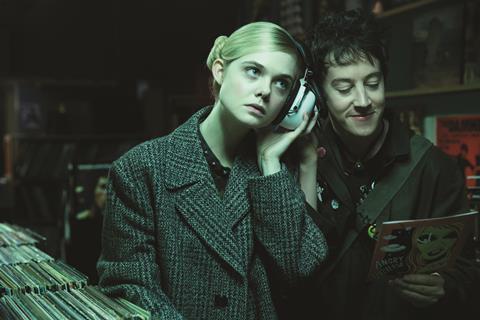 John Cameron Mitchell looks to be in his element. It is December 2015 and he is on an industrial site in Wapping, east London, surrounded by aliens, punks and Nicole Kidman in a spiky white wig. The US actor-writer-director is instructing teenagers on how to dance, asking for the music to be turned up loud. He looks thrilled to be in the middle of it all.
The set-up is for Mitchell's fourth feature as a director, How To Talk To Girls At Parties, which he adapted from a Neil Gaiman short story alongside Little Ashes screenwriter Philippa Goslett.
The film marks the director's second collaboration with Nicole Kidman, who also starred in his 2010 drama Rabbit Hole. If the seedy surroundings do not really match the A-list star, Mitchell is enjoying the contrast.
"It's madness," he smiles. "I feel like I'm dragging Nicole into the depths of hell after her West End triumph [her award-winning role in Photograph 51]. It's straight into punk filth, and she's kicking ass."
He is also proud of the film's other leading lady, Elle Fanning. "Elle is almost perfect on the first take. She knows exactly what the scene needs. If this is her at 17, imagine her at 45. I believe she's going to be one of the great actresses of all time."
Set in 1970s suburban England, the story is about Enn, played by Tony award-winner Alex Sharp, a shy young guy who sneaks into an underground party with his punk-loving friends, where they meet a group of mysterious young women. Even after they discover the girls are part of an alien colony with sinister intentions, Enn cannot stop himself falling in love with Zan (Fanning). Kidman plays a fashion and music impresario who is worried she is losing her influence and sees Fanning's character as a potential protégé.
As with any production, there have been challenges. "It feels harder than Hedwig [And The Angry Inch], in terms of the scale and there being way more scenes," Mitchell says.
Producer Howard Gertler of New York-based Little Punk, who worked with Mitchell on Shortbus, enjoyed the foray into the UK, describing the local crews as "incredible". But Gertler knows the vibe on set starts with the director: "The tone set by John is that everyone is an important collaborator."
See-Saw's Iain Canning and Emile Sherman also produced alongside Mitchell and Gertler, who calls Canning a "hometown hero" with knowledge of how to navigate financing. UK backers include Film4, Screen Yorkshire and Delish Films. HanWay is handling international sales, with Studiocanal on board for UK rights and A24 for the US. A launch is planned for 2017.
The 30-day shoot spanned Wapping, London suburbs Richmond and Ham, Sheffield and Croydon, all used to represent the 1970s-era Croydon of the original tale. Gertler first read the short story in Gaiman's Fragile Things collection and loved it. "It was a punk alien love story in 10 pages. There was mystery to it, there was fun, there are some scary moments, — it was all there." The adaptation, he felt, "could bring together these two visions of John and Neil… it feels totally new." Gaiman is an executive producer.
Canning adds: "I love that a story like this can entice a wonderful film-maker like John to the UK. The combination of such a singular director as John mixed with some very British elements — punk, Croydon, the incredible costumes by Sandy Powell — was an irresistible combination."
Styling punk
It is certainly new terrain for Kidman. As Gertler says: "Nicole trusts John to bring her into this world. It's a risky role for her, but she trusted John after working with him on Rabbit Hole.
"The only thing we're battling on production is timing," he continues. "We prepared it rigorously and we were ready but time is a battle."
Bringing style to the film's punks and aliens is veteran costume designer Powell. "It's rare to have a director who can let it rip and lets you push boundaries," says Powell, who put the aliens in brightly coloured latex and rubber outfits while trying hard to make sure they did not look "too S&M" or "too children's TV".
The right sound was also crucial, since music is central to the story. Nico Muhly (Me And Earl And The Dying Girl), Jamie Stewart of Xiu Xiu, Matmos and AC Newman of The New Pornographers contributed songs. Martin Tomlinson and Bryan Weller also wrote songs for the in-film band The Dyschords.
The creative team also includes director of photography Frank DeMarco (All Is Lost, Rabbit Hole), production designer Helen Scott (The Selfish Giant) and editor Brian A Kates (Shortbus, The Butler). The supporting cast features Ruth Wilson, Matt Lucas and Joanna Scanlan.
And has Mitchell learned anything unique shooting in the UK? He certainly picked up a local crew expression: "DFI", which he says translates as "disregard first instruction" in polite terms, or else "different fucking idea".
"We've been using that a lot," he says with a grin.