Ralph Fiennes' latest film as director spotlights Soviet ballet dancer Rudolf Nureyev's defection to the West in 1961. Screen reports from the set of buzz AFM title.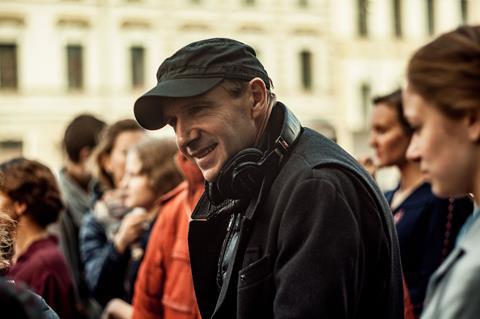 The tiny roof terrace of the Palais Garnier opera house in Paris holds just five people. On a late-August day earlier this year, Oleg Ivenko, the Ukrainian ballet dancer making his acting debut as Rudolf Nureyev, is one of them.
He is joined by Raphael Personnaz, as French dancer Pierre Lacotte, and their director Ralph Fiennes. It is the second day of shooting on The White Crow, a thriller about Nureyev's dramatic defection to the West in 1961. Paris, in all its glittering glory, is at their feet.
"I want [an audience] to be completely fascinated by this boy's desire, ambition, about his love of art, his hunger to live, to express himself in his dancing," says Fiennes of Nureyev. "I want them to want to watch an extraordinary creature, Rudi, in his uncompromising determination to get where he wants to be."
The White Crow marks Fiennes' third feature as director, following Coriolanus and The Invisible Woman, all made with UK-based producer Gabrielle Tana.
They are in Paris for six days to capture exteriors depicting the five weeks Nureyev spent in the city dancing with the Kirov Ballet of Leningrad (later St Petersburg) in 1961. It was the 23-year-old Nureyev's first trip to the West and he yearned to absorb all the art and culture the city had to offer, much to the annoyance of the KGB officials who dogged his every step. Nureyev's Parisian idyll is interspersed with scenes from his dirt-poor childhood in the early 1940s and, later, his colourful life in Leningrad as a member of the prestigious Kirov company, a life he abruptly leaves behind.
Source material
The White Crow — the title comes from the nickname Nureyev was given as a skinny young boy — is based on the 2007 biography Rudolf Nureyev: The Life by Julie Kavanagh. The author knew Fiennes socially and had given him an early draft of the book.
"It was the force of his personality that came off the page," says Fiennes. "This boy, with this intense hunger, not only to dance but to teach himself, to absorb all art as a way of fuelling his own dancing. That really moved me, the force of him.
"I didn't have much interest in ballet at all," he continues. "He was this dynamic, provocative character from a Greek myth or something. It got under my skin and this particular story never really left me."
Tana optioned the film rights to the biography through her London-based company Magnolia Mae Productions. It is a story full of resonance for her — beyond her lifelong love of ballet, beyond the years she lived in Paris, beyond even her own handful of encounters with Nureyev himself.
"My father defected as a young soccer player from the former Yugoslavia to Helsinki, and then Belgium," she explains. (Dan Tana later went on to live first in Canada and then help co-found the National Professional Soccer League in the US before becoming a successful restaurateur in Los Angeles. But that is a whole other story.)
"I had grown up being very moved by that story of leaving an authoritarian regime and being free to go and make your dreams come true in the West."
Screenwriter and playwright David Hare helped to crystallise the ideas with which Fiennes and Tana were toying. "He is so instinctively insightful into character, into drama, how scenes work," says Fiennes of Hare's pacy adaptation of Kavanagh's book.
BBC Films, which had developed Fiennes' two previously directed features, came on board the $15m project, with HanWay Films joining as international sales company. Francois Ivernel is co-producing through his France-based Montebello Productions, and further finance has come from producer-financer Andrew Levitas of Metalwork Pictures and Rogue Black, and The Fyzz Facility.
The award-winning French actress Adele Exarchopoulos co-stars as Clara Saint, the young French-Chilean heiress who befriends Nureyev, while Fiennes plays ballet master Alexander Pushkin, Nureyev's mentor at the Leningrad Choreographic School, a role for which the director has chosen to speak Russian. Russian actress Chulpan Khamatova plays Xenia, Pushkin's wife. Ukrainian dancer Sergei Polunin, who was the youngest ever principal at the Royal Ballet and an enfant terrible in his own right, has a pivotal role as Nureyev's roommate Yuri Soloviev. (Tana and Fiennes had met Polunin while researching The White Crow, and Tana went on to produce the acclaimed 2016 documentary Dancer about Polunin's shock departure from the Royal Ballet.)
Casting challenge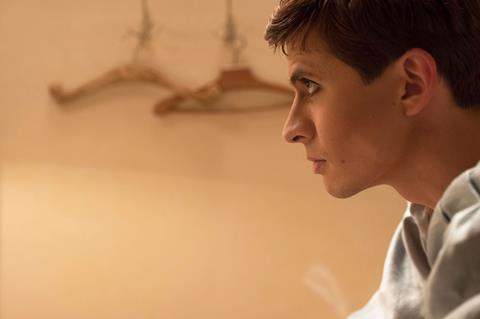 It took 18 months and two Russian casting directors to find Oleg Ivenko, a soloist with the Tatar State Ballet company in Russia. Thanks to a stint shooting Onegin for his director sister Martha Fiennes in St Petersburg in 1998, Fiennes was friendly with Natalya Smirnova's Russian production services company Globus Film, which made the introductions. The casting directors scoured every dance school and company in Russia, recording the good ones. Four were asked to screen test.
"He has what I call a proximity to Rudolf," says Fiennes of Ivenko. "He doesn't look like him. But at certain angles and when he starts to inhabit the part, there are moments and angles, a tilt of the head, a lift of the chin. He's not trying to do an imitation.
"I have worked with him as an actor for many months now and he's really grown. What's interesting is that he has not had any ambition to be an actor. He's not cluttered with an actor's self-awareness or an actor's ambitions." Fiennes chuckles at this. "My experience [as an actor] does help. I'm sensitive to what it's like, what fires your ambition as an actor, how someone talks to you, how they lead you and suggest the right way to go."
After Paris, the ambitious period production moved to St Petersburg for a week of exteriors, capturing both the Hermitage Museum (the first film allowed in the building since Alexander Sokurov's Russian Ark in 2002) and the Kirov's iconic Mariinsky Theatre. The interiors of the Mariinsky and the Palais Garnier were then recreated at a theatre in the Croatian seaside city of Rijeka for a week.
Five weeks of shooting at Belgrade's PFI Studios plus location work in the Serbian capital followed, before the production returned to the UK for its post work in late October.
Balkan incentives
In addition to the TRIP tax rebate in France, the production was able to access financial incentives in Croatia and Serbia, as well as a one-off discretionary grant of $580,000 (¤500,000) from the Serbian government. The latter was thanks to the prestige of the project (Coriolanus had put Serbia on the map as a shooting destination) and the training opportunities for local crew and crafts-people it provided in departments headed by French production designer Anne Seibel, costume designer Madeline Fontaine, cinematographer Mike Eley and composer Ilan Eshkeri, among others.
Danish choreographer Johan Kobborg is working with the production to accurately reproduce Nureyev's famous dances from the period and is also crafting an original piece for the film. The production worked with several Russian 'eyes' to ensure authenticity at every turn. As well as Ivenko and Polunin, the principal dancers in the film include the Bolshoi's Anastasia Meskova and Russia's Anna Polikarpova, with the corps de ballet danced by a company from Belgrade.
For Fiennes, the challenges of directing, and of acting in a film in which he is also directing, are eased by his close working relationship with script supervisor Susanna Lenton.
"She's brilliant at identifying the strengths and weaknesses in a shot, in a performance, and telling me, 'Are you sure you've got that? I'm not sure,'" Fiennes explains. "We're in sync often, but sometimes when the pressure gets to me and I think, 'I must just get this scene,' she'll be the one to say, and often it's frustrating, 'I think you should get one more, Ralph. I think it's good but I still think you haven't quite got there.'"
From her vantage point firmly inside the Palais Garnier, Lenton closely observes the tight rooftop scene with Ivenko and Personnaz, takes off her headphones and signals: it's all good.