Will Trump be the star of the show? Will La La Land win everything? Screen weighs in.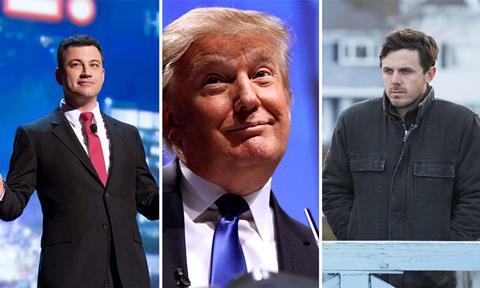 Ahead of the 89th Academy Awards, which take place at the Dolby Theatre, Hollywood on Sunday 26 February, Screen looks at the key questions surrounding this year's event.
Read more:
Oscars 2017: full list of nominations
Is La La Land what the world needs right now?
Yes. A fantasy romp about immensely self-absorbed protagonists that throws in an alternative history coda seems somehow fitting since the US election.
Seriously though, La La Land is an intoxicating film and its sheer exuberance is the perfect tonic for these dark times. Plus, it's a movie about Hollywood. That gives it the edge over equally deserving nominees like Moonlight, Manchester By The Sea and Hidden Figures, even if the last offers the most positive message in terms of political will and embrace of diversity.
Will La La Land do a clean sweep in all its 14 categories? These may be surreal times, but let's get real.
Will the Oscars be political?
You bet it will. Iranian filmmaker and foreign-language nominee Asghar Farhadi (The Salesman) is boycotting the show over Donald Trump's immigration policies. Dissent is in the air.
After rousing speeches by Meryl Streep at the Globes and Ken Loach at the Baftas, someone possibly famous is getting ready to say something probably famous about someone absolutely famous.
Given that the 89th annual Academy Awards is Hollywood's biggest night, the target is likely to be US President Donald Trump and intolerance.
A stirring address will bring the teary-eyed celebrity audience to its feet, while the super-rich guests who own Hollywood will rattle their jewellery in the background. Would that one of those truly influential people had the courage to walk onto the stage and speak up.
Are there any shoo-ins on the night?
Casey Affleck for lead actor. It was clear from the moment Manchester By The Sea premiered in Sundance 13 months ago that this was an extraordinary performance. No other actor came close last year and it would be a travesty were Affleck not to win.
In the lead actress category, Emma Stone is the frontrunner but not necessarily a sure thing despite her late sprint to the finish line in an awards season race that Lionsgate has timed expertly. Stone won the Bafta and a Globe (musical or comedy) and has thrown herself into the circuit with gusto.
Yet her main rival Isabelle Huppert is a strong challenger for Elle. The French powerhouse also won a Globe (dramatic) and was not nominated for a Bafta. It will be close, but the head says Stone.
It is hard to imagine Germany's Toni Erdmann not winning the foreign language Oscar. Paramount executives will certainly hope so now that they are remaking the comedy.
Will the Oscars be a victory for diversity?
After the well-intentioned but somewhat inflated hype surrounding #Oscarssowhite last year, it would be unwise to view one or two awards shows as the poster child for an attitude shift that will take years to implement. Non-white talent have been recognised by the Academy before, while others have been overlooked.
Last year, Idris Elba deserved a nod for Beasts of No Nation, while Will Smith did not deserve one for Concussion because he was not good enough. Who gets nominated is down to the mood, availability and attention span of voters in any given year, as well as the judgement and wherewithal of a film's distributor.
The Academy's ethnic make-up of voters sets the tone and president Cheryl Boone Isaacs is now taking belated steps to open up membership to a wider pool. At the end of the day the Academy can only vote on what it is asked to consider.
Meaningful change is systemic and starts at entry level; over time the hope is the film industry takes a long, hard look at itself to ensure diversity is championed in film schools, film and TV companies and agencies. There are more visible non-white nominees this year than last year and yet next year there may be fewer. Oh and there is the small matter too of Latino and Asian talent, women, and members of the LGBT communities.
Will the show become a ratings hit?
Getting eyeballs is the eternal challenge, especially since the 18-49 demographic in the US is shrinking. Show producers have racked their brains on how to make the Oscars a must-see but they're not been doing too well lately. Last year's show produced the lowest ratings in eight years – and Chris Rock was the host.
There are not that many people interested in watching rich people introduce rich people to hand out awards to other rich people. Millennials and the Generation X crowd are into TV shows and flock to MCN's and apps to watch short skits by their favourite stars you've never heard of.
Still, the Oscar show can be inventive on occasion and here's hoping this year's show producer, the seasoned Oscar-nominated producer Mike De Luca, has something special up his sleeve.
Is Jimmy Kimmel a good choice as show host?
Emceeing the show is a thankless task. Hosts who toe the line are labelled as boring while those who try something different can fall on their faces. Rock did a good job last year of navigating the line between showing respect for his paymasters at the Academy and supporting diversity without sounding shrill or bitter.
What does Kimmel, the latest white male presenter, have to offer and will he appeal to anybody beyond his late night talk show crowd, let alone international viewers? They should have asked President Obama. And Michelle. Now that would have been a show.
Where might the biggest upsets come from?
Could the much-fancied Kubo And The Two Strings beat Zootopia for the animation prize?
Will cinematographer Rodrigo Prieto convert Silence's only nod into a win?
Can Barry Jenkins (Moonlight) squeeze past Damien Chazelle (La La Land) for the directing award? Or will Mel Gibson triumph for Hacksaw Ridge? That would be a shocker.
Has Harvey Weinstein worked his magic and inspired voters to give the best supporting actor Oscar to Dev Patel for Lion, denying Moonlight's Mahershala Ali?
Can anybody beat Toni Erdmann in the foreign language contest?
Silicon Valley's big moment
The war for eyeballs between Netflix and Amazon Studios – AKA Reed Hastings's quest for subscriber domination and Jeff Bezos's cunning plan to sell you more household gadgets – has reached a critical juncture.
While both companies have been terrifying the traditional film world for a few years now with their deep pockets and burgeoning pipelines, February 26 represents a milestone. Manchester By The Sea is the first film backed by a streaming service to earn a best picture Oscar nod – and it has done so on the back of a solid theatrical release (through Amazon Studios's theatrical partner on the film, Roadside Attractions) and campaign spend. In this regard Amazon Studios is in the driving seat.
Netflix has Ava DuVernay's 13th in the documentary race, but it has already proved itself to be a champion of the non-fiction form and, frankly, a win in a major category is a far bigger statement.
Should Manchester By The Sea emerge victorious in the best picture, actor, writer or director categories, that sends a message to talent and their reps that there is not only money but career enhancement to be gained from aligning with Silicon Valley. And it would be a victory for Amazon Studios over Netflix, which missed an opportunity to land a best supporting actor nod for Beasts Of No Nation star Idris Elba last year because it botched the theatrical release in support of the film.