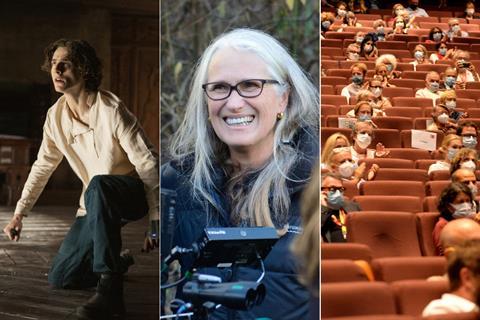 Venice Film Festival director Alberto Barbera and Venice Biennale president Roberto Cicutto today unveiled the line-up of the 78th edition (September 1-11).
The talking points to emerge include fewer female directors than last year, what the Covid-19 safety measues will be, the return of the studios and Netflix, and tentative awards season chatter.
Hotly-tipped 2020 titles find a festival home
Like Cannes, Venice will showcase a raft of films that have been waiting in the wings since early 2020 due to the pandemic. Notably, French director Stephane Brizé's Another World, starring Vincent Lindon as a burnt-out executive, was first announced in early 2020. It was originally tipped for a 2020 Cannes slot. Brizé was previously in Venice with A Woman's Life which played in competition and won the Fipresci prize.
Other pre-pandemic announced titles finally getting their world premieres in Venice include Ana Lily Amirpoor's fantasy thriller Mona Lisa And The Blood Moon that had been expected at the festival last year. Egyptian director Mohamed Diab's Amira, which debuts in Horizons, has also been on Screen festival title lists since early 2020. It is Diab's third feature after his breakout film 678 in 2010 Clash, which opened Cannes Un Certain Regard in 2016.
Screen 2021 Arab Star Of Tomorrow Tara Abboud stars as a Palestinian girl who has grown up believing she was conceived with the smuggled sperm of a political prisoner but then discovers he is not her biological father.
Another film on the radar since late 2019 is Edgar Wright's psychological horror Last Night In Soho, which will now world premiere on the Lido Out of Competition.
Women directors are way down and Black directors are absent
In his opening remarks, festival president Alberto Barbera noted the decrease in films directed by women in Competition, from eight last year to five this time, despite a bigger Competition – up to 21 from 18. Barbera also mentioned a lower percentage of women directors in the whole official selection, down from 28% to 26%.
Barbera acknowledged it "might seem a step backwards", but cited the "production slowdown" having a greater effect on films made by women as a reason for this decrease. However, he did not cite any data to support this claim and also said the festival team were "surprised by the average quality that is higher than usual, as if the pandemic has stimulated quality".
It will be necessary to see what percentage of submissions were directed by women to gain a fuller picture of the gender diversity issue. However, in the year when Choe Zhao's Golden Lion-winning Nomadland dominated the awards season and only the second woman director has won the Palme d'Or, this "step backwards" is a major disappointment.
Just as troubling is the lack of ethnic diversity: of the 77 directors who have made the films (and one TV series) announced today, not a single one is Black. It is a slightly better picture across other ethnicities, with seven directors of south Asian origin and six of Arabic or Middle Eastern origin; although even then, only two of those 13 are in Competition (Ana Lily Amirpour and Erik Matti).
The studios are heading back to Venice
Universal-owned Focus Features' Last Night In Soho is just one of a slew of big films that mark the return of the US studios to the Lido after soft year in 2020 due to the pandemic. Disney's 20th Century Studios historical drama The Last Duel, Universal's Blumhouse horror Halloween Kills and Universal/Focus's The Card Counter join Warner Bros' previously-confirmed Dune as major studio titles having world debuts in Italy in September.
Netflix will also have a strong presence following its decision not to enter any titles last year. Jane Campion's literary adaptationThe Power Of The Dog, starring Kirsten Dunst, Benedict Cumberbatch, Thomasin McKenzie and Jesse Plemons, and Paolo Sorrentino's drama The Hand Of God, a semi-autobiographical story about the tragic accident which killed his parents, are both in Competition.
Given their directors, the two Netflix films are, on paper at least, early awards contenders. Indeed Venice 2021 looks to be the launchpad for several major awards season campaigns, having become the primary festival for such runs over recent years. Awards watchers will also be keeping an eye on Pablo Larraín's Spencer, starring Kristen Stewart, to which Neon has US rights, with STX holding many international territories including UK, France and Italy. Also sparking interest at this stage is Maggie Gyllenhaal's directorial debut The Lost Daughter, an Elena Ferrante adaptation starring Olivia Colman, Dakota Johnson, Peter Sarsgaard, Jessie Buckley and Paul Mescal and Ana Lily Amirpour's Mona Lisa And The Blood Moon, starring Kate Hudson, Ed Skrein, Craig Robinson and Jeon Jong-seo. The latter was last seen in Lee Chang-dong's Burning. All three are in Competition.
With Covid confusion ongoing, it is not yet known which overseas talent will make the trip to Venice to promote their films. Hollywood actors also appearing in Venice 2021 titles include Matt Damon, Adam Driver, Ben Affleck, Oscar Isaac, Tiffany Haddish, Willem Dafoe, Timothée Chalamet, Josh Brolin, Zendaya, Jason Momoa and Jamie Lee Curtis.
Strong showing for Italian films
Five of the 21 features in the running for the 2021 Golden Lion hail from Italy, in one of the strongest showings in recent years for Italian cinema in Venice's competition, against four titles in 2020 and three in 2019.
They comprise Paolo Sorrentino's Netflix titleThe Hand Of God; actor-turned-director Gabriele Mainetti's second feature Freaks Out, Venice habitué Mario Martone's Qui Rido Io, set against the backdrop of Naples' 19th-century theatre scene, Michelangelo Frammartino's cave exploration drama Il Buco and America Latina by Damian and Fabio D'Innocenzo.
"There are five in competition and another three out of competition without taking into account the parallel sections. It's not a case of trying to support Italian cinema at any cost at a particularly difficult time," said Alberto Barbera. "I believe it's rather a snapshot of a moment of grace in which established directors seem to be a good place in terms of expressing themselves while others are coming through who will certainly be reference points for tomorrow's cinema."
But the UK is struggling to make its mark on Venice
In line with recent years there is but a smattering of UK titles in the Venice line-up. Competition titles The Power Of The Dog and Spencer are both UK co-productions, although neither have UK directors. The Power Of The Dog is produced by Iain Canning and Emile Sherman's See-Saw Films with Tanya Seghatchian and John Woodward's Brighstar with BBC Film backing; while Spencer is produced by Paul Webster of the UK's Shoebox Films.
UK directors show up out of competition with Edgar Wright's Last Night In Soho (produced by Wright's Complete Fiction and Working Title, and backed by Film4), and with Ridley Scott's Fox/Disney behemoth The Last Duel.
Harry Wootliff is in Horizons with her second feature True Things starring Ruth Wilson and Tom Burke. It is produced by Lady Lazarus Productions and The Bureau with backing from BBC Film and the BFI; Picturehouse Entertainment acquired UK-Ireland rights earlier this year.
In 2020, the UK film industry was represented by Roger Michell's The Duke and Luke Holland's documentary Final Account, both out of competition.
However, as of July 26, travellers arriving in Italy who have been in the UK in the previous fortnight must self-isolate for five days, as well as present a negative Covid test from the 48 hours prior to arrival, and take a further test at the end of their isolation. Those rules are in place until at least July 30; it remains to be seen if they will be relaxed to allow a greater UK presence at the event.
More clarity needed around how the Covid safety measures will work
Recalling the stringent but much-praised, anti-Covid-19 health and safety protocol of the 2020 edition, Venice Biennale president Roberto Cicutto said the festival management had hoped the upcoming edition could unfold with a more relaxed regime this year.
"For now, that is not the case but that is beyond our control. We have vaccinations and the green pass which should allow for easier movement, but the restrictions will remain the same," he said.
Crucially, the return of last year's health protocol will cap total capacity at 4,000 places, against a potential full capacity of 8,000 seats. He said measures such as controls at the entry to the festival Lido precinct as well as online booking and assigned seating for both the media and public would be repeated.
The European Union's new green pass, enabling fully vaccinated citizens to travel around the bloc without additional Covid-19 tests, will also be incorporated into the Venice protocol. Cicutto did not give details on how this would be done or whether there would be special measures or exemptions for attendees living outside the EU, including from the UK and the US.
In spite of the health uncertainty in the backdrop, Cicutto said media accreditations were higher this year than at the same time last year. "We hope there will also be a bigger presence in terms of the delegations too," he added.
Barbera creates the audience-facing Horizons Extra
Alberto Barbera described the new Horizons Extra section as an "extension" of the existing Horizons sidebar selection, aimed at new and innovative cinema.
"As its name suggests it's a sort of extension of Horizons, which in reality it is, but its new aspect is that for the first time there will be a prize decided by the spectators, by which I mean all those who assist at festival screenings who will then be able to vote via a code," he explained.
The eight-title line-up will open with US-based, Iranian director Shiran Neshat's political satire Land Of Dreams about life in a near-future America. Barbera described the film – featuring Matt Dillon, Isabella Rossellini and Sheila Vand in the ensemble cast – as one of Neshat's most audience accessible works to date. Neshat won Venice's Silver Lion for Women Without Men in 2009.