Politics, the environment and The Godfather set to feature at this year's Tribeca.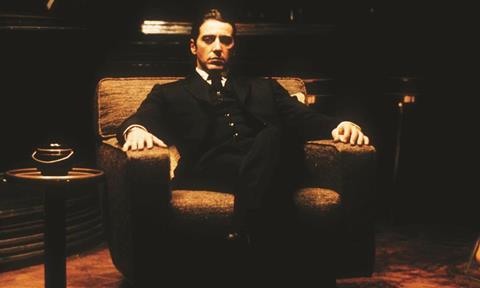 On the eve of the 16th annual Tribeca Film Festival (April 19-30), director of programming Cara Cusumano and feature film and experiential content programmer Loren Hammonds (below) selected several elements likely to get tongues wagging.
Tribeca opens with the world premiere of music mogul doc Clive Davis: The Soundtrack Of Our Lives and signs off with a Godfather extravaganza.
POLITICS, POLITICS, POLITICS
"The political landscape very much influenced how we put the festival together this year," Cusumano says. "The election happened in the middle of our process and we really felt an obligation to respond to that." The feature production cycle being what it is, it will take time for filmmakers to process Donald Trump's election victory. Yet Cusmano says the times we live in are reflected through works that looks backward but speak through "choice moments from history."
A range of notable documentaries include: LA Riots story LA 92, (April 21) by Dan Lindsay and TJ Martin; The Reagan Show (April 22), co-directed by Pacho Velez and Sierra Pettengill, which Gravitas Ventures just acquired for North America; and another recent Gravitas acquisition, Ross McDonnell and Tim Golden's Elián (April 21), about the circumstances that surrounded the custody battle over the then five-year-old Cuban boy Elián González. Till Schauder's When God Sleeps (April 20) follows the plight of Iranian rapper Shahin Najafi; while David France's Death And Life Of Marsha P Johnson (April 21) looks at the life of the eponymous trans activist found dead in New York in 1992.
ENVIRONMENTAL CONCERNS
An offshoot from the political tone that permeates the festival is Tribeca's pronounced green focus, and for the first time the festival has built programming around Earth Day on April 22. Of note are The Protectors: Walk In The Ranger's Shoes (April 21), an eight-minute piece from Kathryn Bigelow and VR creator Imraan Ismail about a day in the life of a ranger at Garamba National Park in the Democratic Republic of Congo; Wasted! The Story of Food Waste (April 22) from Anna Chai and Nari Kye and executive producer Anthony Bourdain; The Last Animals (April 22), war photographer Kate Brooks's film about the endangered Northern White Rhinoceros in Africa; and A River Below (April 22), in which Mark Grieco chronicles the plight of the pink river dolphin in the Amazon.
SMALL SCREEN, BIG PICTURE
This will be the second year Tribeca has curated a TV element and each screening will be paired with an on-stage conversation. Top of the bill is the premiere of Hulu and MGM's likely Emmys contender The Handmaid's Tale (April 21, pictured) starring Elisabeth Moss. Fans of Margaret Atwood's resurgent dystopian novel will get to see the first three episodes of what Cusumano describes as an "amazing and incredibly timely" adaptation.
Also on show are a sneak preview of Ken Burns's series The Vietnam War (April 28) ahead of its autumn debut on PBS; and National Geographic's first scripted show, Genius (April 20), which Ron Howard directed and stars Geoffrey Rush as Albert Einstein. Watch out, too, for new USA Network series The Sinner (April 25) from Antonio Campos starring Jessica Biel and Bill Pullman, which turns the procedural on its head.
NARRATIVE TREATS
Among the anticipated fictional gems are world premieres of James Ponsoldt's thriller The Circle (April 26) starring Emma Watson as a new employee at a powerful tech company; and A24's rom-com The Lovers (April 22) from Azazel Jacobs starring Debra Winger and Tracy Letts as a disillusioned married couple who fall back in lust.
Serial killers collide over the course of one hellish night in Mickey Keating's (Carnage Park) Midnight entry Psychopaths (April 20); Steve Coogan and Rob Brydon will be trying not to kill each other in their latest battle of wits for Michael Winterbottom, The Trip To Spain (April 22); and Shady Srour's comedy Holy Air (April 20) takes place in Nazareth.
IMMERSIVE CONTENT STEPS UP
"In the past we've seen a bit of VR in a demo phase and this year we're really seeing some fully fleshed-out pieces with story front-and-centre," Loren Hammonds, who assembled the VR and immersive line-up with co-curator Ingrid Kopp, says. "We have really solid relationships with creators… People are making pieces because they know they will be ready in time for Tribeca."
Among Hammonds' tips are The Last Goodbye (April 21) by Gabo Arora and Ari Palitz, in which Holocaust survivor Pinchas Gutter accompanies the viewer through the Majdanek concentration camp. Steven Spielberg and the Shoah Foundation commissioned the piece, which will tour museums after the festival.
Rainbow Crow (April 21) is an animation based on Native American folklore that features voice lead John Legend and hails from Baobab Studios, the pioneers behind Tribeca 2016 selection Invasion! Also returning with father-daughter story Arden's Wake (April 21) is Allumette creator Penrose Studios, whose founder Eugene Chung created the piece with Jimmy Maidens.
Emily Mortimer and real-life husband Alessandro Nivola star in the home invasion thriller Broken Night (April 21), which explores the concept of the unreliable narrator and uses gaze-based technology to let viewers determine the course of the story.
NEW YORK SALES
While Tribeca is yet to rank alongside Sundance or Toronto as a heavyweight sales platform, Cusumano argues it is far more productive than people give it credit for. The director of programming points out that 2016 was a record-breaking year with 52 acquisition titles ultimately finding a home. "A good two-thirds or more of our films world-premiering here are looking for distribution," she notes of the 2017 crop.
Hopes are high for Brian Shoaf's dramedy Aardvark (April 21) starring Jon Hamm and Zachary Quinto; Dito Montiel's rom-com The Clapper (April 23) with Ed Helms and Amanda Seyfried; and family drama Love After Love (April 22) starring Andie MacDowell and Chris O'Dowd. "I think there's a lot for the industry to discover here," Cusumano says, "and we're hoping for a lot of good news on the sales side."
'THE GODFATHER' CLOSING NIGHT SPECIAL
After last year's 40th anniversary screening of Taxi Driver, the festival has super-sized the quintessential New York cinematic legacy experience. For their April 29 finale, Tribeca organisers have lined up an offering audience members will find hard to refuse: back-to-back screenings of The Godfather and The Godfather Part II to celebrate the original film's 45th anniversary, followed by a conversation with Francis Ford Coppola, Tribeca co-founder Robert De Niro, Al Pacino, Robert Duvall, James Caan, Diane Keaton, and Talia Shire.

"You can thank Paula Weinstein for all that hard effort," Cusumano says. "It's going to be pretty epic. We're starting the film [early] in the afternoon… It's a full day commitment and getting these people together is a unique opportunity. I don't think it's happened since the film premiered and is unlikely to happen again." She adds: "We're not in the business of just showing a film. You can watch a film at home. You have to feel special, you have to feel exciting, and you have to bring people together and make them feel like they've experienced something here that they couldn't have got on their phone on the way to work."
Click here to see the full Tribeca Film Festival programme.