Programme director Luke Moody talks through this year's festival selection.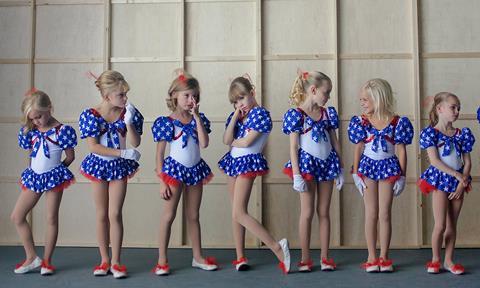 Sheffield Doc/Fest's Luke Moody is looking to expand the creative scope of the festival and welcome more experimental works.
This year's edition of the UK festival, which runs from 9 to 14 June, marks Moody's first turn as director of film programming, having moved to Doc/Fest after six years at non-profit organisation Britdoc, where he was most recently head of film.
"There's an increasing hunger for artful films, and a growing confidence for filmmakers to make long-form docs that are playing with form," he said.
Moody has instated six thematic programming strands to expand the "creative spectrum" of the festival: Doc/Vision, Doc/Adventure, Doc/Expose, Doc/Love, Doc/Think and Doc/Rhythm.
The Doc/Vision strand will comprise 20 long- and short-form films that feature more artful forms of filmmaking.
Highlights include Raed Andoni's Berlinale-winning film Ghost Hunting, in which Palestinian ex-prisoners recreate Israeli interrogations; Kitty Green's Netflix-backed Casting JonBenet, a stylised exploration of the unsolved death of six-year-old JonBenet Ramsay; and Timothy George Kelly's Brexitannia, which interviews British citizens about the UK's social and political landscape.
Moody said it was "necessary" to open up the festival to more hybrid forms of filmmaking, particularly on the back of critical acclaim for films including Joshua Oppenheimer's recent efforts.
"Films such as The Act of Killing and The Look Of Silence have really grown audiences, and with Netflix also behind films like Casting JonBenet, I think there's an increased literacy of how we tell stories, and particularly with true crime, how we blur the line between fact and fiction and portray historical realities," he said.
Diversifying Doc/Fest
The festival's 34 world premieres include Queens of the Stone Age frontman Josh Homme's film about Iggy Pop, American Valhalla.
Other world premieres include Rupert Russell's Freedom for the Wolf, featuring political perspectives from activists and academics, along with Nicholas Hampson and Stephen Robert Morse' Wilders, following right-wing populist Geert Wilders as he runs for Dutch prime minister.
Doc/Fest is positioned at a tricky period in the annual doc circuit, which kicks off with Sundance in January, followed by Berlinale in February, Tribeca in April and Hot Docs in May.
While its summer scheduling makes it harder to secure world premieres, it also presents an opportunity to champion those docs that fall outside the mainstream festival circuit.
"It's a changing landscape, even within Europe," said Moody. "[Danish doc festival] CPH:Dox moving to March means a lot of films that perhaps would have traditionally premiered at Doc/Fest have another opportunity earlier in the year.
"However, one of my core values as a curator and programmer is discovery, and the world premieres we have this year are really films that wouldn't have had a platform at Sheffield Doc/Fest in previous years – particularly a lot of the short-form works."
Moody and the Doc/Fest team have also looked to make the event more representative. More than half (51%) of the films have a female as a primary producer, while 46% have a female director.
"I'm trying to diversify who's telling the story but also who we are following on-screen and what sort of representation we have of those characters," said Moody. "I don't think it's just about having international films or female protagonists – it's the way those stories are told and who they're told by, that are equally important."
Docs with female leads include Unrest, Even When I Fall, Jaha's Promise and Gaze of the Sea.
Programme highlights
European premieres include Sabaah Folayan and Damon Davis' Whose Streets?, on the shooting of Ferguson teenager Michael Brown; Kate Brooks' poaching film The Last Animals; and Vaishali Sinha's Ask The Sexpert, on an Indian sex advice columnist.
UK premieres include Laura Poitras' Julian Assange doc Risk; Berlinale winner Ghost Hunting and Nick Broomfield's Whitney Houston doc, Whitney: Can I Be Me.
The festival will also feature talks from Sir Lenny Henry, Peter Greenaway CBE and Ian Hislop and YouTube's 'Chicken Connoisseur' Elijah Quashie, along with an In Conversation event between Louis Theroux and Nick Broomfield.
Meanwhile, Wag TV chief executive Martin Durkin and presenter Trevor Phillips will hold a debate titled 'Is The Media Failing To Reflect The Real Opinions Of The People?', while Reggie Yates will host a Doc/Dinner for black, Asian and minority ethnicity (BAME) and emerging filmmakers.
Other new initiatives include the Doc/Fest Craft Summit, in which sessions include the Walter Murch-hosted The Art of Editing and Sound Design and The Art of the Serialised Doc with Ben Steele and Charlotte Cook.
Elsewhere, the Alternate Realities programme features 26 exhibits, including the BBC's Tell Me Your Secrets, on a Second World War mission between the UK and US, and Jeff Orlowski's Chasing Coral: The VR Experience, which immerses the viewer in the Great Barrier Reef.