As HBO's Game Of Thrones gears up to shoot its final season, Sophie Turner tells Screen why she believes Sansa Stark could be a figurehead for the #MeToo movement.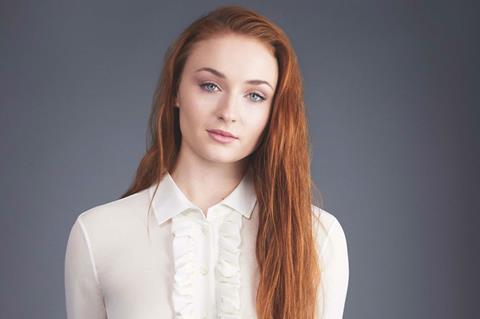 It has been seven years since UK actress Sophie Turner was first seen as Sansa Stark on HBO's epic fantasy drama Game Of Thrones. Since then, she has been shooting the show for around nine months a year and so it has been something of a novelty to have had a year off as the series geared up for its eighth and final season. "Of course I've missed it," admits the actress, who is now back on set in Belfast.
Created by David Benioff and DB Weiss from George RR Martin's novels, the show's final six episodes will air on HBO in 2019. "The hardest thing is going to be the few months once Game Of Thrones is done," she reflects. "Right now, I'm in the midst of it, so I'm not feeling too crazy about it yet."
Having played the role of Sansa since 2011 when she was aged 15, Turner is now very much at home in the show. Yet, she says the showrunners are as guarded as ever when it comes to the storylines.
In season seven, Turner received the scripts "about two weeks" before the start of principal photography. "It actually makes it far more exciting," she says. "You're still buzzing from the new scripts being released."
Those scripts have seen Sansa go through all manner of troubles, from the beheading of her father Ned (played by Sean Bean) in season one to a protracted separation from her beloved family to — most controversially — her rape by Ramsay Bolton (Iwan Rheon) in season five. Indeed, season seven was the first time she was truly able to control her narrative as, finally, Lady of Winterfell.
"She isn't under anyone's command anymore and that really allowed her to take on a leadership role," says Turner. "This is the first season where she felt like she had total ownership over what she stood for, and ownership somewhat over the North.
"It was really exciting to see her step into that role and own it, and I think she did a bloody brilliant job."
Ramsay's assault of Sansa in an episode titled 'Unbowed, Unbent, Unbroken' caused anger from sections of the vast fanbase, with some calling for a boycott. As the conversation heated up in 2015, Turner defended the scene: "This sort of thing used to happen and continues to happen now," she said at the time, making the suggestion that treating such assaults as taboo would prevent victims coming forward.
Show of strength
In a post-Weinstein industry, Turner's word's seem prophetic. For her part, the actress believes Sansa's abilities to emerge with strength from such atrocities is important for audiences to witness. "It's a really powerful message, the fact that she went through all of those things and she's come out the other side," Turner says of her character. "She's used everything she's learnt up until now to her benefit. She endured so much horror and really was a prisoner season-by-season. She took all of that, and now she has become stronger for it."
Turner sees similarities between Sansa's storyline and the women who have opened up about their own real-life abuse in recent months. "It's funny the way [my storyline] is kind of mirroring what's happening in real life, in every industry right now," Turner suggests.
"It's really interesting how all of these women who were subjected to a lot of horror and oppression are taking a stand against the people who have done this to them. I think that's why I connected with the #MeToo movement so much. Not just because of being a woman and obviously being a feminist, but also that character."
Indeed, Turner values the social function of TV stories while recognising not everything has to be imbued with deeper meaning. "Our role as filmmakers is to hold a mirror up to society," she suggests. "At the same time, I think it's very important to have that escapism. That's why Game Of Thrones is such a wonderful show. It provides both of those things."
After growing up in the spotlight, Turner is vocal about the need to protect young, vulnerable child stars and the pressure that comes with such fame.
A November 2017 incident in which Stranger Things star Finn Wolfhard - then 14 years old - felt the need to respond to criticism from autograph-hunting fans raises her ire. "It drove me insane! If he hadn't been famous or they hadn't been fans, that would've been the most fucked-up thing. And it's so scary. Just because he's an actor doesn't mean he owes anyone anything but his art – that is the reason they are fans."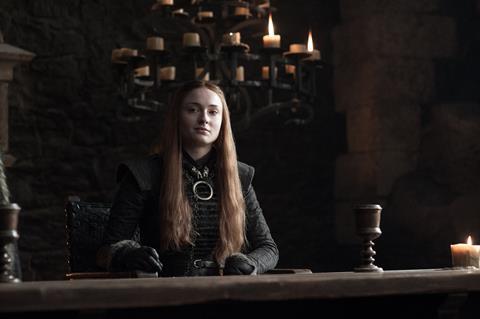 "It's hard, especially when you start getting spots and gaining weight — it's a tough time," she says. "It can be damaging to young people to feel like they owe strangers anything."
Turner is clear in her advice to those in a similar situation: "Work on yourself before you work on your public persona. Keep a good circle of friends and family around you."
Among her own circle Turner counts co-star Maisie Williams, who plays Sansa's sister Arya Stark. At just a year younger, Williams has had similar experiences. Despite sharing no screen time throughout seasons two to six, the two are "very, very close friends", having spent plenty of time promoting those middle series together over the years.
They finally got to work together again in season seven, when Arya's long-awaited return to Winterfell resulted in tension between the Stark sisters. The main difficulty the pals found was keeping a straight face. "Maisie and I had the giggles the whole time," Turner reveals. "It didn't feel like there was much preparation needed but, in hindsight, probably the most preparation was needed."
Next chapter
Beyond Game Of Thrones, Turner has played a teen secret agent in Kyle Newman's Barely Lethal, a high school student who attracts the attention of an older man in Josie, and stars as mutant Jean Grey in Simon Kinberg's upcoming X-Men: Dark Phoenix for 20th Century Fox.
With Game Of Thrones coming to an end, several projects are now opening up. Turner wrapped Jouri Smit's Heavy, a revenge thriller in which she plays a heroin addict — "a passion project for me that I fought so hard to do". Next, she will fulfil a longheld ambition to work on a real-life story in Girl Who Fell From The Sky, an adaptation of Juliane Koepcke's book about her experience as the lone survivor of a plane crash in the Peruvian rainforest. Turner is also producing the project. "It's a really inspiring story. I'm excited to meet the real Juliane soon."
As rumours abound of Game Of Thrones spin-offs, Turner acknowledges that although it will be tough to step away from Sansa, it will be the right move. "This character has given me so much and I've given so much of myself to her. I love it dearly but it's time to move on."