Screen profiles the Korean films in the Berlinale and selects the exciting titles being showcased in the EFM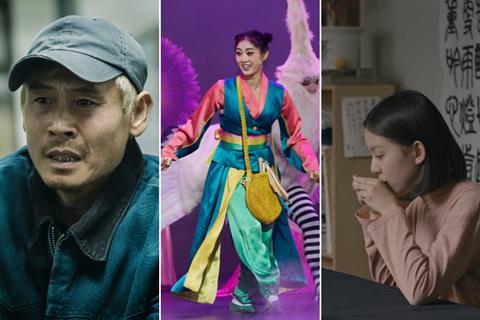 Local films held their own at the South Korean box office in 2018 with a 50.9% market share, similar to 2017's 51.8%. The biggest film of the year was Korean fantasy sequel Along With The Gods: The Last 49 Days, which garnered more than 12.2 million admissions.
While total admissions fell to 216.3 million from 219.8 million in 2017, box-office receipts rose to $1.6bn, up slightly from $1.57bn, due partly to a rise in average ticket prices.
Five South Korean features are screening across the Berlinale's official selection. Panorama showcases the world premiere of Idol, the much-awaited second feature by Lee Su-jin, whose debut Han Gong-ju won a Rotterdam Tiger Award in 2014.
The world premiere of Fukuoka, by returning director Zhang Lu, who previously had Dooman River and Desert Dream in Berlin, is screening in the Forum this year.
Generation 14plus has selected Kokdu: A Story Of Guardian Angels, directed by Kim Tae-yong, whose Late Autumn was previously in the Forum, as well as House Of Hummingbird, up-and-coming filmmaker Kim Bo-ra's feature debut.
In addition, a restored version of master director Im Kwon-taek's 1983 film Mismatched Nose (Jjak-ko), in which a former South Korean officer spends three decades tracking down a former partisan fighter from the communist North, is screening in the Berlinale Classics programme under the title Jagko (Pursuit Of Death).
Berlinale
Fukuoka
Dir. Zhang Lu
Korean-Chinese filmmaker Zhang's latest is making its world premiere in the Berlinale's Forum. Starring Kwon Hae-hyo, Yoon Jea-moon and Park So-dam, the story follows a secondhand bookshop owner who parted ways with his best friend after they both fell in love with the same woman in college nearly 30 years ago. Along with an odd young neighbour who urges him on, he goes in search of his old friend. Zhang has produced the film himself through his company Lu Film.
Contact: Parallax Films
House Of Hummingbird
Dir. Kim Bo-ra
Making its European premiere in the Berlinale's Generation 14plus, Kim's feature debut world premiered in the recent Busan International Film Festival's New Currents competition where it picked up the NETPAC award and KNN audience award. Set in Seoul, 1994, when Korea was going through major changes, a neglected 14-year-old girl looking for romance is sent to the hospital for an inconclusive biopsy and has a falling-out with her best friend. It isn't until a new teacher shows up that she is intensely moved. House Of Hummingbird stars Park Ji-hu, Kim Sae-byuk, Lee Seung-yeon and Jung In-gi. It is produced by Epiphany Film and Mass Ornament Films, and backed by organisations including the Asian Cinema Fund and Sundance Institute.
Contact: Contents Panda
Idol
Dir. Lee Su-jin
Lee's much-anticipated second feature world premieres in the Berlinale's Panorama. Previously known as Idolism, it is a rain-drenched political thriller with neo-noir elements. The film stars Han Seok-kyu and Seol Kyung-gu as two fathers on different sides of a fatal accident involving their sons. They set out in search of the girl, played by Chun Woo-hee, who witnessed it all before disappearing. Idol is backed by CGV Arthouse and produced by Lee Su Jin Film with Pollux Barunson.
Contact: Finecut
Kokdu: A Story Of Guardian Angels
Dir. Kim Tae Yong
Late Autumn director Kim returns to the Berlinale in the Generation 14plus section with this cinematic adaptation of a Korean theatre musical he did previously for the stage with music director Bang Joon-seok (Veteran). Based on the tales of kokdu, mythical beings that console and assist the dead on their journey to the afterlife, the story follows a young brother and sister as they go in search of their dying grandmother's shoes — innocently traded for a puppy — and accidentally end up in the realm of the dead. Starring Kim Suan, Choi Go and Cho Heebong, the film, playing here as a European premiere, was produced by the National Gugak Center and Kirin Productions.
Contact: M-Line Distribution
European Film Market
The Battle (working title)
Dir. Won Shin-yun
From the director of Memoir Of A Murderer, this period war drama is based on historic battles that arose in China between Korean independence fighters in exile and the occupying Japanese army in 1920. Currently in post-production, the film stars Yoo Hai-jin (Intimate Strangers) and Ryu Jun-yeol (Believer).
Contact: Showbox
The Dude In Me
Dir. Kang Hyo-jin
From the director of Wonderful Nightmare and Twilight Gangsters, this film follows a career criminal and savvy entrepreneur who is the right-hand man and son-in-law of a mob boss. After a freak accident, he wakes up to find he has been swapped into the body of an awkward high-school nerd, while the kid is in his comatose body. The Dude In Me stars Jin Young, Park Sung-woong and Ra Mi-ran.
Contact: Finecut
Extreme Job
Dir. Lee Byoung-heon
This action comedy from the director of Twenty follows a team of narcotics detectives as they go undercover working at a fried chicken joint to bring down an organised crime gang. Problems arise when they accidentally make their chicken recipe so good the place becomes the hottest eatery in town. Starring Ryu Seung-ryong, Lee Hanee, Jin Sun-kyu, Lee Dong-hwi and Gong Myoung, Extreme Job opened in Korea on January 23 and hit 10 million admissions in 15 days.
Contact: CJ Entertainment
Fallen
Dir. Jeong-sub Lee
A mystery thriller from first-time director Lee, whose producer and screenplay credits include Romantic Island and Rainbow Eyes, Fallen is about a bestselling science-fiction writer who is caught with hidden-camera footage and is socially stigmatised on the internet. Kidnapped, she finds herself tied up in a drum covered with blood and branded with the word 'fallen' on her body. G Yang, Yoon Ha-bin and Han Sung-min star in the film, which is in post-production.
Contact: Jason Chae, Mirovision