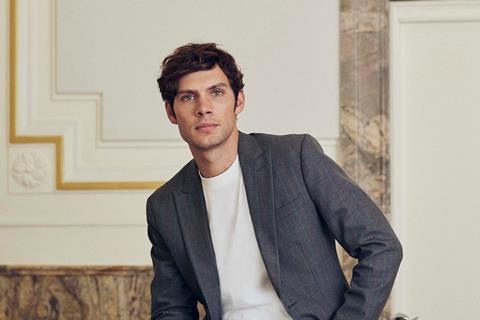 Pol Hermoso, who stars in the hit Netflix series Alba, was just five years old in 2000 when he told his mother he wanted to go on stage. He joined a theatre workshop the following year, later attending the Eolia school of acting in Barcelona. Aged 15, Hermoso was cast in the Catalan TV show La Sagrada Familia, before appearing in Merlí and its spin-off Merlí: Sapere Aude on HBO Max alongside fellow Spain Star of Tomorrow Carlos Cuevas.
Since then, Hermoso has combined TV and film roles, while continuing to take acting courses in Spain and at the spring conservatory programme of the Stella Adler Studio of Acting in New York. In addition, Hermoso has also started a degree in naval engineering and plans to see it through, work permitting. "I believe that life experiences and work experiences enrich your palette as an actor," he says.
In Alba, which became Netflix's most-watched non-English language series over summer 2021, Hermoso appears alongside another of this year's Stars of Tomorrow, Jason Fernandez, as one of the men who sexually assault a college student (played by Elena Rivera). He also stars in Holy Family (Sagrada Familia), the new series from Manolo Caro, creator of The House Of Flowers, which shot last autumn.
In features, Hermoso has had supporting roles in Isabel Coixet's 2017 film Project Time (Proyecto Tiempo); as the boyfriend of one of the two main characters who dreams of escape with her best friend in Luc Knowles' Dragonflies (Libélulas); and in the 2022 thriller Polar, directed by Alberto Palma and starring Macarena Gomez. He has just wrapped Miguel Faus's feature Calladita, about a rich family with a house on the Costa Brava and the young woman from Colombia who works as their maid. The cast includes Ariadna Gil.
Confident in English, Hermoso is open to working abroad, and the success of Alba has brought him to the attention of casting directors. Mads Mikkelsen is one of the actors whose work Hermosa follows closely, along with Cillian Murphy, whose approach to the craft and management of his career is something he also admires. It has been suggested that Hermoso bears a passing resemblance to Murphy. "Some people mention it, yes," he laughs. "I wish!"
Contact: Carlos Ramos, Cram Talent