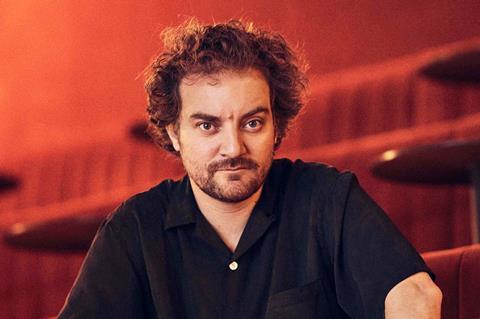 Pol Lopez was a powerful presence in Mikel Gurrea's San Sebastian 2022 competition title Suro, playing a man who makes a radical change when he moves to a remote house in the countryside with his partner. Teaming with the debut feature director and good friend Gurrea, a Screen Spain Star of Tomorrow in 2022, was "a treat" and the pair worked together on Suro in its early stages.
The role was Lopez's cinematic breakthrough after small parts in films and years in the theatre, playing Raskolnikov in a theatre adaptation of Crime And Punishment and the title roles in Hamlet and Henry V on stage at Barcelona's Lliure theatre.
"As an actor, I'm invested in searching for the intimate connection with the words written by authors that are now dead but whose work is more alive and rele­vant than ever," Lopez says. "You have to put yourself at the service of their work."
Lopez has made two more features since Suro, the first being Waiting For Dalí, released in Spain by Alfa Pictures in July. He plays a cook who settles with his brother in a restaurant in Cadaques, northeast Spain, owned by a fan of Salvador Dali. The comedy is set in the 1970s against the backdrop of political repression in the dying days of the Franco dictatorship.
Lopez also appeared in Llobàs — a reference to wolf in Catalan — by Pau Calpe, a contemporary take on the myth of the werewolf. He plays the older brother of a boy who is bullied and ostracised by the residents of their village and finds solace by roaming the night. Now in post-production, the film is distributed by Alfa Pictures and is set for release in 2024.
Lopez also has a role in RTVE tele­vision series This Is Not Sweden, and is shooting another undisclosed project for a streamer. There are plans to return to the stage with roles in Hedda Gabler and Macbeth.
Lopez says he enjoys "exploring genres and acting techniques" and would love the chance to be involved in projects that evoke the spirit of a director like Billy Wilder. He namechecks Paul Thomas Anderson, Lucrecia Martel, Alfonso Cuaron, Alice Rohrwacher and Isaki Lacuesta as contemporary filmmakers he would be keen to work with.
Contact: Gemma Garcia, Mesala Films