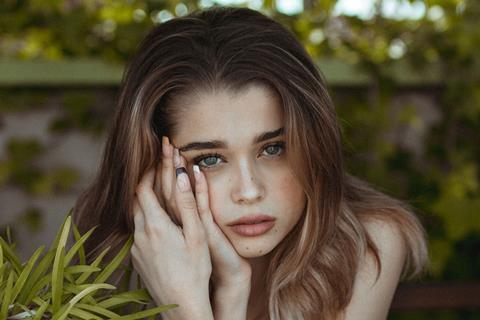 Starting her professional life as a child model, Berta Castañé got her first screen role aged 12 in thriller TV series Bajo sospecha for Atresmedia, and many other jobs have followed.
Now she is dividing her time between two big TV productions for 2021: Todos Mienten (They All Lie) for Movistar + and Netflix's Welcome To Eden.
"Starting so young, acting felt really like a game, and despite being shy I found that the camera didn't intimidate me," she says. "I have always felt quite confident and comfortable when shooting, although I have learnt to prepare my parts more thoroughly, building up their biography, drawing their emotional map."
Castañé's busy resumé includes Spanish public television RTVE series Big Band Clan as well as Com si fos ahir for Catalan TV3 and Dias de Navidad (Three Days Of Christmas) for Netflix where she played the character later played by Elena Anaya (The Skin I Live In) as an adult. She was also the child actress playing Salvador Dali's sister Anna Maria in Catalan director Ventura Pons' approach to her life story in the feature Miss Dali, a role played in her mature years by British actress Siân Phillips.
Todos Mienten reteams her with her Dias de Navidad director Pau Freixas, joining a cast led by Leonardo Sbaraglia (Pain & Glory), Juan Diego Botto (White Lines) and Ernesto Alterio (Perfect Strangers). "You have to remind yourself you can do it, because it is intimidating to be working with such talented actors," she says, after completing the shoot for the first season.
As for the Welcome To Eden shoot, "I cannot help but feel a bit emotional in the best of ways, with a big smile on my face," she says. "The casting process was long, but I enjoyed the whole process. Even that was fun. I cried when they told me I got the part. We have shot in many different locations in Spain and the shots I saw impressed me. I feel like I have made a leap forward."
Building a career as an actress is often a long process, but opportunities for Castañé are on the rise, building on roles that have allowed her to grow from a child actor to the young performer she is now. If the second seasons of her new series get the go-ahead, life will become even busier for the rising star.
Contact: Nuria Cano, Salvador Actors Agency