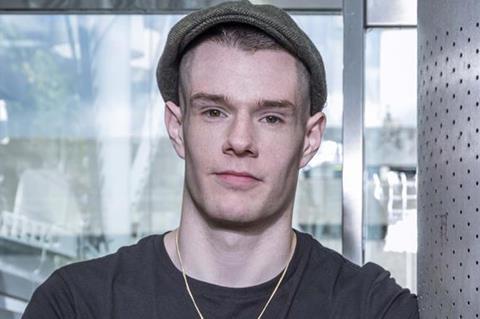 It has been quite a year for Connor Swindells. When his dream of becoming a professional boxer ended following serious injury, the young man from West Sussex was faced with an uncertain future. "I didn't have anything to fall back on. I did terribly in school. It's all or nothing with me and I'd put everything into the boxing," he explains.
Click here for the complete list of 2017 Screen Stars of Tomorrow.
Swindells began to lose himself in watching films, particularly those starring Joaquin Phoenix, Philip Seymour Hoffman and Ben Mendelsohn, and started to wonder if acting was something he could pursue. "I was never a naturally gifted boxer but I worked hard at it," he says. "I figured that, possibly, I could do that with acting."
A stint followed in community theatre in Brighton, which introduced Swindells to his agent and landed him a couple of small TV jobs. Now he is starring in two highly anticipated UK features: Keepers, the big-screen debut of The Killing director Kristoffer Nyholm for Cross Creek Pictures and Protagonist Pictures, and VS., a rap drama for BBC Films and Lorton Entertainment.
Keepers is a psychological thriller co-starring Gerard Butler and Peter Mullan about three lighthouse keepers on an uninhabited island off the Scottish coast, for which Swindells had to perfect a Scottish accent. "I'm a bit of a parrot. If I listen to something, I can pick it up quickly," he says.
In VS., the feature debut of Ed Lilly, Swindells plays a withdrawn teenager who has a difficult relationship with his mother. Both projects have parallels with Swindells' own life. "I had a really varied childhood," he says, carefully. "In the beginning it felt like a curse that I'd experienced all these crazy things and all this stuff had happened. But it turns out those things are helpful in this business. All these shitty things I went through as a kid are paying off, as I can go back to them."
Contact: Sian Smyth and Madeleine Dewhirst, Hamilton Hodell